Citizens' health, education data sale mooted in Economic Survey
The Economic Survey 2018-19 has floated the idea of a national health register that will maintain citizens' health records with all the necessary privacy safeguards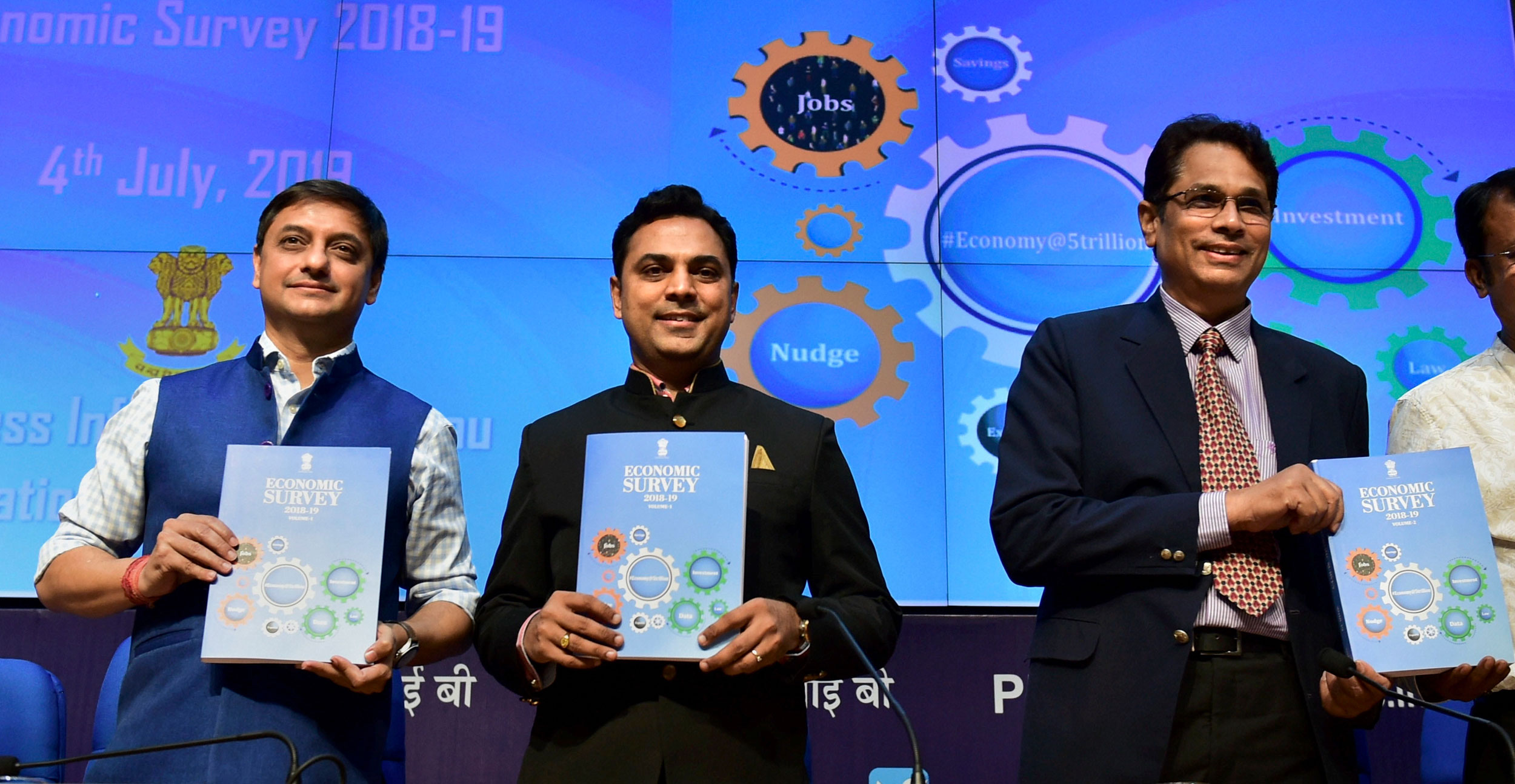 Chief economic adviser K.V. Subramanian, principal economic adviser to the Finance ministry Sanjeev Sanyal and Press Information Bureau principal director-general Sitanshu Ranjan Kar hold copies of Economic Survey 2018-19 during a press conference, in New Delhi, on July 04, 2019.
(PTI)
---
New Delhi
|
Published 05.07.19, 02:03 AM
|
---
A key document on the Indian economy tabled in Parliament on Thursday has advocated the sale of Indians' data, including details of their health and education, to private parties to facilitate "health analytics" and remedy.
The Economic Survey 2018-19 has floated the idea of a national health register that will maintain citizens' health records with all the necessary privacy safeguards. It can "go a long way in enabling health analytics for predictive and prescriptive purposes", the document says.
"Anonymised data from the register can be sold to private parties for analytics, which would then enhance prevention by offering predictive and prescriptive knowledge," the document adds.
It says doctors would be able to access a patient's medical history from this register, which would be useful in emergency/trauma cases and potentially save lives.
The register can include databases relating to hospitals and public health centres, surveillance reports on disease outbreaks, information on immunisation, and sub-registries for key diseases requiring intervention such as diabetes, hypertension, cancer and AIDS.
The document also says that the private sector may be granted access to select educational databases, like those on children's learning levels, for commercial use.
"Given that the private sector has the potential to reap massive dividends from this data, it is only fair to charge them for its use," the survey report says.
It goes on to cite the example of schoolchildren's test scores, which it says can be sold to private parties with all personal information completely obfuscated. The firm can develop suitable products after data analysis.
"Using test scores of students, demographic characteristics of each district and publicly available data on the efficacy of public education schemes, a private firm may be able to uncover unmet needs in education and cater to these needs by developing innovative tutoring products tailored to the specific needs of specific districts," the document says.
"These products would not only create profits for the private sector, but also monetise data and generate revenues for the government, in addition to improving education levels and social welfare."
A government official said that Volume I of the Economic Survey is a vision document of sorts that does not reflect a final decision by the government.
"Volume I has floated several ideas that may or may not materialise. This is not the final decision of the government," the official said.
R. Govinda, former vice-chancellor of the National Institute of Educational Planning and Administration, an education think tank, opposed the sale of public data on education to private companies.
"Nowhere in the world does such a system exist, allowing the commercialisation of children's education data. Actually, no macro-analysis is required to understand the reasons for poor performance by children. If the children are not learning, it means they are not being taught," Govinda said.
He said private companies would use the data sold to them to advertise their products.
"Is the government so poor that it needs to sell children's data to private companies?" Govinda said. He added that the privacy of citizens' data remained a concern.