'Ground assessment suggests massive build-up by PLA'
Chinese army continues to strengthen position at Ladakh's Depsang Plains
PLA has continued to cut off Indian Army's access to five traditional patrolling points — PPs 10, 11, 11A, 12 and 13 — since the border standoff in May last year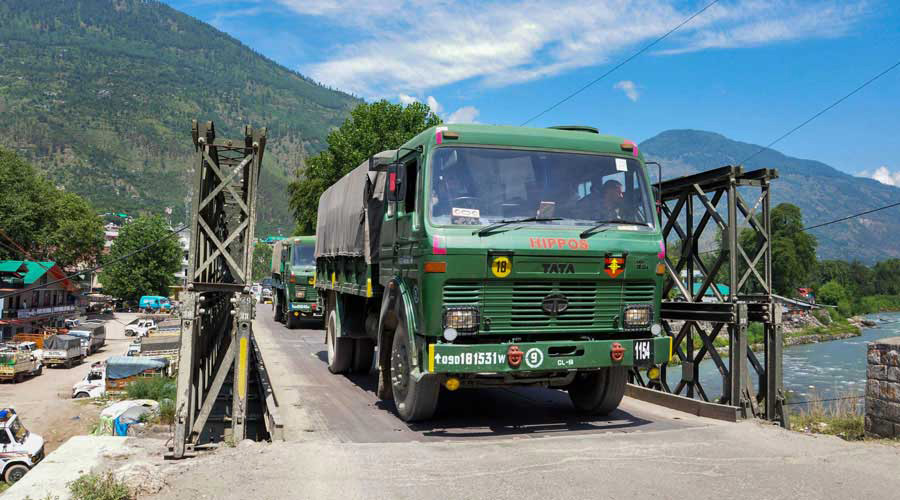 ---
New Delhi
|
Published 03.03.21, 02:39 AM
|
---
A ground assessment by the Indian security establishment suggests that the Chinese army is continuing to strengthen its position at Ladakh's Depsang Plains, where the Chinese are entrenched 18km inside India-claimed lines.
"A recent ground assessment has suggested massive build-up by the PLA at the Depsang Plains. The People's Liberation Army (the Chinese army) has continued to strengthen its positions by setting up additional military camps inside India-claimed lines amid the ongoing dialogue for disengagement from all friction points," said a security official attached to the Union home ministry.
India has been asserting that it is necessary to disengage from all friction points in order to contemplate de-escalation of forces in this sector and restoring peace and tranquillity along the Line of Actual Control.
Last week India's foreign ministry had underscored that both sides had always agreed that maintenance of peace and tranquillity in border areas was an essential basis for the development of bilateral relations.
Under the disengagement process that began on February 10, India and China have moved back from their positions on the Pangong Lake's north and south banks. The Chinese are said to have agreed to work towards an understanding on the disengagement process to be initiated at other friction points, including the Depsang Plains, Gogra and Hot Springs.
"The PLA has continued to cut off the Indian Army's access to five traditional patrolling points at the Depsang Plains — PPs 10, 11, 11A, 12 and 13 — since the border standoff in May last year. Considering the ground reality, the disengagement at the Depsang Plains is going to be a serious challenge," said an Intelligence Bureau official.
Security officials and military veterans have questioned the hurry with which India entered into an agreement with China without finalising the disengagement process from the Depsang Plains. They said that control of Depsang would allow China to threaten the Indian strategic airfield at Daulat Beg Oldie, located at an altitude of over 16,000ft. The DBO airstrip was built after the 1962 war to check Chinese incursions.
The airstrip lies near the newly built and strategic Darbuk-Shyok-DBO Road that runs parallel to the LAC, meandering through elevations between 14,000ft and 16,000ft. The road connects Leh with the DBO at the base of the Karakoram Pass, which separates China's Xinjiang Autonomous Region from Ladakh. China wants to dominate the road, which India's army uses to support its soldiers deployed on the LAC.
"The focus of the negotiation is now on the Depsang Plains and the stalled disengagement at Hot Springs and Gogra. The Depsang Plains is strategically very crucial for the Indian Army. Talks are on both at the military and the diplomatic level to hammer out a solution," said a defence ministry official.
The two sides had last July agreed on disengaging from Hot Springs and Gogra but the Chinese went back on their word.