Centre to introduce excerpts from Vedas in school syllabi
Education ministry official says govt wants the proposed National Curriculum Framework to suggest suitable introduction of material from Hindu scriptures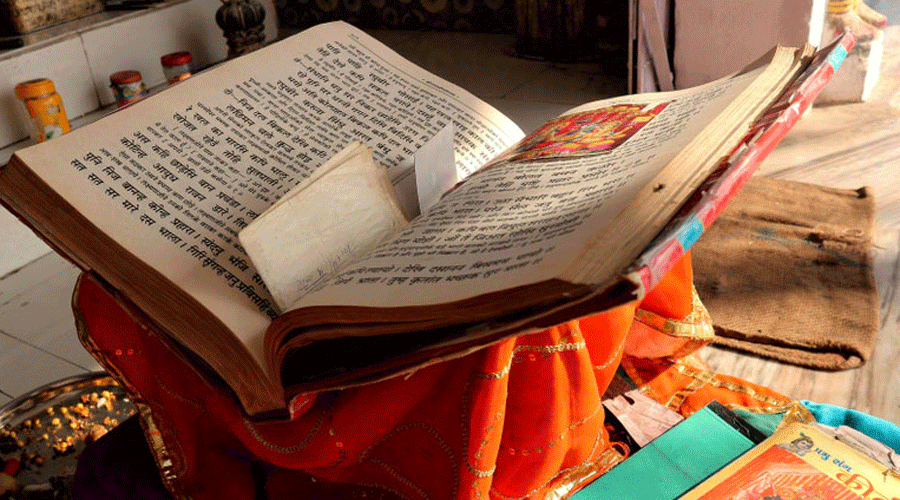 Last week, NCERT director Dinesh Prasad Saklani had advocated the need for integrating Vedic knowledge into the syllabus and textbooks.
File photo
---
New Delhi
|
Published 27.04.22, 03:23 AM
|
---
The Centre is planning to introduce excerpts from the Vedas in different syllabi in schools as part of a follow-through step after dropping several chapters on topics such as the rise of Islam and the Mughal emperors, an education ministry official said.
The official said the Union education ministry wanted the proposed National Curriculum Framework to suggest suitable introduction of material from the Vedas and other Hindu scriptures.
A 12-member steering committee, headed by former Isro chairman K. Kasturirangan, has been assigned to develop the National Curriculum Framework, which will be the guiding documents for preparing syllabi and textbooks in collaboration with the National Council of Educational Research and Training (NCERT).
"The government wants to introduce Vedic mathematics in different classes. The NCERT has been apprised of the intention," the ministry official said.
As many as 25 focus groups are now working on the curriculum framework. They are getting inputs from the government through the NCERT, the official said.
Last week, NCERT director Dinesh Prasad Saklani
had advocated the need for integrating Vedic knowledge into the syllabus and textbooks.
During interactions with faculty members of Pandit Sunderlal Sharma Central Institute of Vocational Education on April 17, two faculty members had quoted Saklani as saying that Vedic knowledge needed to be suitably integrated into all subjects, including agriculture.
Academics have supported the introduction of Vedic knowledge in school syllabus but cautioned against prejudice.
A historian who did not wish to be named said: "The Vedas are texts since early ancient times and are precious for humankind. However, in contemporary times, it is seen as texts related to a particular religion. Hence, its teaching without any critical thinking and analysis will be problematic."
"If any scripture is taught as inviolable or sacred and does not allow questioning, its acceptance will be limited. While conducting discussions on any aspect of the Vedas, there should be openness," he added.
While encouraging critical analysis, it is important to provide opportunity to all students, irrespective of their castes and religions, the historian said.
"Students need to know about the relevant content from other religious scriptures. It is wrong not to allow materials related to the history and culture of other communities, particularly the Muslims who have a long history in this land. The essential components of all religions should be taught to help students form a holistic view about religion and culture and critically analyse all content," he said.
Another academic requesting anonymity said that one should not be dismissive of any scriptural content.
Vedic maths is a small component of the knowledge created by Indian mathematicians. It can be brought in as a part of the subject of mathematical knowledge created by Indians, he said.
The NDA government had in December 2016 told the Lok Sabha that the calculation methods suggested by Vedic mathematics do not work for all sums.
The then minister of state for human resource development, Upendra Kushwaha, had told Parliament in a written reply that there was no proposal to introduce Vedic mathematics in syllabi.
"Some methods are applied for quick calculations in Vedic Mathematics. However, these methods do not work at all places in mathematics," Kushwaha had said in his reply.
The Shiksha Sansthan Utthan Nyas, headed by RSS ideologue Dinanath Batra, had earlier proposed to the government to start Vedic mathematics in schools.