Opposition accuses govt of 'censorship'
Centre asks Twitter, YouTube to deny access to BBC film on Narendra Modi: Sources
Secretary of I&B ministry understood to have issued order using the emergency powers under the IT Rules, 2021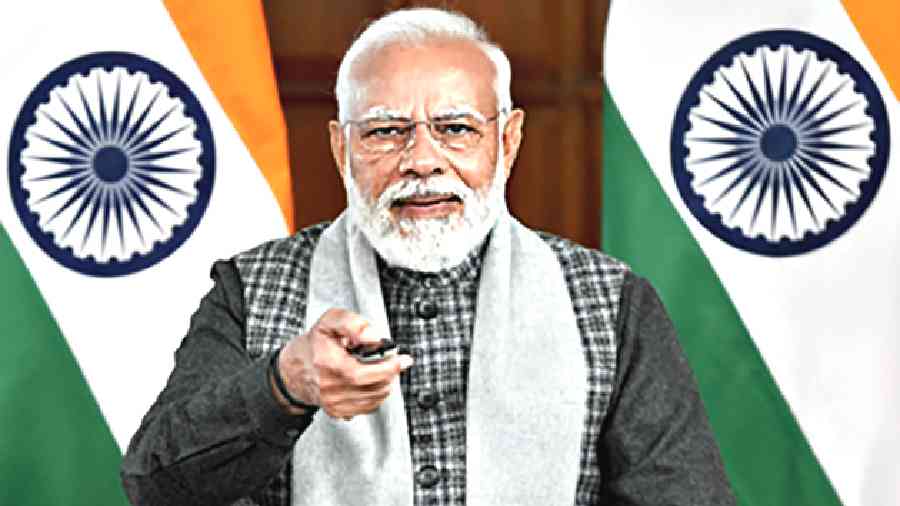 Modi attends the Rozgar Mela virtually on Friday.
PTI
---
New Delhi
|
Published 22.01.23, 03:04 AM
|
---
The Centre has directed the blocking of YouTube videos and Twitter posts sharing links to the BBC documentary India: The Modi Question, the news agency PTI has quoted sources as saying.
The first part of the documentary examines Narendra Modi's role as chief minister during the 2002 Gujarat riots.
The directions on blocking access were understood to have been issued by Apurva Chandra, secretary, ministry of information and broadcasting, on Friday using the emergency powers under the IT Rules, 2021, PTI reported.
The sources said senior officials from ministries such as external affairs, home and I&B had examined the documentary and found in it an attempt to cast aspersions on the authority and credibility of the Supreme Court, sow divisions among various Indian communities, and make unsubstantiated allegations about the actions of foreign governments in India.
The sources said the documentary was found to have undermined India's sovereignty and integrity, and to have the potential to hurt relations with foreign governments and public order within the country.
Orders have been issued to Twitter to block over 50 tweets containing links to the YouTube videos related to the documentary, they said, adding that social media platforms have complied with the directions, PTI reported.
The Centre, YouTube and Twitter had not made any public statements on the subject till Saturday evening. The Congress and the Trinamul Congress accused the Modi government of "censorship" of the two-part documentary, which the external affairs ministry had earlier lambasted as a "propaganda piece" lacking in objectivity and reflecting a "colonial mindset".
"PM and his drumbeaters assert that the new BBC documentary on him is slanderous. Censorship has been imposed," Congress leader Jairam Ramesh tweeted, underlining how then Prime Minister Atal Bihari Vajpayee had damningly advised Modi to practise "raj dharma" (duties of a ruler) after the riots.
Trinamul MP Derek O'Brien said the documentary had "exposed" Modi. "Censorship@Twitter @TwitterIndia has taken down my tweet of the #BBCDocumentary, it received lakhs of views. The 1 hr @BBC docu exposes how PM @narendramodi hates minorities," he tweeted.
But Ramesh flagged Vajpayee's reported unhappiness with Modi after the riots.
"Then why did PM Vajpayee want his (Modi's) exit in 2002, only to be pressured not to insist by the threat of resignation by Advani?" he tweeted. He attached a video clip of Vajpayee talking about "raj dharma" with Modi sitting beside him.
Congress  general secretary (organisation) K.C. Venugopal had on Friday alleged that Modi "is still scared of the truth about 2002 coming out 21 years later".
The Supreme Court had last year upheld a clean chit given to Modi by a special investigation team in a riot conspiracy case.