Catholic institutions across India marked National Justice Day on Wednesday, paying homage to Father Stan Swamy who died in custody while awaiting bail in a terrorism case.
"During his bail plea, Stan didn't ask for mercy. He asked for his right, which was bail," Delhi University professor Apoorvanand said at a public meeting at the Sacred Heart Cathedral in the capital. "He said, 'Give me bail and I live with my people in Ranchi, or let me die in (Navi Mumbai's) Taloja Jail'. Demonstrations were held in several states, including Bengal, Jharkhand, Goa, Karnataka, Tamil Nadu, and Kerala. In Calcutta, a prayer service for Fr Stan was held at the Archbishop's House.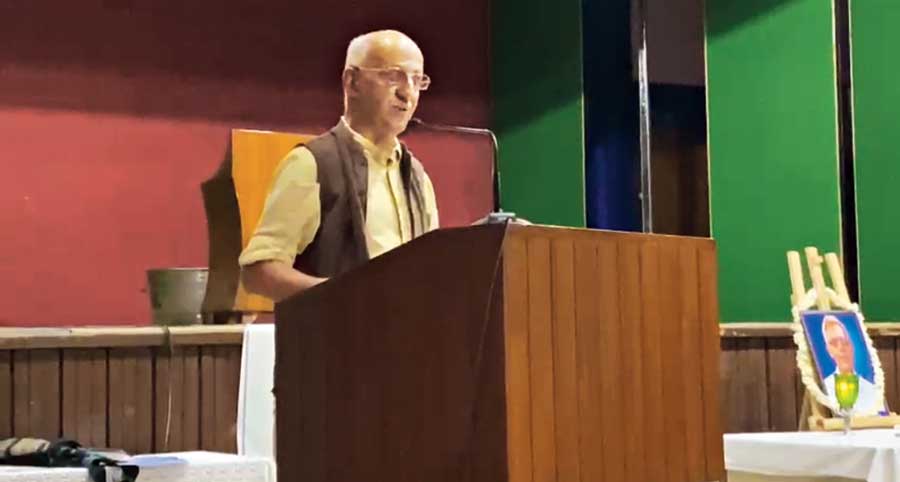 Harsh Mander speaks at the Delhi gathering
Activist and former bureaucrat Harsh Mander, who participated at a vigil in New Delhi, told The Telegraph: "It is a sad commentary on where we have reached as a republic when someone who has spent his life in the service of the people — not by providing for their needs but speaking out on their behalf — someone who is a national hero, should die this way."
He added: "We have laws that allow a complete denial of natural justice…. The character of our State is revealed by those it considers enemies, like Stan who led the poor and the dispossessed against State power…. And we have witnessed the sheer cruelty of actors within the criminal justice system…. It was not jail authorities but prisoners who cared for him like a father."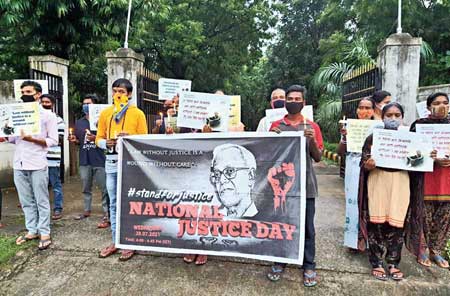 A silent protest near St Joseph Cathedral in Golmuri, Jamshedpur, for Father Stan Swamy Bhola Prasad
Fr Stan, a Parkinson's patient, died of multiple ailments blamed on poor treatment of a Covid infection he had contracted during his nine-month stay in jail.
In Jamshedpur, nearly 1,000 priests, nuns, sympathisers and rights defenders took part in a silent protest with lighted candles and placards at various Jesuit institutions. "The death of Fr Stan is not an end in itself but an opportunity to reaffirm our faith in our nation's Constitution and awaken the consciousness of the masses," said Fr Gerald D'Souza, the administrator at Loyola High School in Jamshedpur.
"We had given instructions that there should not be any sloganeering and no disturbance to any public movement," Fr D'Souza added.
"We gathered with the lights in our hands to show our solidarity with… all the Jesuits in the country and support the cause for which Fr Stan lived and died," said Leena Mukherjee, an employee of Mercy Hospital.
In Dindigul, Tamil Nadu, Father Stan's ashes were carried in an urn for multiple events, including a church service, beginning at Beschi Illam where he had joined the Jesuits in 1957.
Later in the day, a memorial service was held at St Joseph's Cathedral, Dindigul, followed by a public event outside the church where political leaders and local personalities paid their respects.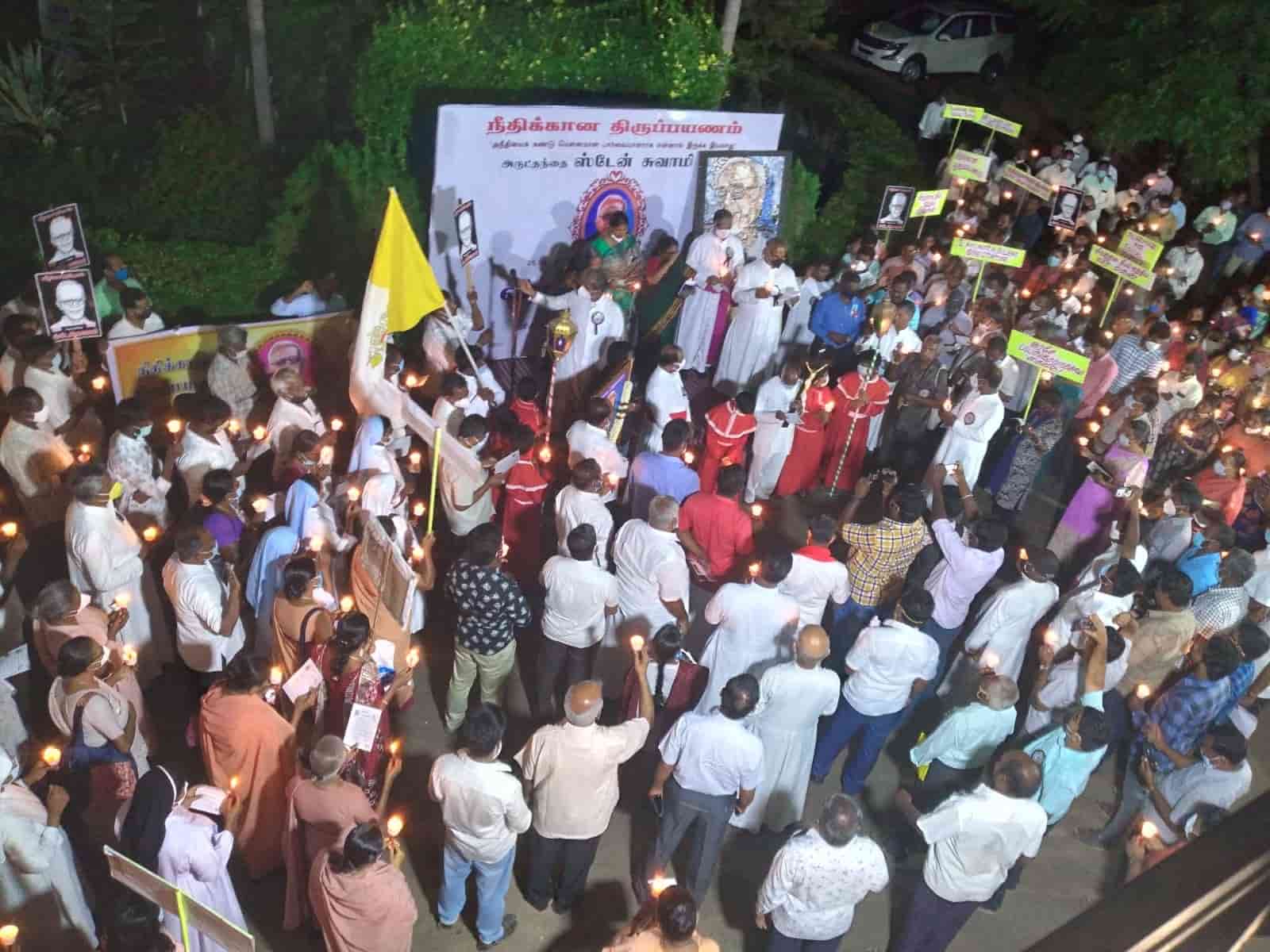 A procession in memorial of Fr. Stan Swamy in Tamil Nadu's Dindigul.
In Goa, memorials and large protest meetings were held in several places including St. Alex Church in Calangute, Our Lady of Immaculate Conception Church in Panjim, Holy Spirit Church in Margao, and Our Lady of Snows Church, Rachol.
Jerald D'Souza, director of St Joseph's College of Law who helped organise an event in Bangalore in Father Stan's memory, told this newspaper: "Some ask, why should a priest do any work besides pious or religious practices? They (those who ask this question) fail to see the larger issues with democracy and the rule of law that affect the whole system.
"They tend to follow the misleading reports in the mainstream media. The court's withdrawal of its observations on Fr Stan led people to believe he had done something wrong. Despite this, many have come together in solidarity as his death is a wake-up call to many of us."
Last week, a Bombay High Court judge had withdrawn his oral observations praising Father Stan's work in response to a prosecutor's request.