Calls for genocide could lead to civil war, says Naseeruddin Shah
Earlier this week, several SC lawyers wrote to the Chief Justice of India urging him to take suo motu cognisance of hate speeches calling for killing of Muslims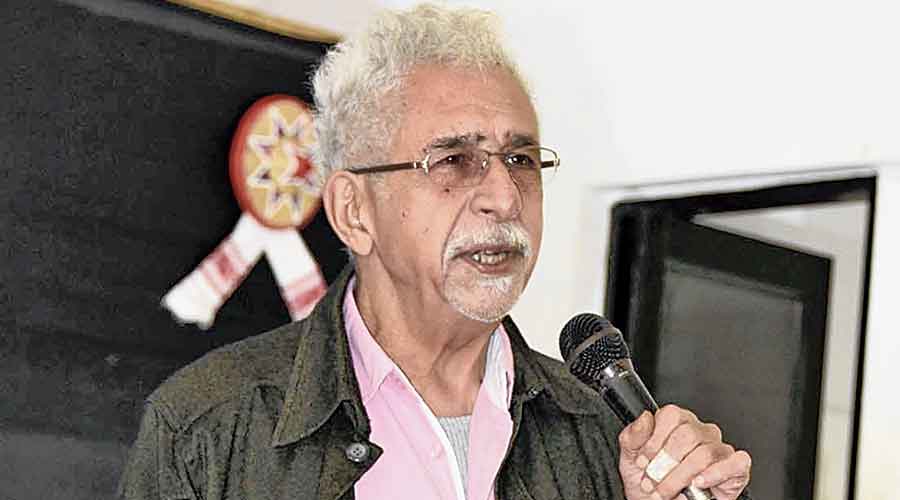 Naseeruddin Shah.
File photo
---
New Delhi
|
Published 29.12.21, 01:49 AM
|
---
Actor Naseeruddin Shah has said those calling for a genocide of Muslims are in effect calling for a full-scale civil war.
In an interview to The Wire seeking his opinion on the genocide calls, Shah told Karan Thapar: "I wonder if these people know what they are talking about. What they are calling for is a full-scale civil war. Two-hundred million of us are not going to get wiped out that easily. Two-hundred million of us are going to fight back. Two-hundred million of us claim this to be our motherland. Two-hundred million of us belong here; we were born here, generations of our families have lived here and died here. I'm certain that if any such movement begins, it will be met with a massive resistance and a massive amount of anger."
Angry and resentful at the manner in which Muslims are in the process of being reduced to second-class citizens, Shah added: "This is an attempt to spread a phobia among the Muslims, and the Muslims must not give into it…. We must not admit that this is frightening us because if it comes to the crunch, we will fight back…. Because we are defending our homes, we are defending our homeland, we are defending our families, we are defending our children.… I am not talking of our beliefs, beliefs very easily get threatened."
Echoing a view that the attempt to marginalise Muslims has sanction from the very top of the government, the actor said: "What is happening here is a concerted attempt to make Muslims feel insecure. It is starting from the very top where Aurangzeb is being invoked…. Separatism has become a policy for the ruling party. I was curious to see what would happen to these guys (those who delivered the hate speeches). The fact that nothing happened to them is not surprising because nothing happened to the guy whose son trampled farmers.…''
Shah said he was not surprised at the state of affairs. "It's not entirely surprising. It is worrisome but that is more or less what we expected. I did fear that it would come to this though I must say that how things have turned out are worse than anyone's worst expectations. We have a leader who keeps silent in the face of such provocation."
Earlier this week, several Supreme Court lawyers wrote to the Chief Justice of India urging him to take suo motu cognisance of hate speeches calling for a genocide of Muslims to achieve ethnic cleansing. The letter cited the Dharam Sansad in Haridwar and a meeting in Delhi between December 17 and 19 and named nine persons against whom action should be taken on the basis of videos of their hate speeches.
In the letter, the 76 signatories said the comments were not just hate speeches but they "amount to an open call for murder of an entire community", adding that they "pose a grave threat not just to the unity and integrity of our country but also endanger the lives of millions of Muslim citizens".
The letter pointed out that no effective steps had been taken in the case of earlier hate speeches also. "Thus, urgent judicial intervention is required to prevent such events that seem to have become the order of the day.''
The signatories to the letter included Dushyant Dave, Prashant Bhushan, Salman Khurshid, Raju Ramachandran, P.V. Surendranath, Shalini Gera and Nayantara Roy.