Saffron party paid back in its own coin
BJP OBC minister defects to Samajwadi Party
Swami Prasad Maurya's exit was not an isolated incident and became evident when three MLAs loyal to him quit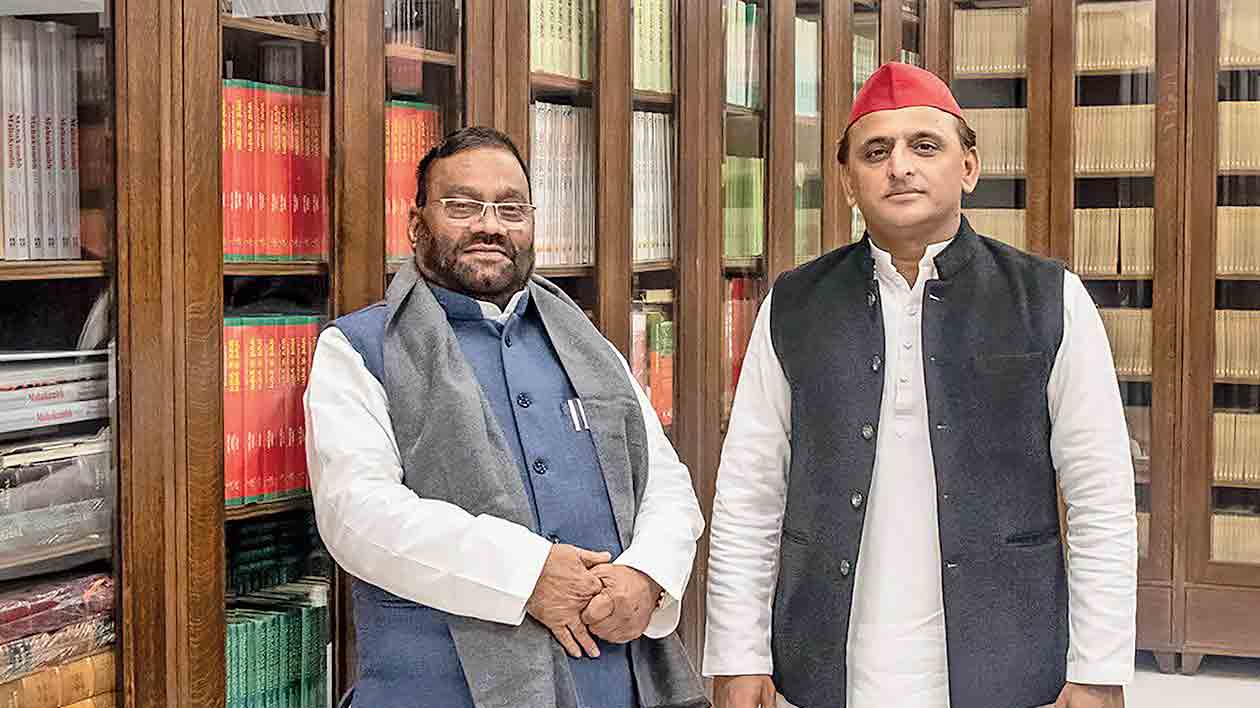 ---
Lucknow
|
Published 12.01.22, 02:23 AM
|
---
The BJP in Uttar Pradesh got a taste of its own medicine on Tuesday when one of the OBC faces of the Yogi Adityanath government resigned from the ministry, underscored the neglect of the marginalised sections and turned up at the Samajwadi Party office to pose with Akhilesh Yadav for a picture.
That the exit of Swami Prasad Maurya, the cabinet minister for labour, employment and coordination, was not an isolated incident became evident when three MLAs loyal to him quit the BJP.
It is not clear how any eventual defection — a tactic regularly used by the BJP to whip up an impression of a wave in its favour — will play itself out in the heartland that goes to the polls between February 10 and March 7. The BJP itself has had a mixed bag: the tactic miserably failed in Bengal but worked in post-poll situations in several other states.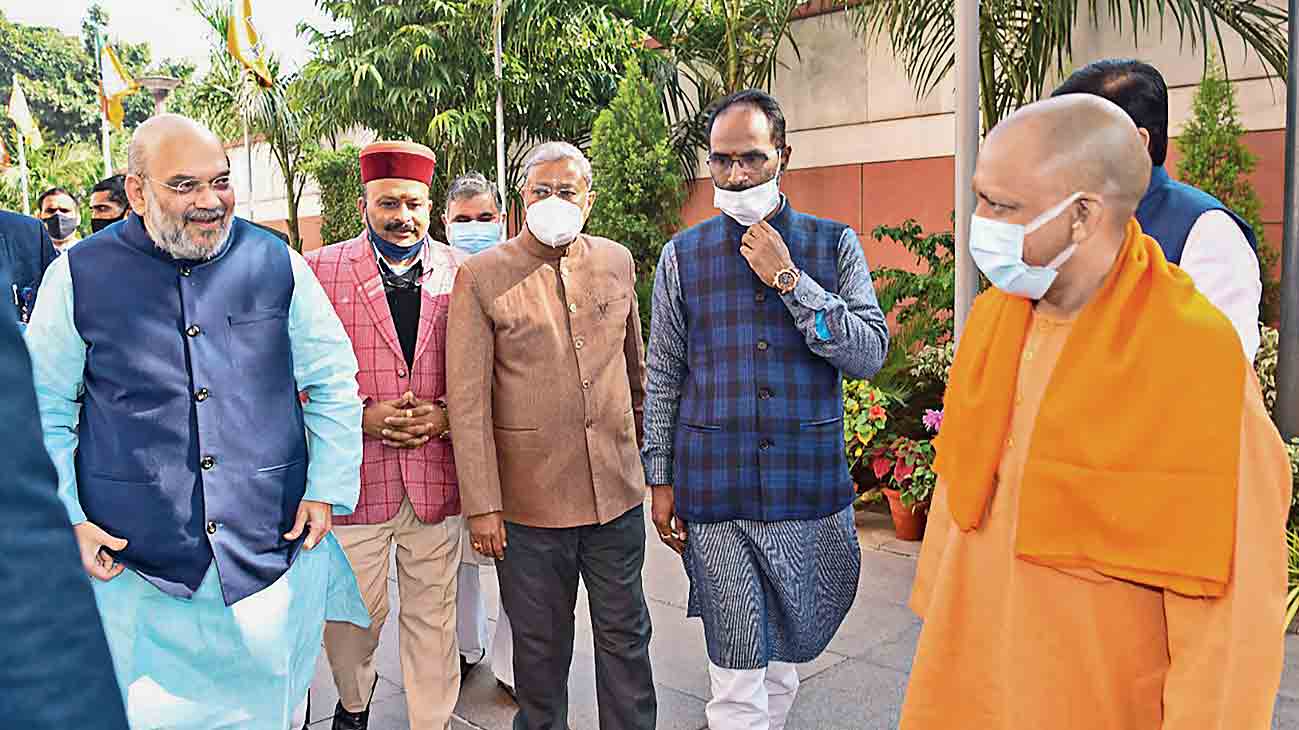 But Swami Prasad, who was with the BSP earlier and whose switch to the BJP in 2017 appears to have left his base intact, is considered influential in at least 20 seats spread across Kushinagar, Pratapgarh, Kanpur Dehat, Banda and Shahjahanpur.
His OBC credentials could hurt the BJP in these districts.
More important, the optics associated with such departures could end up crystallising any misgivings the marginalised sections might be harbouring against the Adityanath government. "Sitting MLAs are in deep trouble as they are not able to do any work in their areas and the voters are angry with them," a BJP source said.
In his resignation letter despatched to governor Anandiben Patel, Swami Prasad made it a point to blame the "gross neglect (of the government) towards Dalits, backwards, farmers, unemployed people, youths and small and medium businessmen".
He said in the letter that he had delivered his duties with dedication "in a hostile situation and an ideologically contradictory atmosphere in the cabinet of chief minister Yogi Adityanath".
The rebellion by Swami Prasad and the three MLAs — Brajesh Prajapati, Roshan Lal Verma and Bhagwati Sagar — came at a time multiple pre-poll surveys have been predicting a BJP victory with reduced seats.
On Tuesday, Union home minister Amit Shah, chief minister Adityanath and deputy chief minister Keshav Prasad Maurya held were holding a meeting in Delhi against the backdrop of the shortlisting of candidates when news of the Lucknow departures broke.
Amid claims that more elected representatives and leaders would leave the BJP over the next month, the ruling party rushed to make conciliatory gestures.
Deputy chief minister Keshav Prasad Maurya told reporters: "I don't know what prompted Swami Prasadji to resign but I suggest he sit with us and resolve the differences. Decisions taken in a hurry often prove wrong." The deputy chief minister also tweeted this message.
Swami Prasad told reporters at his residence in Lucknow: "My self-respect is most important to me. I cannot stay in a place where I feel insulted."
Asked about his next destination, he said: "I can say that the party I join will form the government after the Assembly elections."
While Swami Prasad, Verma and Prajapati are OBC leaders, Sagar is a Scheduled Caste leader. The OBCs have traditionally supported the Samajwadi Party, being seen as the main challenger to the BJP in the upcoming elections. The OBCs and SCs make up over 60 per cent of Uttar Pradesh's population.
The Brahmins, whose leaders claim the community makes up around 10 per cent of the state's population, have also accused Adityanath of favouring his own caste members, Thakurs or Kshatriyas, to the detriment of others.
Swami Prasad's daughter Sanghmitra Maurya is a BJP MP. She had defeated Akhilesh's cousin Dharmendra Yadav.
Later in the afternoon, Samajwadi president and former chief minister Akhilesh tweeted a picture of him with Swami Prasad and wrote in Hindi: "I welcome with respect Sri Swami Prasad Maurya, a popular leader who fights for social justice and equality, and other leaders, workers and followers who have come along with him."
सामाजिक न्याय और समता-समानता की लड़ाई लड़ने वाले लोकप्रिय नेता श्री स्वामी प्रसाद मौर्या जी एवं उनके साथ आने वाले अन्य सभी नेताओं, कार्यकर्ताओं और समर्थकों का सपा में ससम्मान हार्दिक स्वागत एवं अभिनंदन!

सामाजिक न्याय का इंक़लाब होगा ~ बाइस में बदलाव होगा#बाइसमेंबाइसिकल pic.twitter.com/BPvSK3GEDQ

— Akhilesh Yadav (@yadavakhilesh) January 11, 2022
"This time all the oppressed, downtrodden and neglected will unite against the BJP's insulting and divisive politics. There will be a revolution of the SP's politics of giving respect to all. In 2022, with everyone meeting each other, there will be positive politics of 'Mela Hobe'. There will be a historic defeat of the BJP," Akhilesh added.
इस बार सभी शोषितों, वंचितों, उत्पीड़ितों, उपेक्षितों का 'मेल' होगा और भाजपा की बाँटने व अपमान करनेवाली राजनीति के ख़िलाफ़ सपा की सबको सम्मान देनेवाली राजनीति का इंक़लाब होगा।

बाइस में सबके मेल मिलाप से सकारात्मक राजनीति का 'मेला होबे'!

भाजपा की ऐतिहासिक हार होगी!#भाजपा_ख़त्म

— Akhilesh Yadav (@yadavakhilesh) January 11, 2022