Adityanath getting all telephones tapped, says Akhilesh Yadav
He said that from the heavyweight campaigners being sent from Delhi to the tax raids and the alleged tapping, everything betrayed the BJP's desperation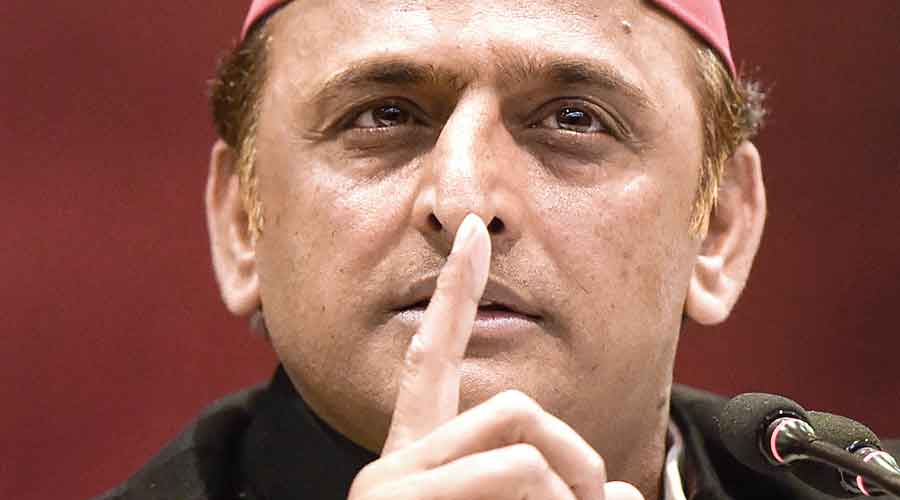 Akhilesh Yadav at the news conference in Lucknow.
PTI Photo
---
Lucknow
|
Published 20.12.21, 03:40 AM
|
---
Akhilesh Yadav on Sunday claimed his phone was being tapped and alleged the direct involvement of Uttar Pradesh chief minister Yogi Adityanath.
Speaking a day after income-tax raids on his associates that he had termed an "election-time trick", the Samajwadi Party president suggested the alleged tapping too stemmed from the BJP's fears of defeat in the upcoming Assembly polls.
"The government is tapping all the phones in our party office. It records the phone conversations of all Samajwadi leaders. The chief minister himself listens to those recordings in the evening," Akhilesh told a news conference here.
Akhilesh said that from the heavyweight campaigners being sent from Delhi to the tax raids and the alleged tapping, everything betrayed the BJP's desperation.
"There was no doubt in our mind that along with the movement of their big leaders (to the state), the movement of the income-tax, Enforcement Directorate, CBI and other agencies too would increase," Akhilesh, a former chief minister, said.
"Earlier they used these agencies to remove (non-BJP) state governments; now they are working to ensure that the Samajwadi Party doesn't come to power."
Income-tax officials had on Saturday raided the premises of Samajwadi spokesperson Rajiv Rai in Mau and Akhilesh aides Gajendra Singh and Manoj Yadav in Lucknow, Agra and Mainpuri.
Sources in the income-tax department have alleged that black money was being disbursed from these addresses to fund the Samajwadi poll campaign and bribe voters, and claimed that laptops and bank documents have been seized.
"The entire country knows that these agencies have been deployed wherever the BJP has been losing elections. We have past experience with the ED, CBI and other such institutions," Akhilesh said, without providing details.
The Congress-led UPA government had set up an income-tax inquiry against Akhilesh's father and former Samajwadi president Mulayam Singh Yadav.
"The BJP is treading the path of the Congress. It has adopted the same method of using the central agencies to terrorise us," Akhilesh said. "But I can say that Yogi Adityanath's government will soon be dislodged."
Adityanath later attempted to ridicule Akhilesh's allegations without naming him.
"While income-tax raids were going on in some places, Samajwadi leaders were complaining of pain in their stomach," the chief minister told a rally on the Ramlila Ground in Mathura.
Justifying the raids, Adityanath said: "There are people whose wealth increased by 200 per cent when they were in power. This happened during the Samajwadi government's tenure."