Chirag seeks votes for BJP
The LJP chief also stepped up his attack against chief minister Nitish Kumar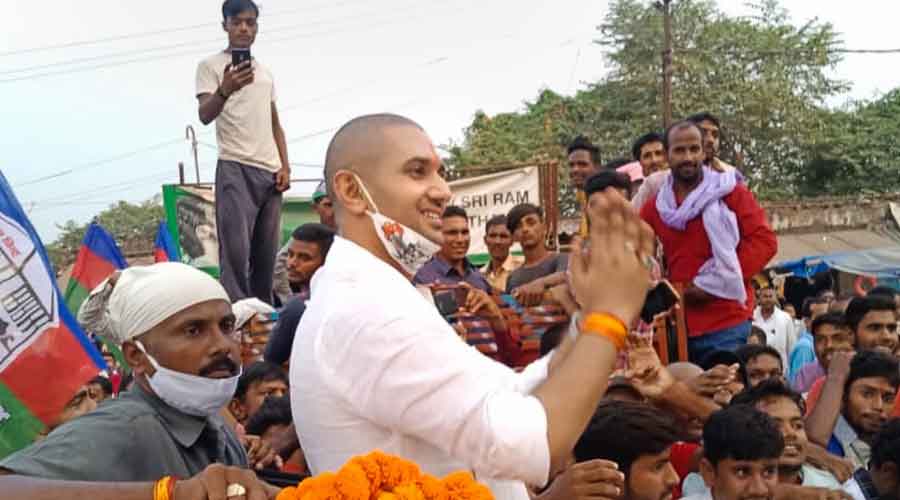 Lok Janshakti Party (LJP) chief Chirag Paswan during an election campaign roadshow
PTI
---
Patna
|
Published 26.10.20, 12:25 AM
|
---
Chirag Paswan on Sunday urged Bihar's electorate to vote for the BJP in constituencies where his Lok Janshakti Party is not contesting.
He also stepped up his attack against chief minister Nitish Kumar, in alliance with whom the BJP is fighting the election.
"I request you all to vote for LJP candidates at all the places where they are contesting to implement 'Bihar first, Bihari first' (the party's slogan for the Assembly polls), and vote for BJP candidates at other places," Chirag tweeted.
"The next government in the state will be free of Nitish."
While senior BJP leaders claim that the LJP is not in the NDA in Bihar, many believe that the BJP is using Chirag to try and undermine Nitish and emerge the largest party in the October-November elections. Chirag's latest act would bolster the suspicion.
Such speculation had gained strength when Prime Minister Narendra Modi paid rich tributes to Chirag's recently deceased father, former Union minister Ram Vilas Paswan, at his first election rally in Bihar.
Modi had refrained from criticising Chirag while broaching the subjects of Article 370 and the instant triple talaq— issues on which Nitish has refused to support the BJP.
Chirag's party has fielded candidates from 136 of the state's 243 seats, including 115 where Nitish's Janata Dal United is in the fray. A few LJP nominees are contesting against BJP candidates too, but sources said they had been fielded with the BJP's permission.
Many BJP flags were seen at Chirag's rallies in Buxar and Sitamarhi on Sunday.
Chirag's appeal is being seen as a signal to the voters that he is indeed with the BJP. This could win him votes from BJP supporters in constituencies where his candidates are pitted against JDU rivals.
It can help keep him in the BJP's good books too — the LJP commands about six per cent votes in Bihar.
Chirag's move is also being seen as a bid to counter the allegation — levelled by many BJP leaders as they tried to distance their party from the LJP's anti-Nitish stance — that his party is a "vote katwa" (gobbler of NDA votes).
It's also a way of rebutting insinuations that he is in touch with RJD leader Tejashwi Prasad Yadav. Such whispers had gained ground after Chirag fielded a candidate from Raghopur where Tejashwi is pitted against the BJP's Satish Kumar.
Many of the LJP candidates are rebels from the BJP and the JDU.
At his rallies on Sunday, Chirag stepped up his attacks on Nitish and promised a temple at Sitamarhi, considered Sita's birthplace, that would be bigger than the proposed Ram temple in Ayodhya.
"Nitish and his officials will be behind bars if we come to power," he said in Buxar while alleging rampant corruption in the execution of government schemes.
In another rally, he asserted that Nitish's pet project of prohibition had been a failure. "Liquor is being sold on a large scale and he (Nitish) is getting the money," Chirag alleged.