BJP rides Jinnah's ghost in Darbhanga campaign
Another unlikely presence, also in spirit, has been that of Aligarh Muslim University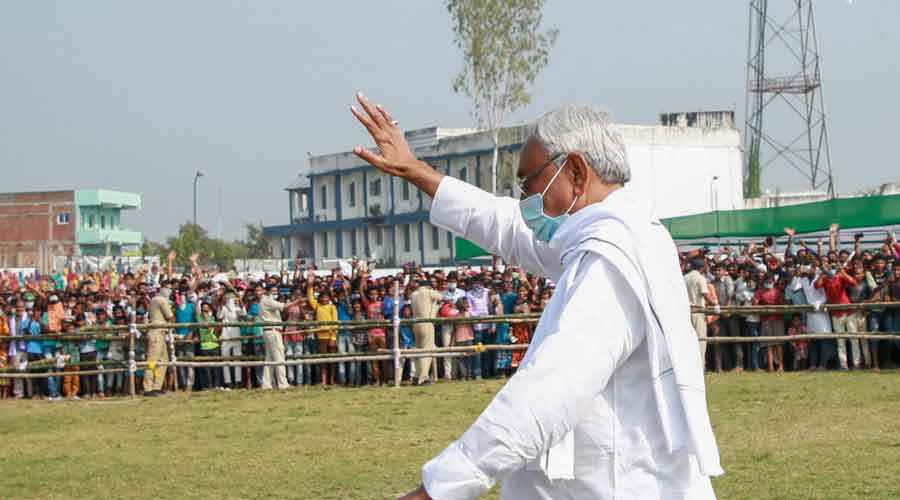 ---
Lucknow
|
Published 26.10.20, 12:03 AM
|
---
Muhammad Ali Jinnah's ghost has entered the campaign trail in the Jale seat of Bihar's Darbhanga district riding on the coattails of Congress candidate Maskoor Ahmad Usmani.
Another unlikely presence, also in spirit, has been that of Aligarh Muslim University, located a thousand miles away in western Uttar Pradesh, where Maskoor had been students' union president in 2017-18.
Over 50 AMU students are camping in Jale to manage Maskoor's campaign and more are headed that way. And Maskoor's opponents have been linking him to Jinnah, alluding to a controversy over a portrait of Pakistan's founder at the AMU students' union hall that broke out when Maskoor was union president.
Giriraj Singh, a BJP politician, recently accused the Congress of fielding a "Jinnah supporter". Cue for social media to be flooded with posts associating Maskoor with Jinnah.
Even Rishi Mishra, Congress member and grandson of former railway minister Lalit Narayan Mishra who turned dissident after being denied the Jale ticket, has said: "I have no regrets at being denied a ticket by the Congress. But it hurts to know that a Jinnah worshipper has been chosen in my place."
Maskoor, ever ready to distance himself from Jinnah over his "dark history", has brushed away the "mischievous" comments as a ploy by the ruling alliance to veer attention away from the backwardness of Bihar in general, and Darbhanga in particular.
He has directed at the BJP the party's own all-season epithet of "anti-national", saying his opponents are "scared of AMU".
"The nationalistic, democratic and inclusive culture of AMU has always been a nightmare for the anti-national and fanatic elements. We knew they would harp on the old theme when I began campaigning in Jale," Maskoor told The Telegraph over the phone.
"Bringing Jinnah into the campaign means they are scared of AMU and are working to manufacture lies around me. These same lumpen elements had raised the issue of Jinnah's portrait at the AMU students' union auditorium during the May 2018 by-elections to the Kairana Lok Sabha seat and Noorpur Assembly constituency in Uttar Pradesh."
Several BJP politicians had demanded the removal of Jinnah's portrait, ignoring AMU's plea that it had been put up in 1937 — long before Pakistan's creation — and hung alongside the pictures of others who had spoken at the auditorium, such as Mahatma Gandhi and Mother Teresa. But the university had stood firm.
Maskoor said the portrait of every pre-independence national leader who had visited AMU and given a fillip to the freedom movement launched by the students hung from the hall's walls.
"Satish Gautam, BJP politician and MP from Aligarh, had claimed at the time that Jinnah's portrait had been hung just a few days ago. But the alert voters defeated the BJP candidates. That history will be repeated in Jale," Maskoor said.
"We don't stand by Jinnah, for we cannot forget his dark history. But the lumpens were also against the visit by Hamid Ansari, former Vice-President of India, who was chief guest at an event organised by us," Maskoor said.
A clash between AMU students and a pro-BJP crowd had broken out at the varsity gates during Ansari's visit, which took place shortly after the Jinnah row.
"Ansari was escorted safely and left the campus. Beaten up by the police at the time, I fell unconscious," Maskoor said.
He added: "Darbhanga is my hometown and Jale the place where I spent my childhood. The people know me and my commitment to my country. They will give a fitting reply to the fanatics."
Mohammad Ashraf, an AMU student who plans to visit Jale soon, said in Lucknow: "Over 50 students from the university are already campaigning door to door for Maskoor. Many more who couldn't make it to Jale are contributing money to the campaign — anything from Rs 100 to Rs 500. We are trying our best although there are some very rich people in the race."Maskoor's main rival is the BJP's Jibesh Kumar, who won the last time.
The constituency, which votes on November 7, has a habit of regularly switching support but backed the BJP the last two times.