Bengal deaths linked to NRC
A suicide and a death in two border districts of Bengal have been attributed to possible panic swirling around the NRC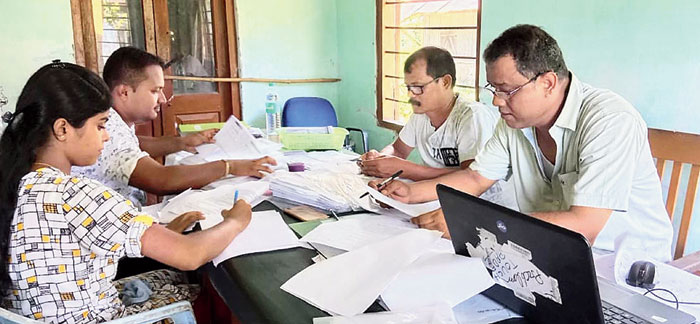 ---
|
Calcutta
|
Published 20.09.19, 10:24 PM
---
A suicide and another death in two border districts of Bengal have been attributed to possible panic swirling around the National Register of Citizens (NRC), prompting chief minister Mamata Banerjee to iterate that there was no possibility of such an exercise in the state.
Although the NRC has been finalised only in Assam, BJP leaders, including party president Amit Shah, have been asserting that the register would be extended across the country. Several people in Bengal districts bordering Bangladesh have been scrambling in the past few days to trace documents that support their nationality.
In Jalpaiguri, Annada Roy, a 38-year-old farmer, hanged himself on Friday.
His brother Dakshada said: "Ever since the final NRC list was published in Assam, Annada had been in panic. In the past few days, he had been frantically searching for land documents. But till Thursday night, he could not find them."
Brother-in-law Nirmal Roy said Annada had had no other problems and led a normal life until the final NRC list was published in Assam. "We have specifically mentioned in the police complaint that he took his life because of panic over the NRC," said Roy.
In South Dinajpur, Mantu Sarkar, 52, died after falling ill while standing in queue with thousands of other villagers at the BDO office in Balurghat to get his digital ration card. His death too is being linked to panic over the NRC as his family members said he had been worried since the NRC was published in Assam on August 31.
The deaths led the chief minister to speak out as soon as she returned from New Delhi, where she had met Prime Minister Narendra Modi and Shah separately.
Mamata said in Nabanna: "I assure you that no NRC would be done in Bengal. The NRC in Assam was done as per the Assam Accord and has no relevance to Bengal. I request you not to panic over the issue since we will not allow it in the state. If anybody tries to throw you out, he has to throw Mamata Banerjee out first."
The chief minister announced Rs 2 lakh for the families of each of the two victims and urged people to get their names registered on the voters' list.
She added: "Some BJP leaders were creating panic among the people by making false claims that the NRC would be implemented in Bengal. But I assure you that you need not panic. As long as we are in power, no one would be able to undertake an NRC exercise in the state….
"As the home ministry looks after the matter, I took it up with the Union home minister. We won't allow the NRC here."