Before Balakot: A pilot's memory of bombing Dhaka in 1971
IAF jets first carried out an airstrike in enemy territory in East Pakistan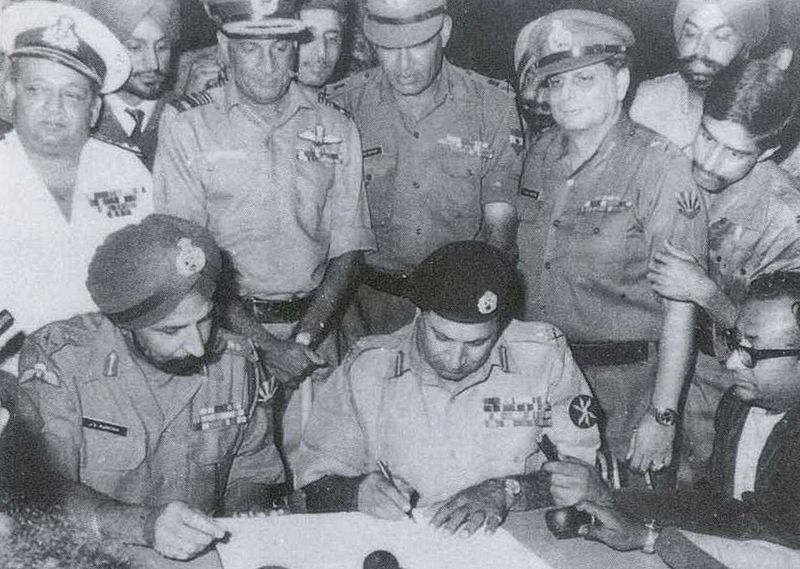 Pakistan Lt Gen Niazi signing the instrument of surrender after the 1971 Bangladesh war of independence
Photo courtesy: Wikimedia Commons
---
New Delhi
|
Published 26.02.19, 03:02 PM
|
---
When war broke out between India and Pakistan on the eastern frontier in 1971, fighter pilot Bhupendra K. Bishnoi was sent to the front at short notice. He took with him a pair of pyjamas and his camera.
When I met Bishnoi, Bhoop to his friends, in his flat in Noida's Jal Vayu Vihar about nine years ago, the retired Air Vice-Marshal retraced how he had led an airstrike.
The 1971 war that led to the creation of Bangladesh was the first instance when Indian Air Force jets had entered enemy territory.
Forty-eight years ago, at the peak of India-Pakistan war on December 5, 1971, Bishnoi had led a team of three on an interdiction mission to destroy Pakistan's communication services in what was then East Pakistan.
Operating without intelligence, they entered the enemy's firing range and were forced to retreat.
The next day, the team returned to bomb the runways of Pakistan's Tezgaon airbase, near Dhaka.
This time there were four MiGs that were instructed to bomb the entire runway. Squadron 28, of which Bishnoi was a part, was called The First Supersonics, named after supersonic Mikoyan MiG-21s that were inducted in the air force in March 1963.
After dropping two bombs, Bishnoi took some photos while going for a second strike – he had taken a camera along.
He told me then that the aim was to gather intelligence of the enemy airbase and study the area. He also had a copy of the photo, a faded, black and white image that showed black dots marking the bomb explosions on the runway.
On December 14, Bishnoi led a team of fighter jets – four MiG-21s – that fired 128 rockets at the Government House in Dhaka.
He remembered all of Dhaka had smoke and dust rising from the ground.
On December 16, 1971, General A.A.K. Niazi, the last governor of East Pakistan and the lieutenant general in the Pakistan Army, surrendered to the allied forces of India and Bangladesh and an independent Bangladesh was born.
Furquan Ameen had reported for The Caravan from April 2011 to May 2012 when he wrote on fighter pilot Bhupendra K. Bishnoi.