Axed for shoplifting, Air India pilot recounts granddad news distraction
Bhasin sent an image of the bill that shows a payment of 124 Australian dollars against the purchase of a jacket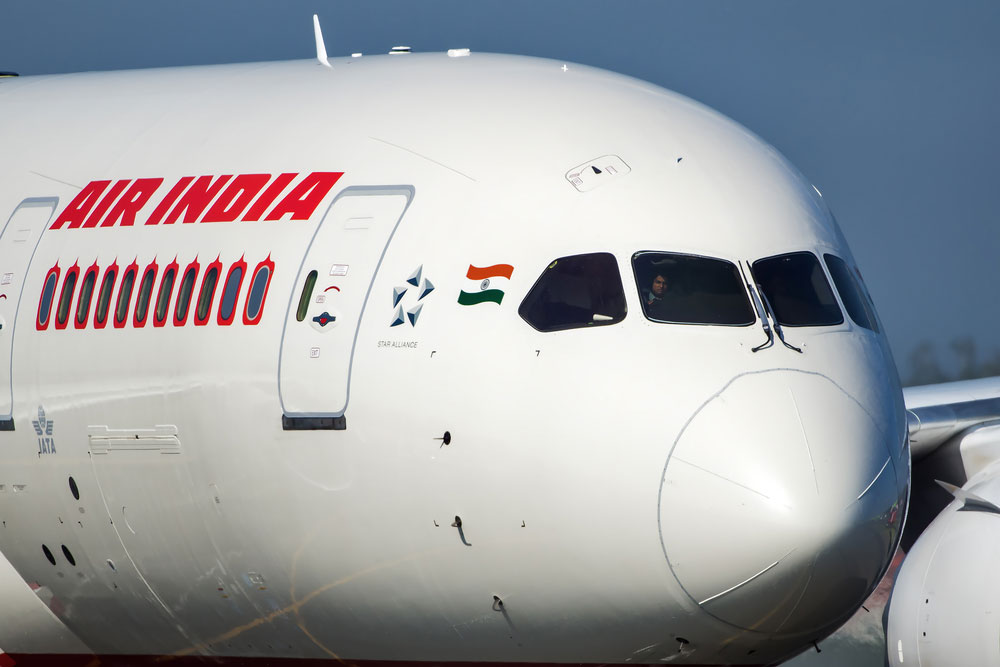 ---
|
Calcutta
|
Published 23.06.19, 09:36 PM
---
A senior Air India pilot has been suspended on the charge of stealing a card case from a duty-free shop at Sydney airport but denies the charge, claiming a "misunderstanding" at a time he had been distracted by good news from home.
Captain Rohit Bhasin, who had joined the airline's Calcutta office in June 2016 as regional director for eastern India, told The Telegraph he had handed over the card case and a jacket to the woman at the counter.
However, he said, he received a call just then from his wife saying he had become a grandfather and, "overwhelmed with joy", failed to notice that he had not been billed for the card case.
Bhasin, 57, was one of the commanders of the Delhi-bound Flight AI301, which was to take off from Sydney at local time 10.45am on June 22. He said he had entered the store, run by the New York-based luxury fashion brand Tumi, to buy a jacket, and the card case had caught his fancy.
"There is an initial report of one of its captains picking up an item from a duty free shop in Sydney," an Air India statement read.
"Air India has instituted an enquiry into this incident and has placed the captain under suspension. Air India lays the highest stress on proper conduct of its staff and has a zero tolerance policy towards acts of impropriety."
The suspension letter to Bhasin says: "It has been reported by regional manager Australasia that you allegedly committed an act of shoplifting from a duty-free shop at Sydney airport before the departure of flight AI301 of 22nd June, 2019…."
It adds: "Without prejudice to any disciplinary action to be initiated against you and pending enquiry, you are hereby placed under suspension with immediate effect. You will not enter the premises of Air India Ltd without written permission of the management.… You will surrender your PIC/Company identity card to Regional Security Head, Air India Ltd, Kolkata."
Air India has also directed Bhasin not to leave his Calcutta station without written permission from the management. His duties have been transferred to Sanjay Misra, general manager (commercial), eastern region.
"I bought one jacket from the Tumi store. There were items on sale with offers of '60 per cent off'. I also wanted to buy a card case," Bhasin told this newspaper.
"The lady assisting customers at the store asked me why I was taking a card case that was for demonstration and said she would give me a fresh one. I agreed. In the meantime, my wife called me from India and said I had become a grandfather.
"I was overwhelmed with joy. I picked up the jacket, card case and my pilot's cap. I didn't realise they had not billed me for the card case. When I was at the cockpit, a call came from our airport manager in Sydney, saying a policeman was waiting and I had taken a card case.
"I immediately told the airport manager to come and get the card case. After I handed it over, the policeman spoke to me over the phone. I told him
it was a mistake. The cop said he did not want to delay the flight and the next time I was in Sydney they would talk to me and sort it out.
"I informed my chairman-cum-managing director. But after landing in Delhi, I found that I had been suspended. I have been victimised. The airline has suspended me based on the airport manager's report. I have been working with Air India for 35 years without a spot on my record."
Bhasin said his wife, son, daughter and son-in-law were pilots too.
Bhasin sent an image of the bill to this newspaper over WhatsApp. It shows a payment of 124 Australian dollars against the purchase of a jacket.