Antony Blinken: Few relationships in the world as important as that of US-India
Serious about our responsibilities towards equality, leader asserts after meet with Jaishankar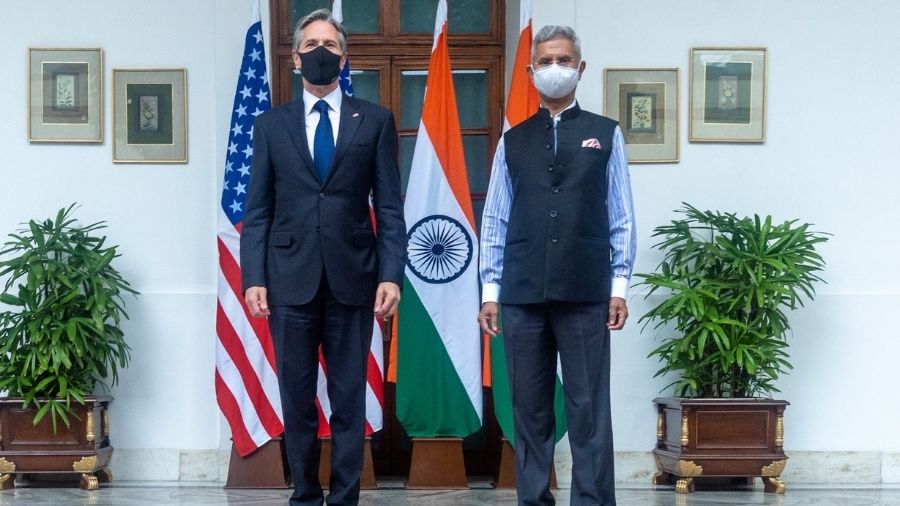 Antony Blinken and S. Jaishankar on Wednesday.
Twitter
---
New Delhi
|
Published 28.07.21, 05:01 PM
|
---
In reflection of growing bilateral ties between India and the US, External Affairs Minister S Jaishankar and US Secretary of State Antony Blinken on Wednesday held wide-ranging talks covering the situation in Afghanistan, Indo-Pacific engagements, Covid-19 response mechanism and ways to strengthen regional security.
At a joint media briefing, Blinken said there are few relationships in the world that are more vital than the one between the US and India.
At the same time, he said as the world's leading democracies, "we take seriously our responsibilities" towards freedom, equality and opportunity to all of "our people".
He said actions by India and the US shape the 21st century and beyond, and that is why strengthening partnership with India is one of the top foreign policy priorities of the US.
"Shared values - freedom and equality - are key and none of us have done enough. We need to strengthen our democratic institutions. This is at the core of our relationship, beyond strategic and economic ties," Blinken was quoted as saying by ndtv.com.
"One of the elements Americans admire most is fundamental freedom and human rights. That's how we define India. India's democracy is powered by free-thinking citizens," Blinken said.
"Both of our democracies are works in progress... As I said before, sometimes that process is painful. Sometimes it's ugly. But the strength of democracy is to embrace it," the US Secretary of state added.
Referring to Afghanistan, Blinken said both India and the US are committed to the proposition that there is no military solution to the conflict in that country, asserting that there has to be a peaceful resolution that requires the Taliban and the Afghan government to come to the negotiating table.
"We both agreed strongly that any future government in Afghanistan has to be inclusive and fully representative of the Afghan people... Ultimately it has to be an Afghan-led and Afghan-owned peace process," he said.
Blinken said India "has and will" continue to make a vital contribution to Afghanistan's stability and development.
On his part, Jaishankar said that the talks took place at an important juncture when key global and regional challenges needed to be effectively addressed.
"Our bilateral partnership enhanced to a level that it enables us to deal collaboratively with larger issues," he said.
Jaishankar said the issue of the coronavirus pandemic was naturally a particular priority.
"We discussed travel challenges resulting from Covid," he said.
"We looked at Afghanistan, Indo-Pacific and the Gulf region," he added.
On Afghanistan, Jaishankar said that the world wishes to see an independent, sovereign, democratic and stable Afghanistan.
Earlier in the Day, Blinken met civil society members and said that both US and India share a commitment to democratic values and it is part of the bedrock of the bilateral relationship.
The US Secretary of State said that successful democracies include "thriving" civil societies, noting that they are needed to make democracies "more open, more inclusive, more resilient, more equitable."
All people deserve to have a voice in their government and be treated with respect no matter who they are Blinken asserted while noting that Indians and Americans believe in human dignity, equality of opportunity, the rule of law, fundamental freedoms, including freedom of religion and belief.
"Perhaps most important, we're connected by shared values, and I believe shared aspirations, that are common to our people. The Indian people and the American people believe in human dignity, in equality of opportunity, the rule of law, fundamental freedoms, including freedom of religion and belief," he said.
"We believe that all people deserve to have a voice in their government and be treated with respect no matter who they are. These are fundamental tenets of democracies like ours, and our purpose is to give real meaning to these words and constantly renew our commitment to these ideals," he added.
Ahead of his two-day visit, US officials had said Blinken would raise issues related to "human rights and democracy" with India.