Antigen test without next step linked to Covid spread
Symptomatic patients found negative on the so-called antigen tests are not being directed to take the more reliable RT-PCR test to confirm the diagnosis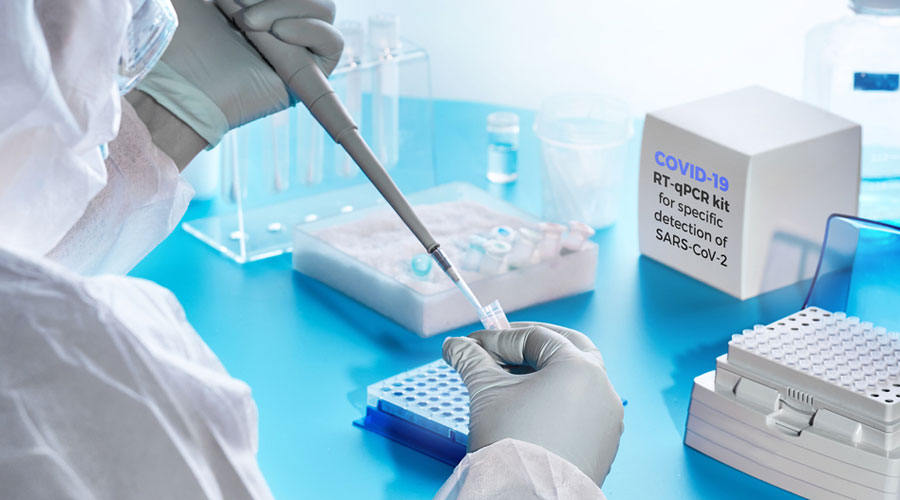 ---
---
Health authorities in some states may themselves be fuelling the spread of the new coronavirus disease by not directing all symptomatic patients found negative on the so-called antigen tests to take the superior RT-PCR test, experts have said.
India's Covid-19 testing guidelines require all symptomatic patients found negative on the easier and faster antigen test to take the more reliable RT-PCR test, but experts are worried that amid large-scale expansion of the antigen tests, adherence to the rule is not 100 per cent. Both antigen and RT-PCR tests are conducted on swab samples.
The 30-minute antigen tests come with lower reliability than RT-PCR tests, which means some patients infected with Covid-19 may be labelled by the antigen tests as "false negatives". The guidelines thus make it mandatory for all symptomatic patients to be tested with an RT-PCR to confirm the diagnosis.
"We know that this retesting rule is not scrupulously adhered to everywhere," a senior infectious disease expert tracking India's Covid-19 epidemic told The Telegraph. If symptomatic Covid-19 patients are missed because of poor adherence to this retesting rule, they can further spread the infection.
The RT-PCR diagnostic test is viewed as the gold standard and looks for viral genetic material but requires a sophisticated lab and skilled personnel. The antigen test has gained popularity because of its ease of use and has been deployed for mass screening such as looking for infections within large residential societies.
Sources in the Union health ministry said antigen tests now make up significant proportions of daily samples tested. In Maharashtra, for instance, the state with the largest number of Covid-19 cases, antigen tests made up 41 per cent of tests last week while 59 per cent samples were tested through RT-PCR.
In Karnataka, 39 per cent samples were subjected to antigen tests, and in Andhra Pradesh, 40 per cent. In Delhi, 73 per cent were antigen tests and 27 per cent were RT-PCRs. Only in Tamil Nadu, all samples are tested through the RT-PCR mode, officials have said.
Public health specialists believe more local data are required to understand the reasons for poor adherence to the retesting rule. "One possibility is logistical — there appears to be a significant lag in the test-result-reconcile cycle," said Oommen John, a physician and senior research fellow at The George Institute for Global Health, New Delhi.
"We need robust mechanisms in place to identify those who definitely need an RT-PCR confirmatory test," John said. The public as well as health authorities implementing the antigen tests need to be aware of the need for the reconfirmation and follow up, he said.
The expansion of antigen tests without mandatory testing of symptomatic negatives could contribute to temporary false declines in new cases, one expert said. Experts attribute the decline in new cases in Delhi during July-August and a fresh resurgence this month as the likely outcome of false negatives spreading the infection.
Delhi had recorded 3,947 new cases on June 23. New cases then fell to 613 on July 27 only to rise again to reach 4,473 on September 16. "This is not a second wave — Delhi is still in the first wave artificially suppressed through the rapid expansion of antigen tests," the infectious disease expert said.
India's active cases of Covid-19 increased to around 970,000 on Friday from 966,000 on Thursday, a slight rise after six successive days of decline. Health authorities on Friday detected 86,052 new Covid-19 cases, raising the number of lab-confirmed infections to over 5.81 million patients, of whom 4.75 million have recovered and 92,290 have died.