Answer for 5 years: Priyanka
'Gap' in boast and reality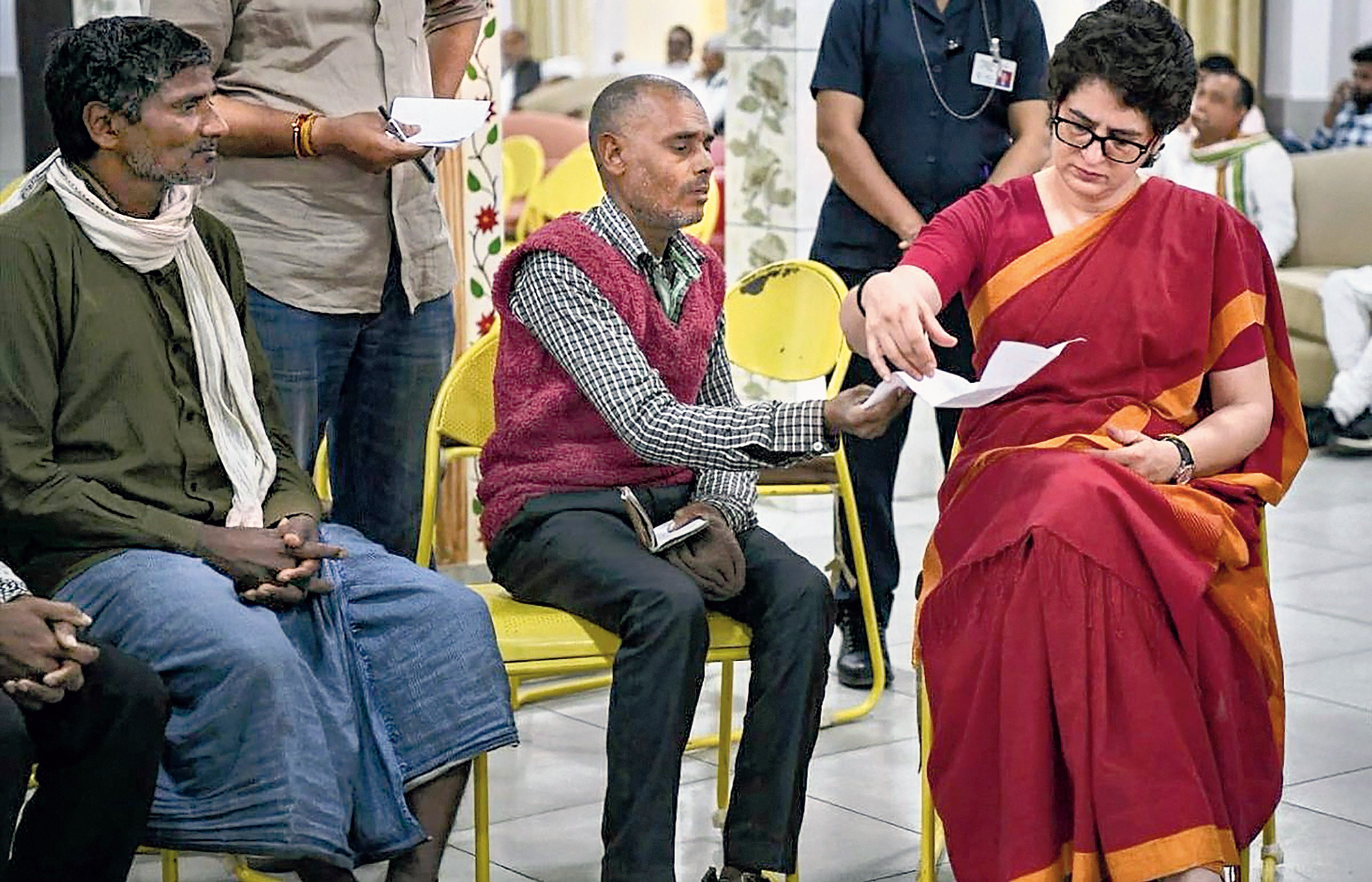 ---
|
Lucknow
|
Published 19.03.19, 09:01 PM
---
BJP leaders' non-stop assertion that "the Congress has done nothing in 70 years" has to have an "an expiry date", Priyanka Gandhi said on Tuesday, asking what the Narendra Modi government had done in its five years.
"Farmers, students, shiksha mitras (contract teachers at primary schools), anganwadi workers, asha bahus are all victims (of the government). They haven't got anything," she said.
"There was an announcement that they (asha bahus) would receive Rs 17,000 as (monthly) salary. Two years have passed but they are surviving on Rs 8,000 only."
Asha bahus are trained nurses whom the Yogi Adityanath government has appointed — one for a cluster of villages — to provide free post-delivery care to newborns and their mothers and persuade families to visit health centres for childbirth.
"There's a huge gap between their (the BJP's) pitch and reality. As for their parroting of '70 years', this too has an expiry date. You have been in power for five years — what have you done during this time?"
Replying to a reporter's question, the Congress general secretary for eastern Uttar Pradesh said the Modi and Adityanath governments' boastful pamphlets about their achievements "look good but are far from the truth".
Temple din
Priyanka has been riding a motorboat down the Ganga from Allahabad towards Varanasi since Monday, stopping at riverside towns and villages to campaign.
As she inches closer to Varanasi, Modi's parliamentary constituency, BJP workers and supporters have started following her and trying to disrupt her programmes.
A pro-BJP crowd chanted "Modi, Modi" inside the riverside Vindhyawasini Devi temple at Vindhyachal in Mirzapur district, 50km from Varanasi, as Priyanka was entering the sanctum sanctorum on Tuesday afternoon. Similar scenes had been witnessed at the Sitamarhi temple in Bhadohi in the morning.
An angry member of Priyanka's entourage told reporters that the sloganeers had been sent from Varanasi.
"We can chant only in the honour of the gods and goddesses at our temples, but the BJP puts Modi above our religious beliefs. These are the people who would chant 'Har Har Modi' during the 2014 Lok Sabha campaign," the unidentified man said.
Priyanka wrote a comment in Hindi on the visitors' book at the temple: "Jai Mata Di (Victory to the Mother Goddess). I am happy to pay obeisance to Mother Vindhyawasini. I am happy to meet my ancestors' pandas (family priests)."
Onlookers said several BJP supporters had rushed to see what she had written and looked disappointed when they failed to find anything controversial in her comments.
Soon after, Priyanka visited the mausoleum of a Sufi saint, Kantit Sharif Ismail Chisti, and offered a chadar.
She had earlier apologised to a fruit seller in Mirzapur after a group of Congress supporters climbed onto his cart to welcome her and damaged the fruits. She asked party workers to collect Rs 2,000 and handed it to the vendor as compensation.