Amit Shah tones down 'shastra pujan' attack
Maharashtra and Haryana will vote on October 21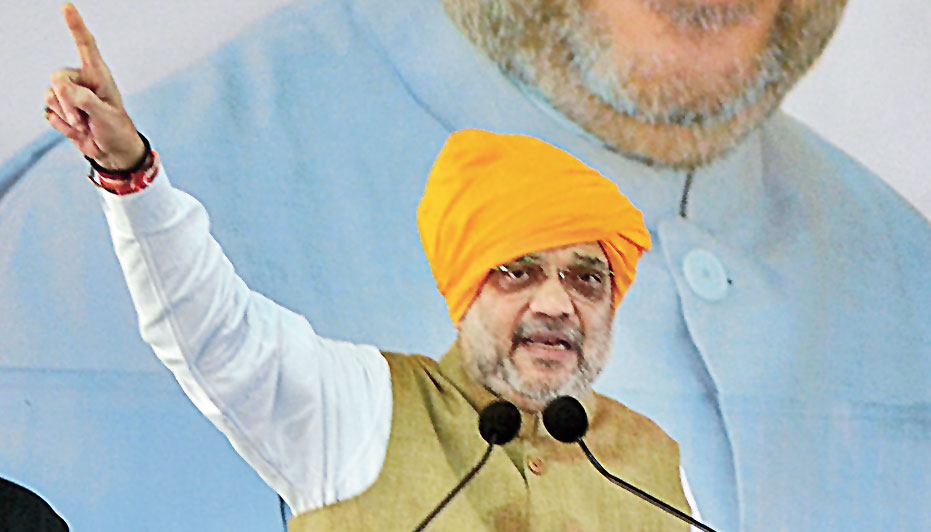 ---
---
Amit Shah on Thursday made only a passing reference to "shastra pujan" at election rallies in Maharashtra, in contrast to his all-out attack on the Congress in Haryana on Wednesday for questioning the "worship" of a Rafale fighter jet, after the BJP was roundly mocked on social media.
An old Narendra Modi speech, ridiculing "nimbu-mirchi" superstition, was widely shared on Twitter to poke fun at the BJP.
In the video clip of Modi's address at the inauguration of Delhi Metro's Magenta line in August 2017, the Prime Minister is heard saying: "Apne car ke upar nimbu-mirchi aur pata nahi kya kya…Yeh log desh ko kya prerna denge? Aisee andh shraddha mein jeene wale log sarwajanik jiwan ka bahut ahit karte hain. (On their car, they place lemons, chilli and what not… How will such people inspire the country? People living with such blind beliefs cause lot of harm to public life)." Modi had spoken of a chief minister putting "nimbu and mirchi" on his new car, but not named the minister.
Twitterati shared the clip of Modi's speech alongside photographs of nimbu under the wheels of the Rafale fighter jet that defence minister Rajnath Singh had "worshipped" in France.
Shah, who is the BJP chief and the home minister, addressed four election rallies in Maharashtra but mentioned "shastra pujan" at only one. At the rally in Latur, Shah said that Rajnath had performed the worship in France and that the Congress opposed it.
At two rallies in Haryana on Wednesday, Shah had flaunted the "shastra pujan" of Rafale as an Indian "tradition" and "culture", mocked the Congress for questioning it and asked voters whether or not such worship should be performed.
"Should shastra pujan be conducted on Dussehra day or not? So many elderly people are here, I want to ask them, should it be done or not? Isn't shastra pujan our tradition?" he had asked the crowd. "You (the Congress) don't understand this country", Shah added.
Maharashtra and Haryana will vote on October 21.
On Thursday, Shah's election speeches were focused on using Article 370 and the National Register of Citizens.