Amit Shah campaigns door to door without mask in UP, Uttarakhand
In the past two days, the Union home minister has been seen distributing fliers after moistening his thumb with saliva to grip them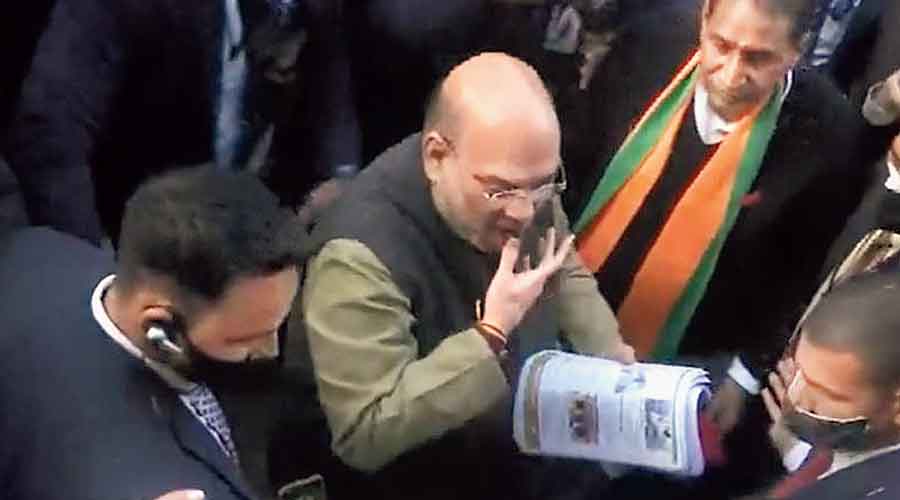 In ANI footage, Shah appears to moisten his thumb before distributing campaign fliers in Dadri, Uttar Pradesh, on Thursday.
ANI
---
New Delhi
|
Published 29.01.22, 02:46 AM
|
---
Union home minister Amit Shah has been caught on camera campaigning door to door in crowded streets and markets without a mask in Uttar Pradesh and Uttarakhand this week. In the past two days, he has been seen distributing fliers after moistening his thumb with saliva to grip them.
However, election authorities who have filed FIRs, issued warnings and served notices on prominent Opposition politicians and parties for alleged Covid protocol violations seem unable to see any transgressions in Shah's forays, a fortnight after 42 staff members at the BJP central office tested Covid-positive. Shah was himself admitted to hospital in 2020 with the virus.
Clauses 18 and 19 of the Conduct of General Elections/ By-elections during Covid — Revised Broad Guidelines, 2022, mandate face masks and social distancing while campaigning. Violations are punishable under Sections 51 to 60 of the Disaster Management Act, 2005, Indian Penal Code Section 188, and other legal provisions specified by the home ministry.
Chief election commissioner Sushil Chandra is yet to respond to a questionnaire from this newspaper seeking details of the action taken against Shah, if any, for alleged Covid violations during his door-to-door campaigns in Kairana, Mathura and Dadri in Uttar Pradesh and Rudraprayag in Uttarakhand.
Nor has Chandra responded to a charge of bias from Bhupesh Baghel, the Congress chief minister of Chhattisgarh.
Baghel faces an FIR for allegedly violating Covid norms by breaching the then limit of five people per team while campaigning door to door in Gautam Buddha Nagar (Noida), Uttar Pradesh.
Baghel has re-tweeted the Bharat Samachar channel's purported footage of Shah and his supporters campaigning without masks in a lane in Kairana on January 22.
"Honourable home minister Amit Shah ji is doing door-to-door campaign with '5 people'," Baghel wrote, taking a dig at the large number of people accompanying the home minister.
Baghel tweeted: "EC should make this video a demo and declare him as the brand ambassador of the 'door-to-door' campaign. Otherwise questions on the fairness of @ECISVEEP will continue. Why FIR only on the Chief Minister of Congress?"
माननीय गृह मंत्री अमित शाह जी "5 लोग" के साथ डोर-टू-डोर अभियान कर रहे हैं।

चुनाव आयोग को उन्हें "डोर-टू-डोर" अभियान का ब्रांड एम्बेसडर घोषित कर उनके वीडियो को DEMO बना देना चाहिए।

वरना @ECISVEEP की निष्पक्षता पर सवाल जारी रहेंगे।
FIR सिर्फ कांग्रेस के ही मुख्यमंत्री पर क्यों? https://t.co/DQhQ0qCeEB

— Bhupesh Baghel (@bhupeshbaghel) January 22, 2022
The limit is now 10 people for door-to-door campaigns.
An Election Commission official told this newspaper: "There are 300-odd cases of model code of conduct violations in Uttar Pradesh alone, and most of these are being dealt with by the respective district election officers (DEOs) and the (state) chief electoral officer (CEO).
"We (in the Nirvachan Sadan headquarters) have disposed of one complaint that came to us regarding a violation of social distancing norms at the Samajwadi Party office in Lucknow. We issued a warning and uploaded it on our website. The order cites the FIR the local police have filed against the party for the violation."
The comment seemed to imply that unless someone complained directly to the Election Commission, the panel was unlikely to intervene.
The official had no explanation why the Election Commission was unable to take suo motu cognisance of what seemed violations that subordinate authorities had not acted against.
The poll panel's CVigil Portal — on which most complaints of model code of conduct violations could be tracked during the 2019 elections — no longer offers such information. It merely allows voters to lodge and track their own complaints. However, during the 2019 polls too, complaints against Prime Minister Narendra Modi were mysteriously invisible on the portal.
Then election commissioner Ashok Lavasa — who reportedly objected to the clean chits given to Modi and then BJP president Shah for poll code violations in 2019 — later quit to join the Asian Development Bank.
Noida additional district magistrate (finance and revenue) Vandita Srivastava told The Telegraph: "He (Shah) was provided with a three-ring security detail of officers in uniform and in plainclothes. The crowd you see comprises these officers, as well as journalists, in addition to local residents who came out of their homes. The campaign party was within the stipulated limit."
Asked about Shah's missing mask and his purported use of saliva — as seen in footage tweeted by ANI — Srivastava said she had not seen the video.
Uttar Pradesh CEO Ajay Kumar Shukla told this newspaper that the DEO — district magistrate Suhas L.Y. — had found "no violation".
Shah's mask-less interactions and purported distribution of saliva-tainted pamphlets at a market in Rudraprayag on Friday were telecast by CNNNews18.
Queries this newspaper sent on WhatsApp to the DEO's and CEO's official mobile numbers — along with a tweet and a video posted by the channel — brought no response. Nor did phone calls.
Shah's office is yet to respond to queries emailed to the home minister through the Press Information Bureau.
Vikas Bajpai, a public health physician who teaches at JNU's Centre of Social Medicine and Community Health, said that even if the campaigning did not cause a spike in Covid, any callousness shown by public representatives would shape the attitude of citizens.
"Covid is airborne in the form of tiny droplets emitted from our mouth and nose. I have not heard of Covid spreading through spit, but spit contains the virus and an infected person's saliva can potentially infect another person if it comes in contact with the mouth or nose of that person and enters their air passage," Bajpai said.
He added: "People's attitudes and patterns of behaviour do not develop within days or by dint of government diktats. These habits and attitudes form over a period of time, and when those supposed to lead by example do not obey (the protocol) it is futile to blame the people….
"Omicron seems to be spreading irrespective of the campaigning. But when those responsible for managing the pandemic indulge in behaviour that does not encourage people to wear masks…. If another variant emerges tomorrow, how will you ask people to wear masks?"
However, the shopkeepers in Rudraprayag set an example by retaining their masks when Shah interacted with them.