Akhilesh Yadav does not take my calls: Mayawati
She accused the Samajwadi president of trying to split her party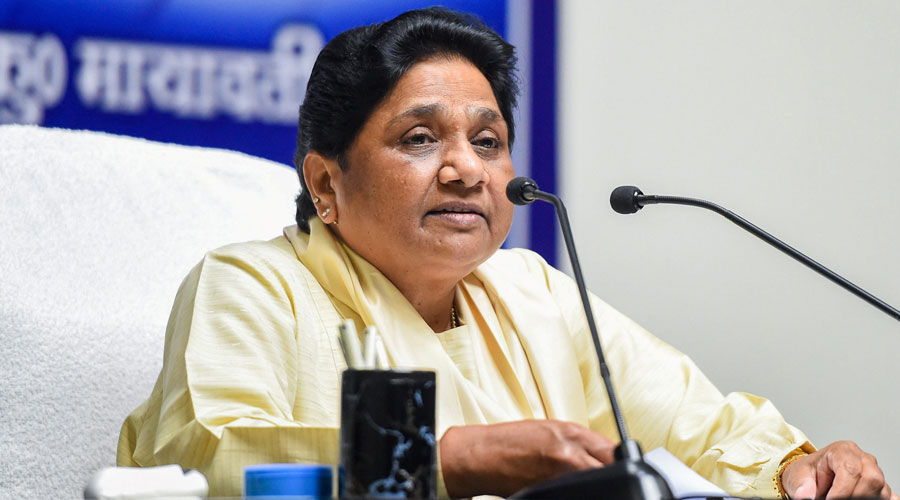 ---
|
Lucknow
|
Published 30.10.20, 12:56 AM
---
Mayawati, who has announced her willingness to support the BJP in the legislative council elections, has accused Samajwadi president Akhilesh Yadav of trying to split her party to prevent its candidate Ramji Gautam winning a seat in the November 9 Rajya Sabha polls.
She announced she had suspended the seven rebel MLAs who had allegedly met Akhilesh on Wednesday, and five of whom had tried to scuttle Gautam's candidature by telling the returning officer their signatures on his nomination form had been forged.
Mayawati's comments came at a news conference a day after the returning officer had cleared Gautam's candidature and scrapped that of industrialist and Independent candidate Prakash Bajaj, allegedly propped up by Akhilesh to defeat Gautam.
The suspension of the seven rebels deepens the threat of a split in the BSP, which has just 18 members in a currently 395-strong Assembly.
The rebels had alleged that Mayawati had sought BJP support to get Gautam elected, and that they didn't want any truck with the "communal outfit".
The BJP was assured of eight of the 10 seats up for grabs on November 9, while the Samajwadis were assured of one. The battle for the last seat was to be between Gautam — who needed the BJP's spare votes — and Bajaj, who would have expected the spare Samajwadi votes.
With Bajaj now out of the fray — barring a court petition and a favourable order — the remaining 10 candidates are all expected to win unopposed.
Mayawati said she regretted having listened to Akhilesh after the tie-up for the general election and withdrawn her case against the Samajwadis over an attack on her in 1995.
The BSP and the Samajwadis had contested 38 and 37 of the state's 80 Lok Sabha seats, respectively, and won 10 and 5 seats.
"Akhilesh stopped receiving my phone calls after the elections. (BSP general secretary) Satish Chandra Mishra tried to contact him recently but he didn't take the call. Nor did his secretary respond to our satisfaction," Mayawati said.
"Mishra then called (Samajwadi leader) Ram Gopal Yadav, who said he would be his party's lone nominee for the Rajya Sabha. It was in this context that we fielded Gautam. Our rivals would have tried to buy our MLAs if we didn't have our own nominee."
She recalled that Akhilesh's father Mulayam Singh Yadav had engineered a split in her party in 2003, and accused Akhilesh of a similar attempt now.
Mayawati appeared to be wooing Brahmins, whose support had helped her win the 2007 Assembly elections.
"Whatever Akhilesh did was an insult not only to Mishra but to the entire Brahmin community. The Samajwadis are essentially anti-Brahmin; the Brahmins will give them a fitting reply," she said.
Mayawati added that "members of religions or castes" from which the seven rebels came shouldn't worry about losing her favour.
The suspended seven are Aslam Rain, Aslam Ali, Muztaba Siddiqui, Hakim Lal Bind, Hargovind Bhargav, Sushma Patel and Vandana Singh.
Mayawati's decision to support the BJP in the legislative council elections, due early next year, stems from her lack of numbers to get a BSP nominee elected and her desire to stop the Samajwadis getting a second candidate through.
State parliamentary affairs minister and BJP politician Suresh Khanna told The Telegraph that Bajaj's candidature had been scrapped because one of his proposers was not an MLA.
"The name of his third proposer was Nawab Shah. There is none by that name in the Assembly. His affidavit had other errors too," Khanna said.
"It was found that all of Gautam's proposers were present when he submitted his nomination papers to the returning officer on Tuesday. The five MLAs' allegation that their signatures had been forged was found untrue."
Samajwadi spokesperson Rajendra Chaudhary accepted his party was supporting Bajaj. "We are studying the returning officer's objections and will plan a strategy soon," he said.
The BSP rebels had visited the Samajwadi office twice on Wednesday and again on Thursday, but Akhilesh claims he never met them. Bajaj was seen in Akhilesh's chamber for about two hours on Thursday.