Congress loses 'irreplaceable comrade'
Ahmed Patel had contracted Covid-19 on October 1 but had returned home from a hospital in Faridabad, Haryana, earlier this month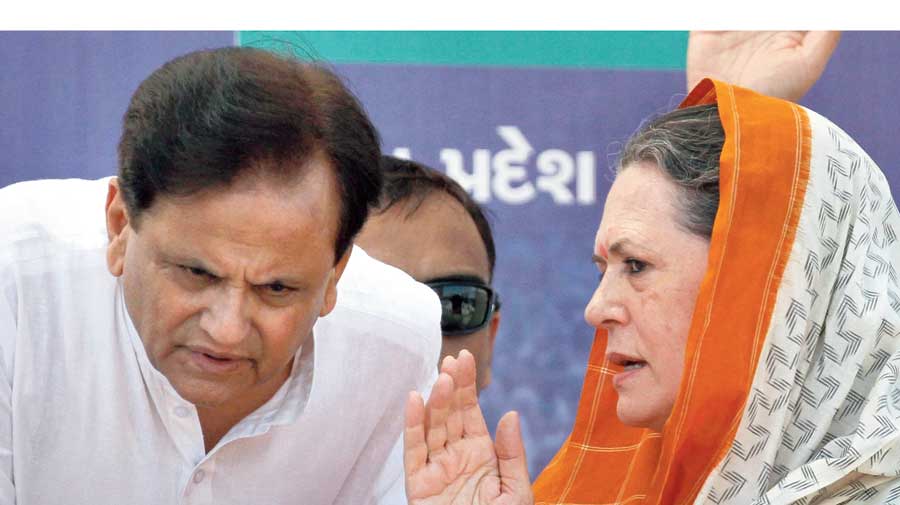 Ahmed Patel with Sonia Gandhi in 2012.
PTI
---
New Delhi
|
Published 26.11.20, 02:16 AM
|
---
Ahmed Patel died of post-Covid complications on Wednesday, leaving the Congress without its most accomplished peacemaker at a time when internal conflicts are threatening to tear the party apart. He was 71.
Patel, political secretary to Congress president Sonia Gandhi and also the party treasurer, had contracted Covid-19 on October 1 but had returned home from a hospital in Faridabad, Haryana, earlier this month.
Post-Covid complications again forced him to hospital — to Gurgaon's Medanta City — where he was put on a ventilator. The end came at 3.30am on Wednesday.
Patel was not only adept at mollifying the disgruntled and the dissident within the party, he was the Congress's bridge with other parties and stakeholders like civil society members and social activists.
Nor can his knack for generating resources for the party be overstated. Sonia rightly described him as an "irreplaceable comrade".
Patel's untimely death comes just when he was expected to talk to the two party factions that have been warring publicly over the past few weeks.
He had an excellent rapport with the "Group of 23" seniors who have aired concern at the drift and leadership crisis in the Congress, and he alone could have persuaded Sonia and Rahul Gandhi to take the middle way and seek a truce.
Not too many in the Congress have the authority or stature to mount pressure and bring to the negotiating table veterans like Ghulam Nabi Azad, Kapil Sibal, Anand Sharma and Veerappa Moily, as well as the Rahul loyalists who have openly condemned the seniors.
While Manmohan Singh never shows any interest in such conflicts, A.K. Antony is said to be seriously ill. Antony and Mallikarjun Kharge have anyway taken a partisan position by attacking the "Group of 23".
Some like Ashok Gehlot, Kamal Nath and Amarinder Singh could possibly play a role in resolving the dispute and uniting the party but none of them can match Patel's networking and conciliatory skills.
It's now up to Sonia to rise to the occasion and prevent disintegration of the party at a time the country is looking to the Congress to resist the overwhelming dominance of Narendra Modi.
However, any truce will now take much longer, and the possibility of organisational elections being delayed by a few months cannot be ruled out.
What has given Patel's death the feel of a crisis is that seniors like Azad who could have filled the vacuum, both in terms of organisational supervision and negotiations with friendly parties, are sitting on the other side of the fence.
It won't be easy for Rahul to find another treasurer and interlocutor equally trustworthy and efficient.
Some, however, argue that Patel's domineering presence was the biggest hurdle to the process of transformation and that unifying the party may have become easier now.
A section within the Congress has long viewed Patel with suspicion — as an obstacle to Rahul's complete takeover of the party machinery. But Sonia and Rahul intervened on Wednesday to ensure the departed soul received the respect from the party that was his due.
K.C. Venugopal, the Congress general secretary in charge of organisation, has ordered the party flag flown at half mast for three days.
While the body could not be brought to the party headquarters because of the Covid protocol, the Congress arranged for it to be sent to Patel's village in Gujarat by special flight. Patel wanted to be buried in his native village.
Seniors and young leaders expressed their condolences. Sonia led the mourners, saying: "I have lost a colleague, whose entire life was dedicated to the Congress party."
She added: "His faithfulness and dedication, his commitment to his duty, his always being there to help, his generosity were rare qualities that distinguished him from others. I have lost an irreplaceable comrade, a faithful colleague and a friend. I mourn his passing and I feel deeply for his bereaved family to whom I offer my sincere feelings of empathy and support."
Manmohan praised Patel's knowledge of the Congress and his dedication.
Rahul tweeted: "It is a sad day. Ahmed Patel was a pillar of the Congress party. He lived and breathed Congress and stood with the party through its most difficult times. He was a tremendous asset. We will miss him."
In a letter to Patel's son Faisal, Rahul said: "I am saddened by the passing of your father. We have lost a leader who dedicated his life to the Congress party. Ahmed ji epitomised courage and loyalty in public life. He stood by the Congress party through its most difficult times."
"I will miss his wisdom, his intellect and his unwavering commitment to the Congress party. He will continue to guide us and inspire every Congress worker to carry forward our mission. My thoughts, prayers and love are with you and your family in this difficult time."