JNU teacher allegedly abducted, assaulted after traffic altercation
Baviskar Sharad Pralhad says the men asked him to pay them Rs 2 lakh for allegedly breaking their car windowpane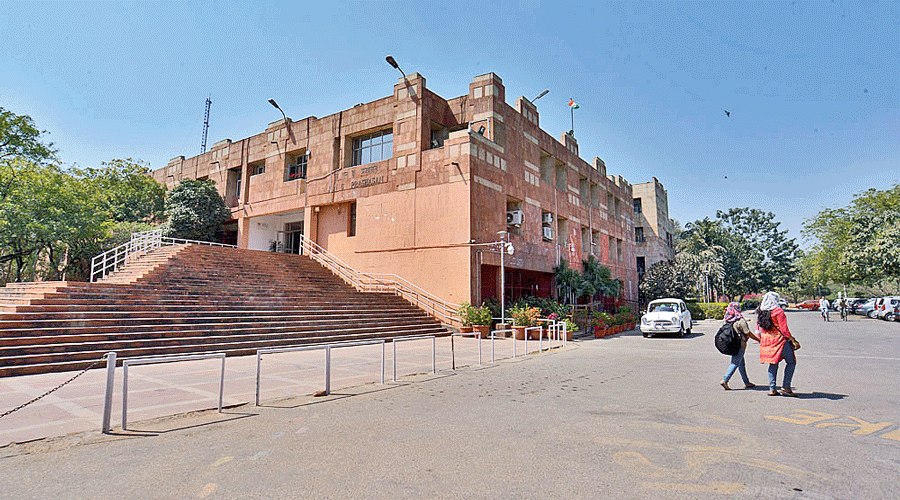 The JNU campus in Delhi.
File photo
---
New Delhi
|
Published 20.06.22, 04:15 AM
|
---
A Jawaharlal Nehru University teacher was allegedly abducted after a long car chase late on Friday night and tortured in confinement by unknown men who quizzed him about his opinion on the National Register of Citizens.
Baviskar Sharad Pralhad, assistant professor of French and a Marathi author, was pursued by a vehicle around midnight near the Netaji Subhas Place flyover while returning to his campus quarters in south Delhi from his in-laws' home near north Delhi's Burari Chowk.
After chasing and bumping into him for around 12km, his pursuers caught up with him at a traffic signal near the Delhi Cantonment Metro station.
Baviskar says the men asked him to pay them Rs 2 lakh for allegedly breaking their car windowpane. When he asked them to come to the police station with him, they allegedly dragged him out of his car and assaulted him.
He says they then shoved him back into his own car, a Honda City, and drove him through south Delhi, assaulting and abusing him all the time.
"They kept pulling my beard and asking my name. When I told them my name, they said I was lying and checked my JNU identity card," Baviskar told The Telegraph.
"Then they asked me what I thought about the NRC and other political issues. They made several videos of me, of them mocking me and hitting me…. I have come to the police as I don't want this to happen to anyone else."
The NRC is one of the pillars of a new citizenship regime that the Centre introduced in late 2019, triggering fears of an attempt to intimidate Muslims and declare segments of them as illegal immigrants. It sparked widespread protests that the Hindutva ecosystem vilified as "anti-national" — a concept with which it tends to equate JNU.
"I was punched repeatedly in the car and my shirt was torn. They took me to a building I could not identify, but from their conversation I understood that it was somewhere in Greater Kailash (south Delhi)," Baviskar said.
With the assaulters having taken his spectacles away, Baviskar could not read the registration number of their vehicle(s). But he said he saw a stationary silver Audi at the time he was abducted and later a Range Rover at the place he was taken to, suggesting the assailants are wealthy.
"(Inside the building) I was hit with a chair and also with a hot rod on my shoulder. There were some eight to nine of them, of whom three to four were very violent. Another three wanted to let me go… they must have realised it was getting out of hand," he said.
Baviskar was taken near Nehru Place around 2.30am in his own car, where the assailants got off and allowed him to drive away. Before that they used his credit card at a petrol bunk near Nehru Place, and made him withdraw Rs 33,500 in cash from an ATM with his debit card. Petrol stations and ATMs usually have CCTVs.
Baviskar approached the Vasant Kunj (North) police station on Saturday evening after which he was taken to Safdarjung Hospital for a medical check-up.
He was then driven to the spot he was abducted in, where the police ascertained that it fell under the jurisdiction of Naraina police station.
DCP (West) Ghanshyam Bansal told this newspaper that the probe would start as soon as the FIR was registered at Naraina.
Later on Sunday, an FIR was lodged under penal sections 323 (voluntarily causing hurt), 365 (abduction), 392 (robbery) and 34 (common intention).
The JNU Teachers Association said in a statement: "Throughout this extremely traumatic ordeal, Prof Baviskar displayed exemplary courage and dignity that is inspiring for the JNU community, which stands unitedly in support of Prof Baviskar's complaint.
"The JNUTA expects that the Delhi police will leave no stone unturned in its efforts to apprehend the culprits at the earliest and in guaranteeing the safety and security of Prof Baviskar and his family. The JNUTA also expects that the JNU administration will take up the redressal of Prof Baviskar's grievance with the police in all sincerity."
Baviskar's book Bhura was released recently. In April, he had been invited to speak at an atheists' conference in Pune, which the police later disallowed citing objections from people they did not identify.
He has been involved with the Maharashtra Andhashraddha Nirmoolan Samiti, a group that campaigns against superstitions and was headed by Narendra Dabholkar whom suspected Hindutva extremists assassinated in 2013.