A most promising image of India
Dalit leader Chandrashekhar Azad led a protest at Delhi's Jama Masjid after Friday prayers in defiance of police orders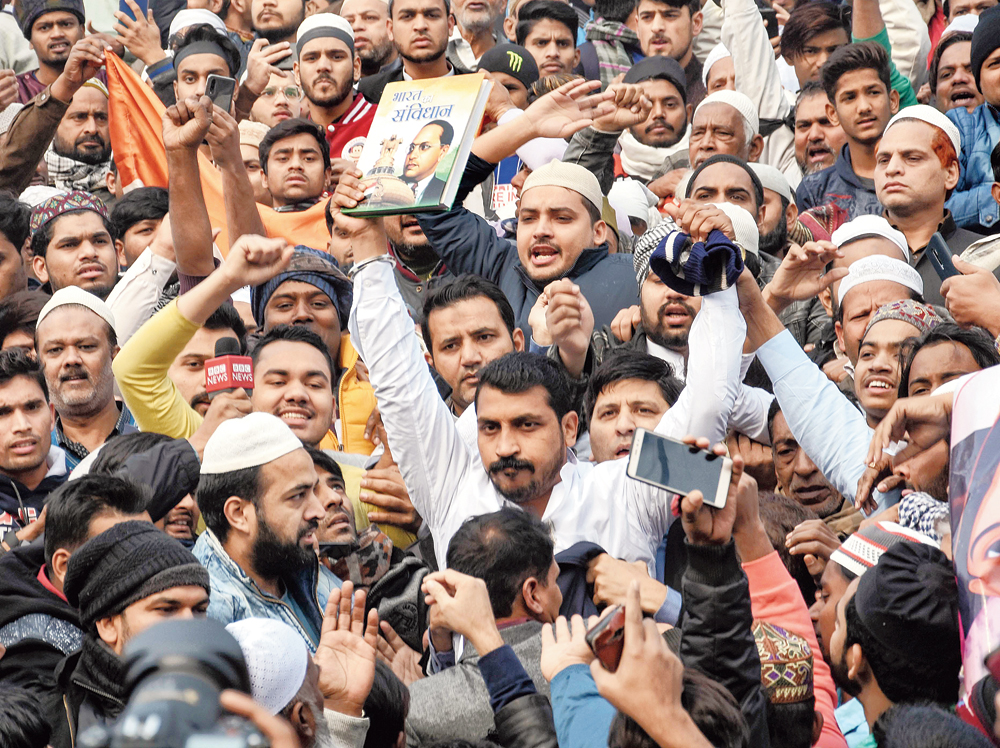 ---
---
Bhim Army chief Chandrashekhar Azad, who led a protest at Delhi's Jama Masjid after Friday prayers in defiance of police orders, was arrested on Saturday after he came out of the mosque. PTI picture shows him at Friday's peaceful protest at Jama Masjid with the Indian Constitution in his hand.
The Dalit leader had slipped into the mosque under the police's noses although they had formed a tight security ring to keep him out.
"We have to make sacrifices so that the legislation is taken back. We do not support violence. We were sitting inside the mosque since Friday morning and our people were not involved in violence," he said.
"Policemen dressed as civilians are instigating violence in a bid to scuttle the protests," he alleged.
Azad emerged from the mosque at 3.15am after hours of persuasion by senior police officers and was arrested by waiting policemen.
A Dalit Hindu leader emerging out of the largest mosque in India holding not a Holy Quran nor a Holy Bhagawadgita but an Indian Constitution is the most promising image of a changing India… I love my country and its diversity, Jai Hind!
- Resul Pookutty (Oscar-winning sound designer on Facebook)
He was taken to Chanakyapuri police station and later produced in court, which unusually held an in-camera hearing and sent him to 14 days' judicial custody. In-camera proceedings are an exception to the rule of an open court. According to the law, rape cases and family matters are heard in private. The order did not give a reason for not hearing the case in an open court.
Azad said he had urged his supporters to carry on the protest peacefully. "Those who are indulging in violence are not our people. Our peaceful protest continues at the historic Jama Masjid. Ambedkarites do not indulge in violence."