4G services on trial basis in one district each of J&K: Centre to SC
Outcome to be reviewed after two months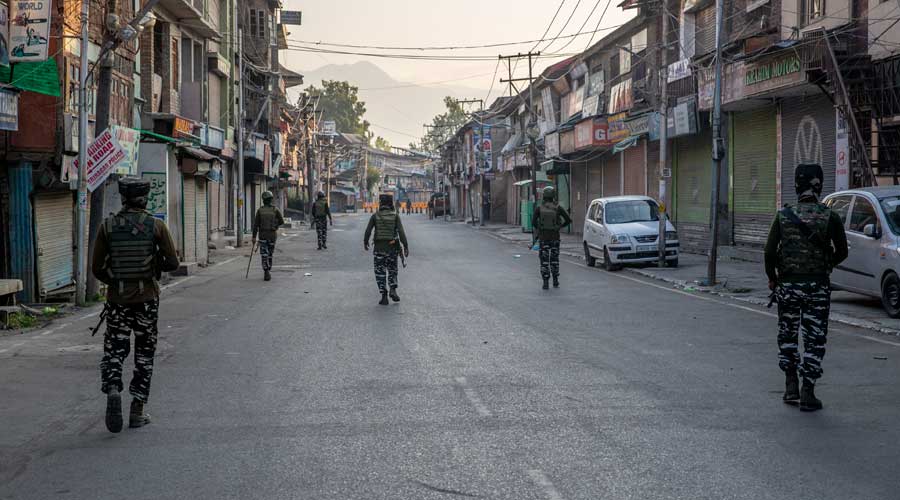 Paramilitary soldiers patrol a deserted street in Srinagar on Wednesday, August 5
AP
---
Calcutta, New Delhi
|
Published 11.08.20, 11:51 AM
|
---
The Centre on Tuesday told the Supreme Court that a special committee looking into the issue of internet restoration in Jammu and Kashmir has decided to provide 4G internet access on a trial basis in limited areas of the union territory after August 15.
A bench headed by Justice N V Ramana was told by Attorney General K K Venugopal, appearing for the Centre, that the committee has decided that trial will be done in one district each in Jammu and Kashmir division.
He said that the Committee has decided that access to 4G internet in J&K will be given in a calibrated manner and outcome of the trial will be reviewed after two months.
The bench also comprising Justices R Subhash Reddy and B R Gavai said this is a fairly good stand on the part of the respondents (Centre and J&K administration).
High speed internet service in J&K was suspended in August last year when the Centre announced revocation of its special status and bifurcation of the state into two Union Territories -- Ladakh and Jammu and Kashmir.
On May 11, the top court had ordered the setting up of a"special committee" headed by the Union Home Secretary to consider pleas for restoration of 4G internet services in J&K, saying national security and human rights need to be balanced in view of the fact that the UT has been"plagued with militancy".
On August 7, the top court had asked the J&K administration to explore the possibility of restoring 4G services in certain areas of the Union Territory.
At the outset, Venugopal said the Centre has filed an additional affidavit on the issue, and that the special committee had held its meeting on August 10.
"The committee was of the view that threat perception continues to be high," Venugopal said, adding that restrictions on high speed internet are not posing any hindrance in the Covid-19 pandemic management and health care services.
The committee was of the view that "overall situation was not conducive for lifting restrictions on high speed internet", he said, adding that it decided however to permit "easing of some restrictions in specified areas which are less sensitive, subject to strict monitoring and periodical review".
Venugopal said the committee has decided that access to high speed internet would be provided on a trial basis in a calibrated manner and its impact on security will be assessed.
He said restrictions would not be eased around the LoC and the prime criteria for the areas where restrictions could be eased is that the region should have a low intensity of terror activities.
The top court closed NGO's plea seeking contempt proceedings against the Union Home Secretary and Chief Secretary of J&K for their alleged "wilful disobedience" in complying with the court's May 11 order.