Bihar: 11-year-old student shows mirror to Nitish Kumar
Sonu Kumar says his father is a habitual drinker who has no interest in his education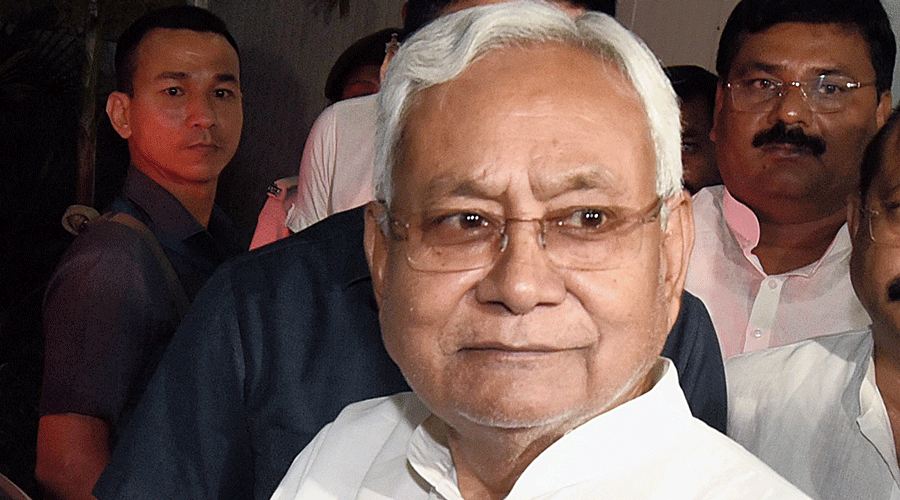 ---
Patna
|
Published 15.05.22, 01:29 AM
|
---
If chief minister Nitish Kumar needed a reality check on his pet prohibition law and the state of education in Bihar, it has come from 11-year-old Sonu Kumar.
Sonu, a Class VI student, told the seasoned politician in Nalanda on Saturday that his father was a habitual drinker who had no interest in his education and that he did not want to continue in a government school as the deplorable condition of such institutions was a hindrance to his dream of becoming a bureaucrat.
Clad in a yellow-and-black full-sleeve T-shirt, Neem Kaul village resident Sonu made his way confidently through a maze of people, security personnel and government officials to the place where Nitish was listening to grievances in the chief minister's native village Kalyan Bigha.
Nitish had gone there to pay floral tributes to wife Manju Kumari Sinha on her 16th death anniversary and know about the problems of people in the area.
Stretching his folded hands through a gap in bamboo poles used to make a barricade for the chief minister, Sonu said: "Sir, suniya na, Sir, pranam Sir."
Nitish, amused at being approached by a child, stopped to listen. "Sir, humko padhne ke liye himmat dijiye. Humko guardian nahi padhana chahte hain (Please give me courage to study. My guardian does not want me to study)," the boy said. 
Appearing to be taken aback, Nitish asked some officials what the boy was saying. They repeated what Sonu had said, and Nitish immediately instructed Nalanda district magistrate Shashank Shubhankar, who was present there, to ensure that the boy received proper education.
Sonu continued: "I want to study, but my father Ranvijay sells curd. He does some farming also, but spends the money on drinking liquor and toddy (fermented palm sap). When I ask him to pay attention to my education, he says what is the need."
Nitish seemed to be at a loss for words.
Sonu said he had been giving tuitions to younger students in his village to fund his education, but the money was not adequate.
The humbling of Bihar's chief minister was not over yet. 
Sonu told Nitish: "I do not want to study in a government school. Everybody knows that teaching does not happen there. The teachers do not know English. If you ask them about anything that is written in English, they are unable to answer. There is a scarcity of teachers. What will they teach us? I want to become an IAS officer. I just wish that I can get admission in some good private school. If I get a better education, my village will also benefit."
The boy added that he was ready to continue studying in a government school if their condition improved.
The Nitish government's prohibition policy and its apparent indifference towards Bihar's ramshackle education system have cost the state dear and been the subject of incessant Opposition criticism.
The chief minister had imposed total prohibition in the state in April 2016 — a questionable decision that cost thousands of crores in taxes to the state exchequer, wiped out the jobs of thousands in the organised and unorganised sectors, and spawned a thriving liquor mafia.
Alcohol is easily available across Bihar because of its porous borders with Nepal, Uttar Pradesh, Jharkhand and Bengal. In the past two years, 210 people have died in Bihar because of suspected consumption of spurious hooch, a measure of the rampant violation of prohibition.
A liquor mafia has taken deep roots in alleged nexus with enforcement agencies and politicians, and has opened illegal supply and distribution channels all over the state.
Overt signs of the failure of prohibition and its ill-effects are strewn everywhere but Nitish has soldiered on with his pet project. 
Bihar's school education is in a shambles. With over 10 crore people (according to the 2011 census), Bihar is India's third largest state by population, but has only about 75,000 government primary and upper primary schools employing 4.3 lakh teachers. The majority of these teachers were appointed during Nitish's rule since 2005.
The state government's move to appoint teachers through panchayats and local urban bodies made the system vulnerable to widespread corruption and nepotism. Substandard teaching, inadequate infrastructure, absenteeism, scattershot implementation of the midday meal scheme have all contributed to the miseries of the education sector. 
Later on Saturday, Sonu told journalists that an administrative official gave him his name and address on a piece of paper and promised to speak to him in detail on Monday or Tuesday. The boy said he knew where his father got toddy from and that he had seen Ranvijay bring home liquor pouches.
"Even the administration does not work properly. Everything should be done as per rules, but this is not happening," Sonu said.  
The Nalanda district magistrate did not respond to calls by this newspaper for comment on what transpired on Saturday.
Social activist and former Patna University professor Nawal Kishore Chaudhary said: "What the child has said is not only correct for his school, but is true for the entire state and its education system. There is a severe scarcity of teachers and teaching quality."
He said the state needed drastic changes to improve education standards.