11 defectors voted back in Karnataka
Karnataka BJP won 12 of the 15 Assembly seats where by-elections were held on Thursday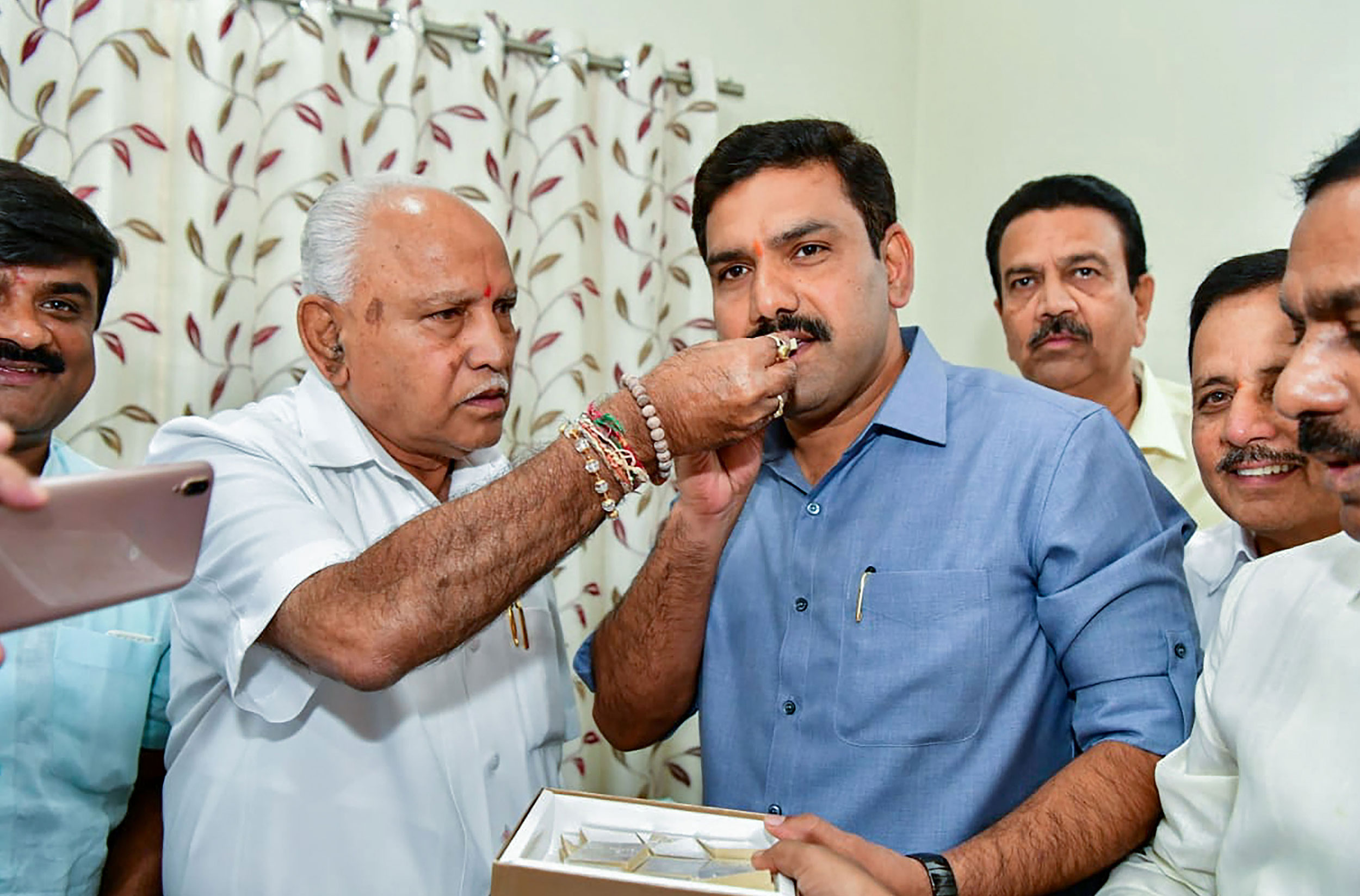 ---
---
As many as 11 of the 17 legislators who had crossed over to the BJP and were disqualified in Karnataka have been re-elected, securing a majority for the fledgling B.S. Yediyurappa government but raising troubling questions about voter behaviour as well as the Opposition.
The Karnataka BJP on Monday won 12 of the 15 Assembly seats where by-elections were held on Thursday.
Of these 12 winners, 11 had earlier been elected on Congress or Janata Dal Secular tickets. Only three of the 14 defectors who contested the by-elections, necessitated by their defection and subsequent disqualification, were punished by the voters.
"The results suggest that defection has become an art in the post-truth polity," said Kaleeswaram Raj, a senior Supreme Court advocate who had raised several pertinent questions about the Ayodhya verdict and the long incarceration P. Chidambaram had to undergo before he was granted bail.
The lawyer was wondering whether emotive issues were swaying voters more than substantive matters like probity in public life.
The Congress won just two seats while Independent Sharath Bache Gowda was the surprise winner in Hosakote, trouncing Congress defector turned BJP candidate M.T.B. Nagaraj. The JDS drew a blank.
The Congress and the JDS, which fought separately and not as allies after their arrangement collapsed in July, cannot escape blame, either.
Although the vote shares showed that the two Opposition parties would have reduced the BJP's tally by just one even if they had had an alliance, it could be contended that the split in the Opposition ranks could have prompted undecided voters to gravitate towards candidates with the potential to win.
Monday's triumph lifts the BJP's tally to 117, five clear of the halfway mark of 112 in a House of 223.
State Congress president Dinesh Gundu Rao and Congress legislature party leader P.C. Siddaramaiah have resigned, accepting moral responsibility for the debacle. Both said they had expected the voters to teach the defectors a lesson.
Defection by 17 MLAs from the Congress-JDS coalition had brought the BJP to power in July and necessitated the 15 by-elections (the remaining two seats are enmeshed in court cases over the 2018 Assembly poll results).
Yediyurappa had fielded 14 of the defectors, leaving only one seat for a BJP old-timer. Among the defeated defectors were Nagaraj and former JDS state president A.H. Vishwanath, one of the three defectors from his party. Both had won their seats by more than 90,000 votes in 2018.
Yediyurappa underlined that the BJP had opened its account in the JDS stronghold of Mandya, which observers attributed to infighting in the JDS.
Congress leader D.K. Shivakumar said "the ruling party enjoys an edge in by-elections" but conceded that he had "not expected this".