Liverpool resist temptation to spend big in run-up to new season
Champions stick to tried & tested formula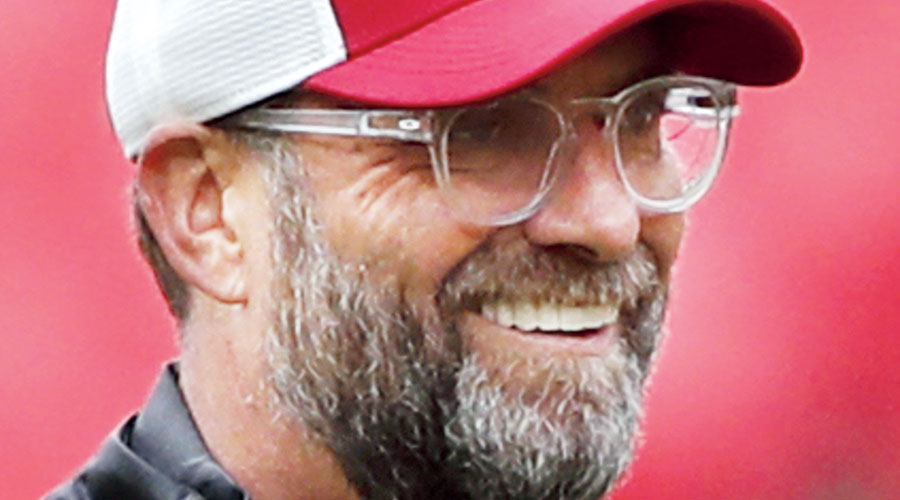 ---
---
Jurgen Klopp might be tempted to quote Bill Shankly when he is asked for team news ahead of Liverpool's opening game against Leeds United on Saturday.
"Same as last year," Shankly would quip on the eve of a season.
There was reassuring laughter then. Today, it might provoke accusations of lack of ambition, complacency or boardroom stinginess.
The 2020 appetite for transfers means stability does not quicken pulses.
While rivals chase the most coveted signatures in Europe, there is a theory that the Premier League champions' stepping aside from such pursuits risks squandering their first opportunity in 30 years to flex muscle and recruit from the ultimate position of strength.
There is merit to that argument. Equally, for the past two years Liverpool have defied the logic that every side need annual refreshing, maintaining forward momentum without spending big.
Klopp has enjoyed his most prolific Anfield spell with pretty much the same preferred starting XI since 2018. Since signing Alisson Becker for what was then a world-record £65 million for a goalkeeper in the aftermath of the Champions League final defeat by Real Madrid, Liverpool have paid a combined £22 million on Takumi Minamino, Konstantinos Tsimikas and Sepp van den Berg, while they await a tribunal verdict on the value of Harvey Elliott, signed from Fulham in 2019. Loose change for a club of Liverpool's resources, especially as they have recouped £52 million over the same period.
Over £100 million was committed into the team as the club moved into a period of retention rather than recruitment, with Mohamed Salah, Sadio Mane, Roberto Firmino and Klopp himself among those given lucrative new long-term deals over the past 18 months.
With regards to signings, external pressure to pounce upon what are internally deemed unnecessary and expensive upgrades has zero influence. Initially, Liverpool's recent modest transfer outlay was by design after a prolific recruitment spree in the years preceding the 2019 Champions League win. The difference now, if that continues into the new campaign, is that it is more due to circumstances.
Like every other business, Liverpool await guidance from the World Health Organisation as to when the pandemic will pass, at which point their budget considerations will be clearer. It is possible they will end this transfer
window with Bayern Munich's Thiago Alcantara and Watford's Ismaila Sarr, but they insist that is only if the economic conditions significantly alter.
That could be due to the imminent guarantee of revenue streams (such as the return of supporters), or raising funds through the sales of fringe players such as Marko Grujic, Harry Wilson and Xherdan Shaqiri.
Signing a few more remains the ideal, but the unforeseen consequences of Covid-19 have brought compromises, which means there must be trepidation amid the prudence. Klopp acknowledged as much before last weekend's Community Shield. "So far, it worked out. It doesn't mean it will always work out forever," he said of Liverpool's rationale in the transfer market.