With 'Pataakha' and 'Badhaai Ho', 'Dangal' girl Sanya Malhotra is on a roll
Two years after we saw her wrestling in 'Dangal', Sanya Malhotra is gearing up for two back-to-back releases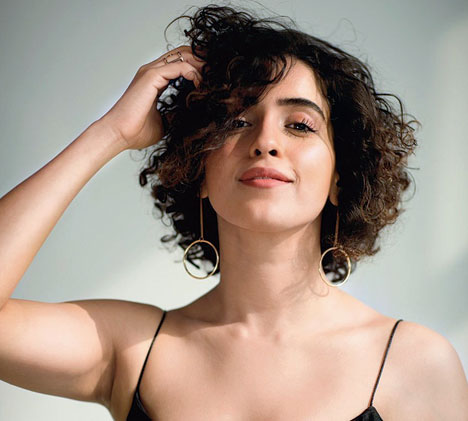 ---
Mumbai
|
Published 18.09.18, 06:30 PM
|
---
Two years after we saw her wrestling in Dangal, Sanya Malhotra is gearing up for two back-to-back releases —Pataakha on September 28 and Badhaai Ho on October 19. She's also finished shooting for The Lunchbox director Ritesh Batra's next film, Photograph, with Nawazuddin Siddiqui. A Vishal Bhardwaj film based on a short story by Rajasthani writer Charan Singh Pathik called Do Behnein, Pataakha is a tale of two sisters — Badki (played by Radhika Madan) and Chhutki (played by Sanya) who can't stand each other. t2 met the young actress at Bhardwaj's office in Mumbai to chat about dance, acting and films.
What's life been like since Dangal?
It's been an amazing journey and things are much easier now. Earlier, it wasn't exactly a struggle because I enjoyed every moment, but now I have a team. Before that, I used to go for auditions and stand in queues for hours and hours while now, I get scripts and read them or get narrations. So life has been wonderful post-Dangal.
From standing in queues to audition to now being in a Vishal Bhardwaj film, having multiple releases in a year, and owning a house in Mumbai — does it all feel a little surreal?
It's definitely surreal. It feels like a dream, working with Vishalji because I'm a huge Vishal Bhardwaj fan, be it his films or music. And I feel really honoured and grateful that I'm actually getting to work with such amazing directors and actors, because I'm still learning with each and every film that I'm doing.
Acting is still very new to me and they always teach me something new about acting. Like I didn't know how to prep for a character. During Dangal, I had wrestling and I had Nitesh Tiwari to help me out. But for Photograph, I didn't know how to become my character. Ritesh (Batra) told me that I should write about my character and give her a backstory — that was a very different experience for me. My co-star Geetanjali Kulkarni told me she follows this exercise for all her characters. I've started doing this now and I have realised that just writing a diary entry helps me understand what a character is, what she's feeling and why she is behaving in a certain way.
Like Dangal, Pataakha is also a story of sisters…
Yeah, but Babita (Sanya's character) would never speak to Geeta (Fatima Sana Shaikh) the way Chhutki does to Badki. Internally, I was Chhutki because I have an elder sister and we had a very similar relationship like Chhutki-Badki. She's three years older, we fought a lot while growing up and I used to hate her. Now we're fine obviously and I love her immensely. So, I had a Chhutki in me but externally I was not there because I'm not like her at all.
Sanya is an introvert but Chhutki is an extrovert, very spiteful, aggressive and she is out there; if she's thinking about something, she'll say it to your face and I'm not like that at all. Vishalji and our acting coach, Atul Mongia, really helped me, and the workshop we did before the shoot helped me to get out of my comfort zone and play this character.
What is Vishal like as a director?
I'm a fangirl, and was completely starstruck. The first time I came to the office, I just couldn't believe that I'm sitting with Vishalji and reading a script. For the first few meetings, I'd completely zoned out and think, 'Damn I'm working with him'. It was completely unbelievable but he makes it so comfortable for an actor. He's so open to suggestions, and would ask us what we thought about certain scenes and then tell us what he's rewriting. Even during the workshops, we used to do a lot of improvisation. He makes you feel important and part of the team.
While shooting as well, we used to have meals together, we would talk about films, talk about our characters. Everything became very nice and simple, and it was so easy for me to walk up to him and say, 'Sir, I don't think I should be saying this dialogue like this, can I try it like that?' and he'd be open to trying it. Being such an amazing director and to trust an actor who's done only three films made me feel very important.
Because you're a fangirl, were there specific films or songs that you wanted to talk to him about?
Maqbool. We talked about it a lot and heard a lot of short stories about Tabu, how Pankajji (Kapur) prepped for his character, a lot of interesting stuff. It's one of my favourite VB films, along with Haider. I remember watching Haider and wondering whether I'd ever get to work with him, because he's so good.
Before acting happened, you were a dancer. Are you enjoying acting as much as dance?
Acting is my first love. I'm really passionate about dancing, but I realised while doing Pataakha that I love being on set and being in front of the camera is my happy place.
I hear you want to take a sabbatical and learn tap dancing?
Yes… after I do five films. I definitely want to take a sabbatical because YOLO! You never know, I might get too old or too busy and then I'll never do it — so five films is the perfect time and for at least a year or so to learn something new, whether it's a new dance form or something else. I think it's very important to learn new things and grow. I don't want to stick to one place and keep doing the same thing again and again.
You have Badhaai Ho releasing next...
I'm very excited about it. It's directed by Amit Sharma, and it's his second film after Tevar. It has Ayushmann Khurrana, Gajraj Rao and Neena Gupta and it's a comedy. I had a lot of fun making the film... it's shot in Delhi which is home for me. And these are all wonderful actors and positive people to be around. Ayushmann is a wonderful actor. I just love the energy he has on set. He's always in a good mood, always cracking jokes.
Post-Dangal, I had watched Bareilly Ki Barfi and Shubh Mangal Saavdhan and was hoping to work with him. When I heard Badhaai Ho, and when I heard he's in it, I was really excited and happy. I called up Apar (Aparshakti Khurana, Ayushmann's brother) because he had played my brother Omkar in Dangal and went, 'Hey, I'm doing a film with Ayushmann Bhaiyya...' and he was like, 'Don't call him Bhaiyya now!' (Laughs)
What's happening with Photograph?
We shot it last November, and I think the background music is on. I'm eagerly waiting for it.