The Zee Rishtey Awards brought the ZEE actors' family together
Himesh Reshammiya did a star turn with the mic, promoting his upcoming release Happy Hardy and Heer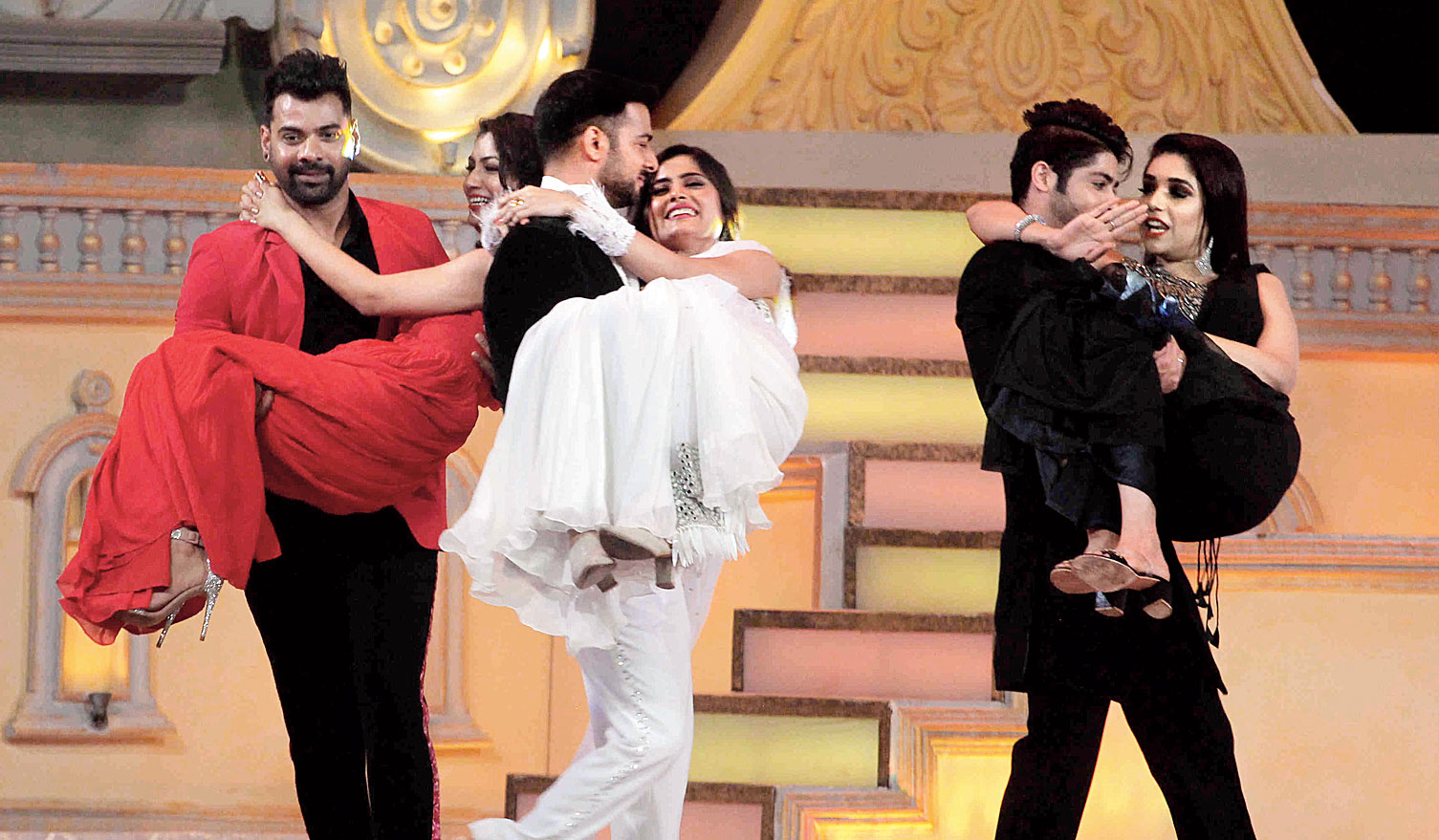 ---
|
Calcutta
|
Published 08.01.20, 12:31 PM
---
The Zee TV and Zee 5 fraternity celebrated the annual Zee Rishtey Awards with a trip to Jashn-e-Pur, with a festive and fun ambience created at the MMRDA ground at Bandra Kurla Complex, Mumbai recently. t2 offers a ringside view.
Personal touch
"You are on vacation. Have a blast." Host Ravi Dubey was urging colleagues at the end of rehearsals when one of them, Shabbir Ahluwalia, aka Abhishek Prem Mehra of Kumkum Bhagya, took the mic and announced that it was Ravi's wedding anniversary. That set a leitmotif for many an award acceptance speech for the night, as each actor wished Ravi, trophy in hand.
Ravi's co-host Paritosh Tripathi entered at the head of a band party. "Suno suno, kaam ki information," he announced, and was mock-miffed to see people busy chatting away. "Oye, WhatsApp number mangnewale," he yelled at one from the stage and brought the house in order. Then came the important announcement: "Gents toilet right mein hai."
Reaction before action
The show was yet to start, but Pankaj was soon asking the "Zee kutumb" to imagine something interesting was happening on stage — "Hoga bhi kuch der mein," he quickly assured — and urged, "Ek saath applause ho jaaye". Once the claps died down, he gave out the second cue. "And now you are looking very engrossed." Baffling as the instructions were, the reason was not far to seek. A camera was closing in on the rows of famous faces after every instruction as they looked intent, laughed and applauded. These would be the reaction shots which would later be inserted at the edit table in the show. Who said they were on vacation!
Web awards debut
A segment added this year was Zee's web avatar Zee5 for which four awards were announced. It saw Ravi being reintroduced as a "jamai". After his star turn on Zee TV's serial Jamai Raja, he is now Jamai 2.0. "Mere web debut ne meri career ko ek chhalaang de diya hai," he admitted candidly.
But soon it was back to fun and games. As the tall Anjum Fakih (Shrishti of Kundali Bhagya) towered over Pankaj, the hapless host enquired acidly: "Upar mausam kaisa chal raha hai? Pin code bhi alag hoga!" It did little to improve his mood when she offered him a rakhi with the words "Maana Paritosh tumne humko jaan maana/ Par Paritosh hum ne tumko bhai maana." As the front rows broke into laughter, he grumbled, crestfallen: "Just because I am from UP does not give everyone the right to make me a bhai."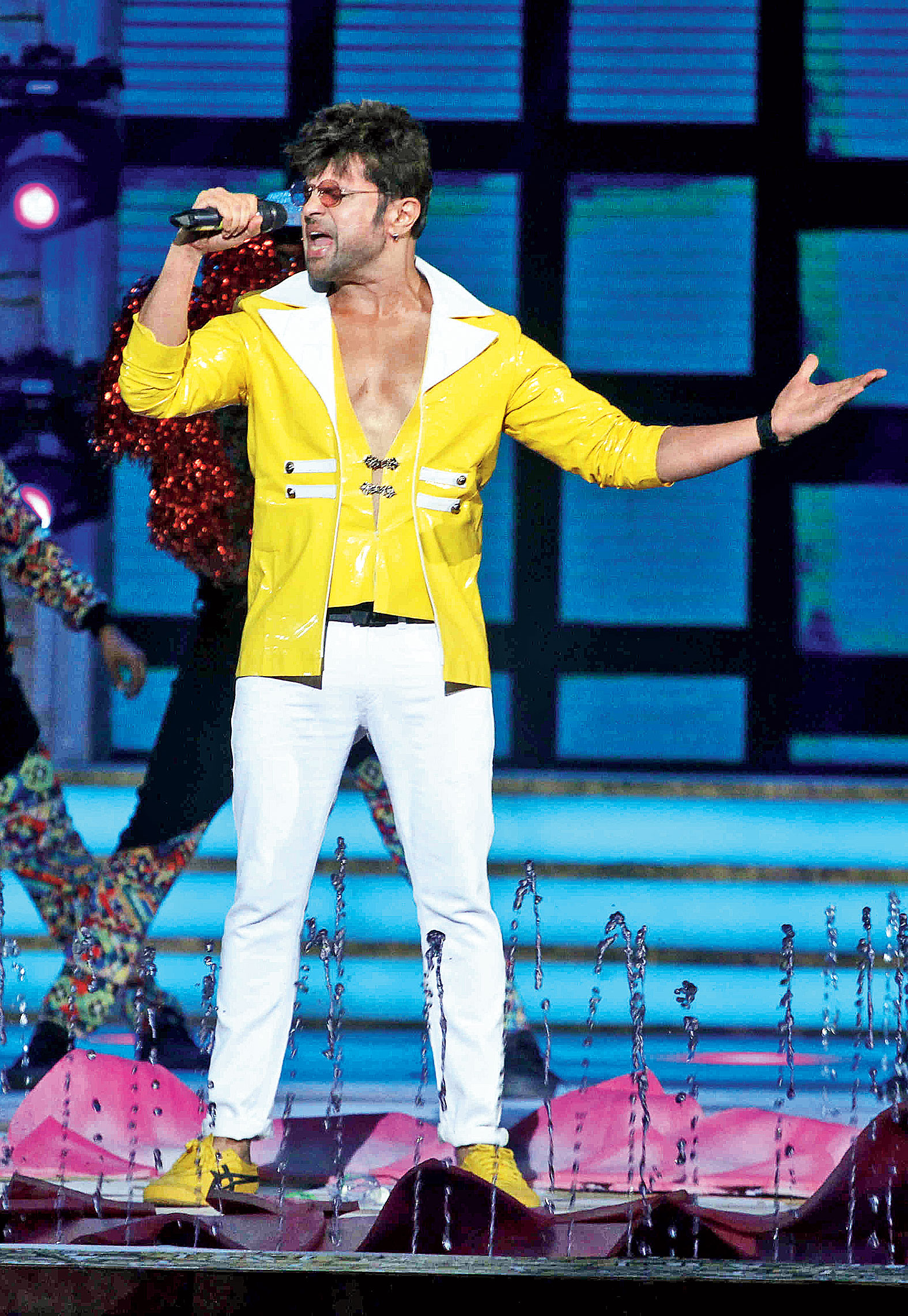 What a fall!
Lead couples from the ongoing Zee TV serials Kumkum Bhagya, Manmohini and Kundali Bhagya were asked to take part in a race from one end of the stage to the other. The men had to carry their leading ladies.
But midway through, Abhishek Kapur (Samir of Kundali Bhagya) ended up dropping Anjum Fakih (Srishti). As everyone rushed to check on Anjum, she was heard howling: "Maine pehle hi bola tha girana nahin…" Paritosh, too, berated Abhishek: "Tu actor hai, Usain Bolt nahin! Kisne bola utna bhagne ke liye?" Poor Abhishek did not know where to hide. A retake was sought but Srishti would not risk it again.
Moments cost money
Maniesh Paul, who recently hosted the game show Movie Masti on the channel, greeted Pankaj, his colleague on the show. "Tere jacket pe Bappida ne gold thuka hai kya?" Pankaj was quick to retort: "Aur tu hai baal pe Sunny Lotion lagaane wala!"
Addressing the audience, Maniesh admitted: "I have never seen so many people in rented clothes." As the audience burst into laughter, he added: "Such punchlines are called moments in our industry. Isse zyada moments main nahin de paoonga kyun ki main free mein aaya hoon. I do nothing for free ever for my family."
High notes with Himesh
Himesh Reshammiya did a star turn with the mic, promoting his upcoming release Happy Hardy and Heer. Arriving deus ex machina-like, hanging from a crane, he lip-synced to hits like Hookah bar, Aashiqui mein teri and Jhalak dikhla jaa. As he rounded up with the earworm Teri meri kahani, the audience was left with visions of Ranu Mondal, the Internet sensation from Ranaghat station who had shared singing credits with Himesh in the film's original soundtrack. Talk of rishtey sealed in music.