The perfect Xmas gift
Christmas literally turned out to be Bada Din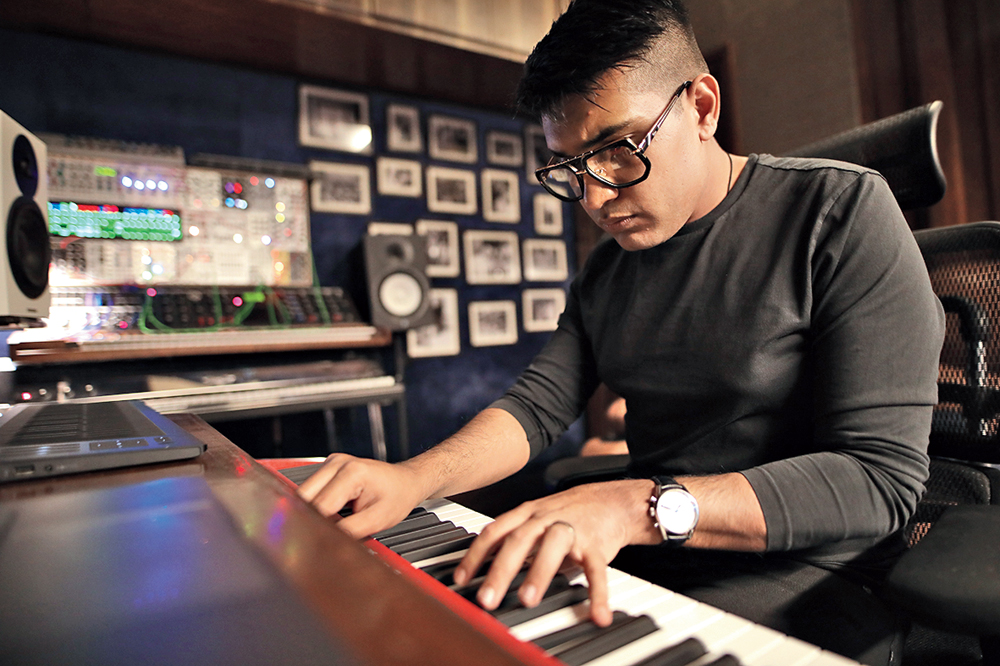 ---
---
For Shashwat Sachdev, Christmas literally turned out to be Bada Din. The Jaipur-born musician took home the National Award for best music direction (background music) for Vicky Kaushal-starrer Uri: The Surgical Strike on December 25. Shashwat started learning music at the age of four and after 20 years in Indian classical music and western classical piano for 10 years, he moved to Hollywood in 2011 and started working with multi-Grammy award winner Tony Maserati.
This son of a doctor has also composed for Phillauri directed by Anshai Lal, starring Anushka Sharma, Diljit Dosanjh, Suraj Sharma and Mehreen Peerzada. The music received rave reviews and topped the charts for quite some time. He then went on to compose the promotional title for the black comedy Kaalakaandi starring Saif Ali Khan. He followed it up with four songs for Veere Di Wedding.
In one of the first interviews after winning the National Award, an eclectic Shashwat shares his moments of joy with The Telegraph:
What were your immediate thoughts after the National Award win?
I was overwhelmed and happy that my work was recognised. My family and my wife have put in a lot of sacrifice and hard work in me and my work and it gave me a lot of happiness to see them happy.
Whom did you share your celebrations with?
My producer Sonia Kanwar, my parents and a lot of my well-wishers who had supported me in my initial phase in Mumbai.
Whom do you thank the most for the Uri win?
I would like to thank God for having me in the right place at the right time, my parents for the support and sacrifice. But most importantly my director who had immense faith and trust in me and my work and worked very hard to bring the whole project to life.
How did the offer come to you?
I had met Aditya (Dhar, director) before Uri for another film that he was working on and he had liked my music. Later, when he was working on Uri, he shared his script and asked me if I wanted to score and do the songs. I loved the script and I was very interested in the songs but I suggested that maybe someone else can score the film as I was pressed for time and wanted to move on to do something else after Uri. He pushed and motivated me to do the score of the film as well.
How difficult was Uri to compose?
The difficulty or simplicity of a project depends on the collaborators. Aditya is a great leader but also the film had great technicians working on it. Shiv Kumar Panikar played the main role in editing the music. I am fortunate that my music was placed on visual shots by Mitesh Mirchandani. And my own team was a great support. Dhirendra Mulkalwar was my music editor and he worked very hard. My orchestrator was Adam Lucas and my music supervisor was Siddharth Pandit. All of them work very very hard to make my work easier and make the process really fun.
What is so special about Uri that left the competitors behind?
I believe that good art doesn't have competition and I believe that my contemporaries are working equally hard and doing really good work.
Which film other than Uri would you consider for National Award win in the same category?
I don't remember a lot of films this year but I have been particularly fond of Ilaiyaraaja's works.
A few takeaways from Uri
I think the most important thing I learnt from Uri was collaboration. That whole team comes together and makes something which is bigger than the individual parts.
What are your next projects?
I am working on a John Abraham film, Attack, directed by Lakshya Raj Anand.
Are you still collaborating with Hollywood?
I am doing multiple things with people in LA and am planning to visit them early next year.