The American dream, for undergrads
Read more below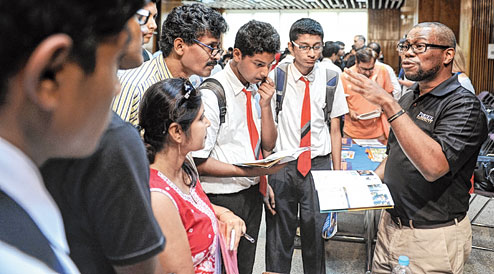 ---
Published 03.09.14, 12:00 AM
|
---
Bryant Priester of Purdue University explains the details of a course to students and their guardians at the US University Fair
Business administration and the sciences may be the big draws among Indians when it comes to picking a course in the US but of late creative fields are becoming quite popular. This was evident from the various queries posed to the representatives of 15 top universities that set up stalls at the US University Fair held at the American Center recently.
Organised by United States-India Education Foundation, KIC UnivAssist and The US Consulate General, Calcutta, the fair was targeted at undergraduate students.
"Last year we welcomed 240 freshmen from India at Purdue. Ours is the leading college in the whole of the US with STEM (science, technology, engineering, math) majors," said Bryant Priester of Purdue University, Indiana.
"Business courses are most popular but in the past few years, the interest in creative fields has been on the rise." — Divya Khandekar, recruitment official, Binghamton University, state of New York
Jack Muir, an admissions rep of the Savannah College of Art and Design (SCAD), Georgia, said while the number of queries at his stall was less than others, the students who came up were sure of what they wanted to do and were passionate about it.
The US Consulate General will help students with the visa process
At the fair, eager students walked from stall to stall, learning more about courses ranging from engineering and medicine to creative pursuits such as fashion, photography and graphic design. Apart from the fair, KIC UnivAssist also pays visits to city schools along with US college representatives to facilitate one-on-one communication.
Ganesh Kohli, the director of KIC UnivAssist, said their aim was "to expose young students here to the quality educational institutes in the US".