Jojo Rabbit: Not an irreverent anti-Nazi satire
The ambitions here are much more localised, the drama more intimate and sweetly familiar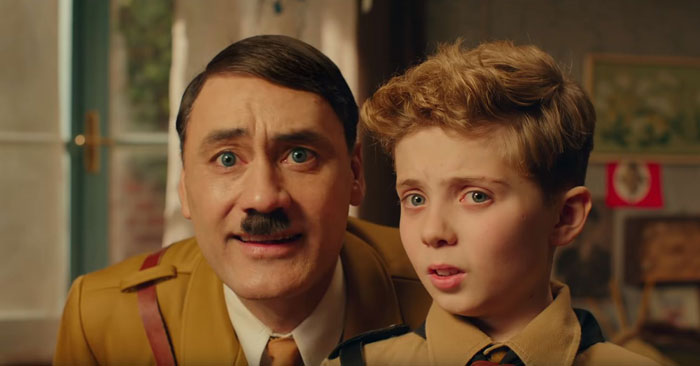 ---
---
Don't let the marketing blitz fool you. Jojo Rabbit is not an irreverent anti-Nazi satire in the grand tradition of The Great Dictator, The Producers or even Quentin Tarantino's Inglourious Basterds. Yes, the poster is wacky. Yes, the trailer is cute, featuring the writer-director Taika Waititi (Thor: Ragnarok) mugging broadly as a camp, whimpering Adolf Hitler who sighs, in the most modern argot, "Jeez, that was intense!"
But the ambitions here are much more localised, the drama more intimate and sweetly familiar. It's a coming-of-age parable that takes regular potshots at the inhuman absurdities of Nazi ideology while never once feeling the urge to pontificate or to make a big statement. The nearest we get is a climactic scene of two characters dancing happily, triumphantly, to David Bowie's German version of Heroes.
The lack of a grand stance has proved frustrating to many (a recent New Yorker article claimed that the satire in the movie had "backfired") and Jojo Rabbit may yet become the obligatory "controversial entry" in this year's awards season.
The film begins at full throttle, giving us the pint-sized protagonist Johannes "Jojo" Betzler, a naive Nazi enthusiast on a camping trip with the Hitler Youth in the closing days of the Second World War.
Played in a breakthrough performance from Roman Griffin Davis, Jojo is nicknamed "Rabbit" after refusing to kill one on the orders of a camp leader. The satirical swipes come thick and fast, with the Nazis depicted as devious morons and their belief system patently preposterous. "Once upon a time a Jewish man mated with a fish!" one adherent says, deadpan.
Once those ground rules have been established, the film focuses on Jojo, gives him some facial scars and a limp (courtesy of a grenade accident) and watches with delight as he slowly builds a life-defining relationship with a cool-headed Jewish refugee called Elsa (Thomasin McKenzie), who has been hidden in the attic by Jojo's freedom-fighting mother, Rosie (Scarlett Johansson).
Jojo and Elsa's relationship is the pivot for the movie. He coerces her into teaching him about Jews. She makes up nonsense (they can read minds!). But somewhere in their exchanges the power dynamic shifts, she gains control and her nonsense becomes poetry. "Our true language sounds like singing," she says of Hebrew. Their mission, of course, is to rescue each other, while all around the business of the film flashes and pops. Stephen Merchant as an SS officer over here. Serious tear-jerking drama featuring Johansson over there.
And yes, Waititi's kitschy version of Hitler will be divisive and controversial. I struggled with it slightly on the first viewing. But in a cinematic era of super-safe, super-bland superhero blockbusters, even a whiff of controversy is heartily welcomed.