Heart of the matter
'Anna' for 300 hearing impaired children, he highlighted a problem that has escaped notice so far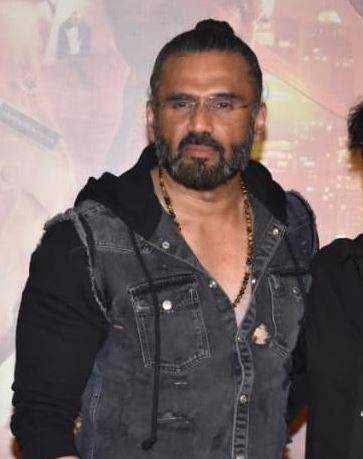 Suniel Shetty
Official Suniel Shetty Twitter handle
---
Published 23.05.20, 11:29 PM
---
With the daily hunt for a new celebrity hero, social media suddenly began to root for "Anna" Suniel Shetty. Interest in the actor perked up when the video of a lady from Nepal — who thanked Suniel Shetty for rescuing girls from red light areas — surfaced last week.
But it had nothing to do with migrants or Covid-19. As Suniel himself said, "The rescue happened 24 years ago. But because my name cropped up in this video on Vice, one of the biggest properties on YouTube, people are talking about it.
"We ourselves never talked about it, we couldn't," he explained, "because it would have put the rescued girls at risk. It was a one-night-one-operation in which 200 girls had been rescued."
Unwilling to take solo credit, he pointed out, "The covert operation was not because of me. It's not like one hero came and rescued the girls. It was an extremely difficult operation to undertake, requiring the help and coordination of so many people. We needed honest cops, an entire crew. Naresh Goyal and Jet Airways showed guts in flying that plane out with these really young girls in it. We had problems at the Nepal end with some of the parents not wanting to accept them back. Here, we could rescue only about 200, some of them didn't want to leave."
Suniel got involved because of wife Mana's mother, the late Vipula Kadri (rather renowned in the social and social work circles of Mumbai). "It was all credit to my mother-in-law and the extensive research she put into it," he said. "Back home in Nepal, one of the rescued girls set up an NGO to help others in the situation that she was once in. BBC featured her about 10 years ago and they came to me with her. I didn't recognise her until she said, 'I was one of the girls you rescued and sent home that night.'"
That warmed his large heart, which has been working in Covid times too. "To date, we have data on 11,000 families who're being looked after every day, keeping track of who's getting what, who have gone home."
And he's the "Anna" for about 300 hearing impaired children right now. "It's not a question of money but of getting permissions to get shops opened, then buying batteries for their equipment. Otherwise they can't hear," he said, highlighting a problem that has escaped notice so far.
A "chuckle fact" in crisis times: Suniel is so much the universal Anna that some people even call him "Anna Sir". "And kids in my building call me 'Anna Uncle'. Anna means older brother; I can be either Anna or Uncle, not both. Anna is not my name," he protested with a huge smile.
In the new normal, while some of us sat in our respective homes and got a preview of the trailer of Amitabh Bachchan's and Ayushmann Khurrana's Gulabo Sitabo, Shoojit Sircar's heart and thoughts were, understandably, more about Calcutta and the devastation wrought by Amphan. "It's quite bad here," he messaged in reply to a query.
But he has been the first major name to sensibly hand over his film to Amazon Prime instead of sitting on it for an indefinite period of time.
Written by Juhi Chaturvedi (who also penned gems like Vicky Donor and Piku), Gulabo Sitabo will go beyond being a comic skirmish between Amitabh, the ageing owner of Fatima Mahal, and Ayushmann, his strapping young tenant who won't move out. Ideal content, I'm told, for watch-with-family entertainment.
It's a prescient feeling that this enforced home viewing will give writers such as Juhi the place they deserve as creators of entertainment content. Already, Sudip Sharma's much-watched Web series Pataal Lok is fetching him as much recognition as its cast. If you haven't seen it yet, please do and you'll also start rooting for its writing and for actors like Jaideep Ahlawat.
Incidentally, just one unexpected slap between Jaideep and Gul Panag in Pataal Lok made a more emphatic social comment than Anubhav Sinha's entire film Thappad.
Bharathi S. Pradhan is a senior journalist and author