10 reasons why Hera Pheri is a comedy classic that still brings on the laughs
The film turns 20 today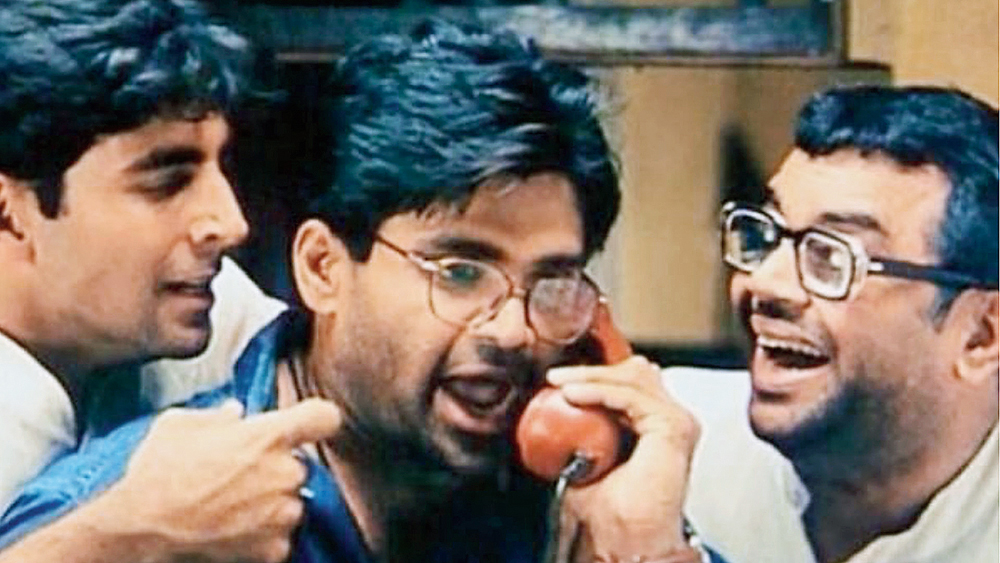 A scene from the film
Source: Hera Pheri
---
Published 30.03.20, 06:32 PM
|
---
1. The chemistry: Raju, Shyam and Baburao were a team of oddballs that went from co-habiting under one roof to finding themselves in the middle of a kidnapping plot that soon became a comedy of errors but ultimately worked to their advantage. The scenes involving the three — verbal fights to impromptu song and dance or just engaging in some fun banter — are the life of the film. The chemistry between the trio not only made for some huge ha-ha moments but also teased a tear or two when it came to the emotional scenes in which they poured their hearts out to each other, all the while pouring themselves a peg or two.
2. Akshay's deadpan humour: It was with Hera Pheri that the world discovered Akshay Kumar's comedic talent, with the man, then mostly featuring in action roles, delivering the kind of straight-faced, deadpan humour that's become his trademark today. Akshay's Raju was a street smart bloke given to bluffing his way through life — that scene in the phone booth where he nonchalantly lies to his mom about his non-existent high-flying job is a classic — and he, along with Paresh Rawal, had some of the best lines in the film. "Maine aaj tak kisi se jhoot nahin bola," was Raju's trademark claim with a straight face, followed by a blatant lie. Hera Pheri heralded the beginning of the Akshay-Priyadarshan partnership that has given us comedy films like Garam Masala and Bhool Bhulaiyaa, among others. 3. Babu Bhaiya!: Baburao Ganpatrao Apte. Just the mention of this name is enough to make fans of Hera Pheri break into loud guffaws. Paresh Rawal, sporting thick glasses, a vest and dhoti through most of the film, aced the role of the garage owner and landlord who had a caustic tongue but a heart of gold. Baburao — whose one big dream was to hire a tanker and fill up his water tank with country liquor — often found himself playing mediator — getting a blow or two himself in the process — in Raju and Shyam's fights and was given the responsibility of delivering some of the film's most memorable dialogues. Like "Uthaa le deva uthaa le… mere ko nahin, in dono ko" or when he said, "Andar jaake nahaana nahin hai" when told that the well in his courtyard was very deep. And then, of course, is that scene when a physical fight with Raju and Shyam makes Baburao lose his dhoti and Anuradha (played by Tabu) walks in. Baburao isn't aware of the fact that he's standing dhoti-less and when Raju awkwardly tells him, "Uthaa le", he laughs and goes, "Jaan pehchaan nahin hai, kaise uthaunga? Kum se kum chaalis-pachaas kilo ka wazan hoga!" He meant Tabu of course! Baburao clearly deserved his own spin-off film.
4. The lines: Like Sholay and Andaz Apna Apna, almost every line in Hera Pheri has made its way into our daily conversations. Like Raju saying, "Hum kung-fu karate ki practice kar rahe thhe, pyaar se" while smooth-talking his way through a fight with Shyam and Baburao. Or when Baburao, while outlining the strategy of their 'kidnapping' plan, did a "Basanti, tumhara naam kya hai?" saying, "Raju, Shyam bol raha hai kisi ka naam nahin lene ka".
5. Meme magic: The mark of a successful film is its ability to make it in the world of memes. Hera Pheri's contribution is significant in this sphere. From Raju going, "Iske pachaas rupaay overacting ke kaat" to Baburao cheekily slapping Raju and saying, "Yeh Baburao ka style hain!"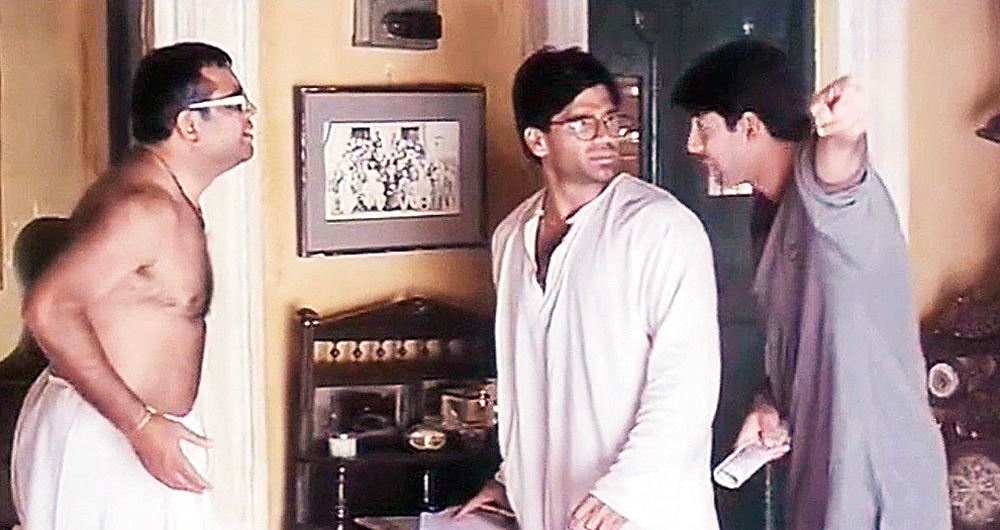 6. The scenes: Now where do we begin, given there are so many scenes in Hera Pheri that are instant classics. From the three somehow making an escape from the cops — remember Baburao, helmet (which he referred to as 'hamlet') perched on his head, thinking he was meant to pee when asked to hide behind a tree to that fun escape from the cops using a bunch of cyclists as camouflage. Few can forget Kharak Singh (Om Puri) and his fellow villagers spilling out of the sides of a Fiat taxi, even as Raju, Shyam and Baburao step out, dressed desi Three Musketeers-style on their 'mission', with Kharak Singh failing to recognise them. Or that moment when Raju fakes a fancy job and takes his unsuspecting mom to a construction site that he claims is his office-in-the-making and Shyam lands up, almost spoiling Raju's carefully planned charade.
7. Kharak Singh: There was never a dull moment with Kharak Singh around. Om Puri inhabited the part of the Sikh farmer who travels to Mumbai from Ludhiana to recover his money from Shyam (or "Ghanshyam", as Kharak Singh called him) so that he can get his sister married, like second skin. Kharak Singh always came armed with a threat — and once even with a sword — but he ensured that things never got ugly with his "Pra" Shyam. His one big threat to Shyam that he would bring along four of his friends to recover his money didn't really mean he would beat the living daylights out of the latter. "Main agli baar chaar log leke aaunga…. tujhe maarne ko nahin! Agar mujhe mere paise nahin miley toh main yahin pe jaan de dunga aur woh mujhe kandha denge" was the biggest threat Kharak Singh could come up with. And remember how he went, "Kharak Singh ke kharak ne se kharak ti hai khidkiya"? #PureGold
8. The side players: Kharak Singh apart, there were some other side players who made Hera Pheri the laugh riot it turned out to be. Tabu's Anuradha may have afforded the film its emotional heft, but even she gave us some of the film's more subtle comedy scenes, like the time Anuradha and Shyam kept haggling over who, between them, deserved the job at the bank more. The pick of the lot among the side players was Asrani's bank manager, with the actor delivering an act similar in tone and tenor to his "Angrezon ke zamane ka jailor" in Sholay. Too much fun!
9. Hello, hello!: The phone at Baburao's Star Garage was the pivot around which the drama in the film centred. It was a wrong number from Kabeera ("speaking") the kidnapper (played by Gulshan Grover) that found its way to Baburao's Star Garage instead of Devi Prasad's Star Fisheries. Some of the film's most funny moments arose out of Baburao attending the calls meant for Star Fisheries and responding to orders for fish in his inimitable style. Like when asked, "Mere machhli ka kya hua?" Baburao's answer was, "Woh toh main mast tel mein fry karke kha gaya". Or, "Kya, yeh Devi Prasad ka ghar hai?" Baburao's answer: "Devi ka prasad mandir mein milta hai!"
10. The climax: Hera Pheri, in a way, brought in the 'chaotic climax' trope that became a standard in later Priyadarshan comedies, and even those directed by Anees Bazmee and David Dhawan. The one in Hera Pheri had all the elements —a free-for-all fight, Kharak Singh chasing the city's police commissioner (played by Mukesh Khanna) with a sword and, of course, an almost blind Baburao, having lost his spectacles in the melee, picking up a rifle and inadvertently going bang bang! Did you know?
Sanjay Dutt was signed on to play Shyam. But he had to drop out because he had to attend court hearings regularly in connection with the cases against him. He suggested Suniel Shetty's name for the part.
Hera Pheri was initially titled 'Raftaar'. Karisma Kapoor was signed on and Hollywood action star Steven Seagal was slated to feature in a cameo!
It's a remake of the Malayalam film Ramji Rao Speaking.
Baburao Apte is considered one of the cult characters in Bollywood cinema, sharing the list with names like Mogambo, Gabbar Singh and Don.