Shazam! Fury of the Gods feels too familiar but is a fun watch if you don't take it too seriously
The David F. Sandberg film stars Zachary Levi, Asher Angel, Jack Dylan Grazer, Rachel Zegler, Adam Brody, Lucy Liu, Djimon Hounsou and Helen Mirren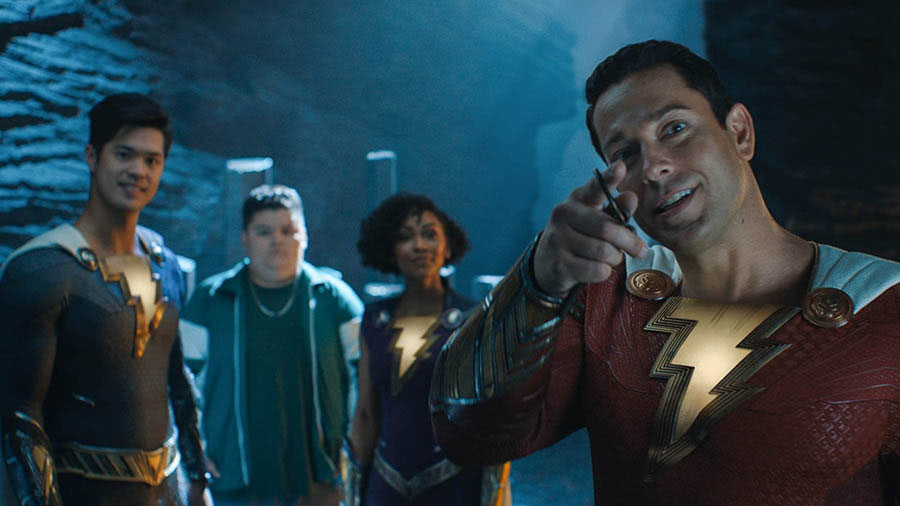 Zachary Levi in Shazam! Fury of the Gods, which has hit the theatres today.
---
Calcutta
|
Published 17.03.23, 04:05 PM
|
---
When the first Shazam! film hit the theatres in 2019, it was like a breath of fresh air with its lighthearted tone, focus on family and bright colours in an universe doused in darkness (pun intended) by Zack Snyder. 
The good news is that Shazam! Fury of the Gods is just as lighthearted and fun. But there is some bad news as well. Seems like it has got 'sequelitis' and hardly has anything new to offer, especially in terms of humour. Not that there aren't moments that draw genuine laughs. A letter sent by Billy Batson/Shazam (Asher Angel/ Zachary Levi) to an angry god, played with menace by Helen Mirren, is a case in point. 
Remember the staff that Billy broke into two and threw away in the first film? Ya, well, seems like he should have picked up those pieces, because three daughters of Atlas the Titan —  the stern Hespera (Mirren), the evil Kalypso (Lucy Liu) and the soft-hearted Anthea (Rachael Zegler) — claim them and unleash havoc in Philadelphia. The Wizard had drained their powers and sealed off their realm, driving them to revenge.
Now Billy is having a bit of a tough time of his own because he can't seem to get his superhero family to act as a team. On top of that, they haven't really been embraced by their city who call them the Philly Fiascoes. And things only get worse with his lack of 'Saruman' (it's actually Solomon) wisdom. But courage he has in plenty, which helps him win the day. 
This time, the scene stealer is Freddy Freeman (Jack Dylan Grazer), not in his 'Captain Everypower' avatar but as a gangly teen with disability who has the wit to charm even 6000-year-old gods. But charm and humour can only do so much. The problem with Shazam! Fury of the Gods is not just that the audience has seen most of the fun parts before, it also tries to do too much and trips over its own gnarly roots.
There are snazzy action sequences but most of it comes towards the end of the film in a really and unnecessarily drawn-out finale. The eagerly-awaited Wonder Woman cameo also feels extremely underwhelming and you should stick around for the mid-credits scene that tries to tie Shazam! Fury of the Gods to the rest of the DC Universe, but with the reboot that's been announced after the James Gunn takeover it is anyone's guess if Shazam! will play a big role in the future of the DCU.
Despite all its flaws, Shazam! Fury of the Gods, like its predecessor, is a fun weekend watch unless you take yourself and the film too seriously.