Seema Pahwa moves to director's chair
Seema Pahwa is bracing for her directorial debut Ramprasad Ki Tehrvi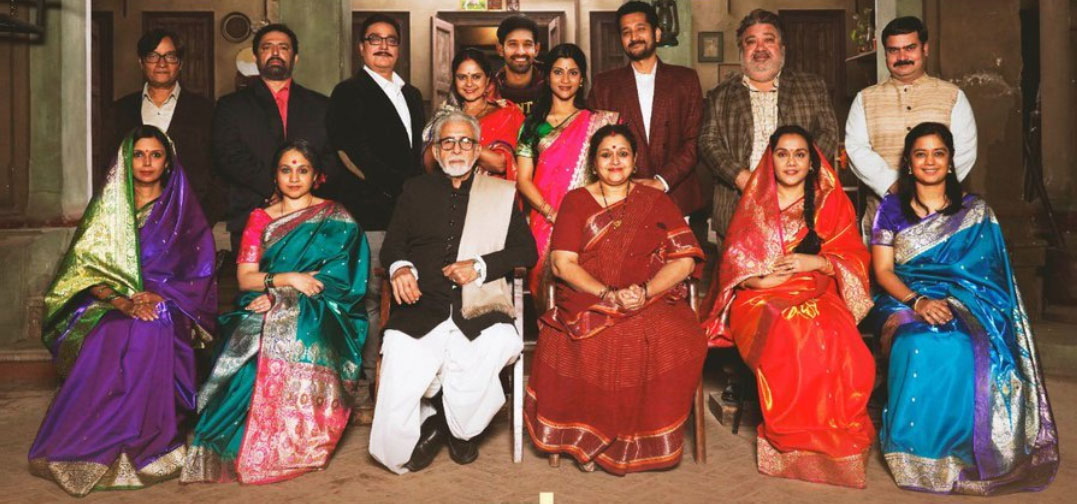 ---
|
Calcutta
|
Published 20.10.19, 09:00 PM
---
She has been there but never done that. Seema Pahwa, Hum Log's Badki and the mother in the recent hits Bareilly Ki Barfi and Shubh Mangal Saavdhan, has a new assignment in hand - direction.
Though she has been in the industry since the 80s, Seema got her due late. A leading light in theatre and an actress known for her comic timing, Seema is bracing for her directorial debut Ramprasad Ki Tehrvi, starring Vikrant Massey, Naseeruddin Shah, Konkona Sensharma, Vinay Pathak, Supriya Pathak, (husband) Manoj Pahwa, and (daughter) Manukriti Pahwa. The film releases on November 22.
Here's a closer look at the woman seated in the director's chair.
The Woods: From Doordarshan's Hum Log to directing. How has the journey been?
Seema: I had done quite a few projects on Doordarshan before Hum Log. It's been almost 30 years in the industry and I would say after working with so many people it has definitely been a great learning experience because of which I have been able to reach here and could think of directing.
How did the idea for Ramprasad Ki Tehrvi come to your mind?
This idea came to me when my father passed away. I was able to see people in a different light and I felt so many things at that time. In those 13 days (tehrvi) I could imagine a different world about which we talk so less. Then I thought no one would like to hear or watch such a story. After Ankhon Dekhi (2013) I thought strongly that such films could be made. I started writing and what I wanted to say through the film I put it in words.
What is the film all about?
This film is about relationships and how we go so far away from our loved ones. How everyone gets busy with their own lives. Like brothers and sisters separate after getting married. They make their own world. How siblings play in the same ground and how they separate when they grow up and think differently. They are connected but there's a different complex that brews and this is what the film is based upon. I have tried to capture these emotions in those 13 days. How relatives meet for a funeral and how relations that had strayed, come back to where it belonged because reality strikes only after death.
Are you nervous about your debut?
No, actually when I was making it I didn't feel that kind of nervousness. Post-production I had a great time because when you are acting you are not into the technicalities but this time it was a new world for me and I was exploring it. Now, when the film is releasing I feel nervous because I don't know how people will react and accept it.
The film has truly an ensemble cast and some great actors. How did you handle each one of them? Who was the most difficult to handle?
(Laughs) This is very difficult to answer because I had gathered all the shaitans on the set. Bahut shaitani karte thhey sab. All are grown-ups yet they had their own pranks. I can't take one name. It was a group of badmaash. They had a great time on the set. Since all were friends, handling them wasn't tough. It was a very comfortable journey for me. It was my first film so I thought let's ask friends to be part of the project.
Did your husband Manoj Pahwa give you honest feedback on your work?
Always. It's the same for both of us. I also criticise and appreciate Manoj and vice versa. We see the work through the third eye. Relationship is different but when it comes to work we do share feedbacks.
You and your husband have acted in so many hit films. Why did you suddenly turn to directing?
I never thought about directing for one single moment. When I had written the film I thought I would act in it. But when I shared the writing with Rajat (Kapoor) and Sharat (Kataria) both said you do it. Then I said I can't because I had never thought of directing. Then Naseer (Naseeruddin Shah) sir also said: 'Why don't you do it. It's your story, you will know it better'. Then I thought let's take a chance.
You would be seen in some great films soon (Bala). But what is your next directorial? Are you working on something?
First let's see what happens to this film. Whether people appreciate it or not. If people say you have done justice to directing then I shall surely think of my next directorial.
Acting, writing, directing. What next?
Ab bacha kya hain? Producer? No, that is a far-off space. Can't think about that. I can think about creative things but business wala kaam nahi aata mujhe.
Your daughter Manukriti too is in the film.
Manukriti is a good actress. I have not cast anyone in this film because she is my friend or my husband. I have done it because they are all good actors. The criteria was I needed good actors. Manu is trained and from theatre and has proved herself in front of me several times. She has done plays with me. When I was writing this role, Manukriti was suitable for it. And she has done a fantastic work.