Schumacher, the documentary on Netflix
The film may say very little that's new but showcases the two sides of the formula one legend well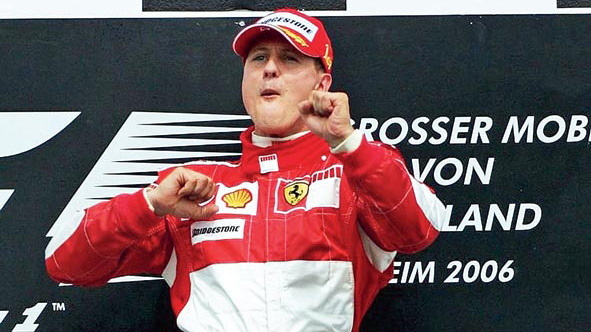 ---
Published 17.09.21, 10:41 PM
|
---
Just on the basis of his devastatingly good looks, he could have well become a film star. Or perhaps, rock star is a more apt way to describe Michael Schumacher, whose dominance in the world of Formula One racing went much beyond his seven world champion titles. Schumacher, the eponymous documentary film on Netflix, attempts to chronicle the life and career of one of the most prodigious names in the history of sport. One whose notoriously private life has become even more of an enigma after a 2013 skiing accident, post which Schumacher, now 52, if scant reports are to be believed, is no longer able to walk or talk.
But that isn't what Schumacher is about. The single-minded focus of the 112-minute watch, shot with the 'blessings' of the racer's family and directed by Hanns-Bruno Kammertöns, Vanessa Nöcker and Michael Wech, is to celebrate a man who shot to the top of what is a fiercely competitive sport and remained there for years. For die-hard fans of Formula One who have closely followed the rise, fall and rise of the man, Schumacher, to be honest, offers nothing new. For those like me, who have only had a superficial understanding of Schumacher, the documentary makes for an interesting, if not riveting, watch.
Relying on a blend of both personal and professional archival footage, some of the biggest names in the world of Formula One — both bosses as well as Schumacher's rivals and contemporaries — function as talking heads, with inputs provided by Schumacher's family, including wife Corinna, father Rolf, brother Ralf and children Gina and Mick, who is now a racer himself. Having names like Flavio Briatore, Ross Brawn and even Bernie Ecclestone himself, along with legends of the sport like Sebastian Vettel, Mika Hakkinen, Damon Hill and David Coulthard, does add weight to the film, even if it doesn't provide much insight into knowing Schumacher better.
Schumacher's career reached dizzying heights within the space of a few years, but it also recorded devastating lows. And the documentary traces the German legend's early days as a 14-year-old, whose intense focus on his game prompted early whispers of a 'prodigy', to the world sitting up and taking notice of him from the get-go when he made his debut at the Belgian Grand Prix in 1991. From then on, his achievements and setbacks are well documented, including his string of wins with Benetton and his shift to Ferrari, with Schumacher being responsible in transforming the historic team struggling for a world championship to a side that went on to clinch five titles. But most of it, after a while, seems just like chronological trot-through.
Where Schumacher briefly scores is when it attempts to showcase the two sides of the man. The calculative, often ruthless driver for whom perfection was paramount. And then there was the intensely reserved family man who enjoyed playing football and roasting marshmallows on a night out in the snow.
The moment in Schumacher which truly leaps out is at a press conference at the Italian Grand Prix in 2000. Schumacher, who had just won the race for Ferrari, is asked, "This is your 41st victory, which puts you equal to second all-time with Ayrton Senna. Do those records mean a lot to you?" The champ looks down at the microphone in front of him. "Yes, it does mean a lot to me," he replies. Then he lowers his head, whispers "sorry", and starts to sob uncontrollably, offering a rare public glimpse into a man as vulnerable as all of us. In fact, as the documentary suggests, it was the death of Brazilian racing legend Senna, while he and Schumacher were sparring on the track at the 1994 San Marino Grand Prix, that caused a shift in the latter's almost cold disposition, even if it was for a short while. Schumacher documents that well.
In the end, Schumacher may be almost a hagiographic look at his greatness in a sport which requires so much sync between man and machine, but what stays with you is not the vrooming of the world's fastest cars or those smiling images of Schumacher gleefully popping champagne after every big win. It's Corinna's words: "We live together at home. We do therapy. We do everything we can to make Michael better and to make sure he's comfortable. And to simply make him feel our family, our bond. He still shows me how strong he is every day."
Bounce back, champ!