Rohit Saraf's sky
The young actor shares his experience of shooting with Priyanka and Farhan & lessons he learnt on set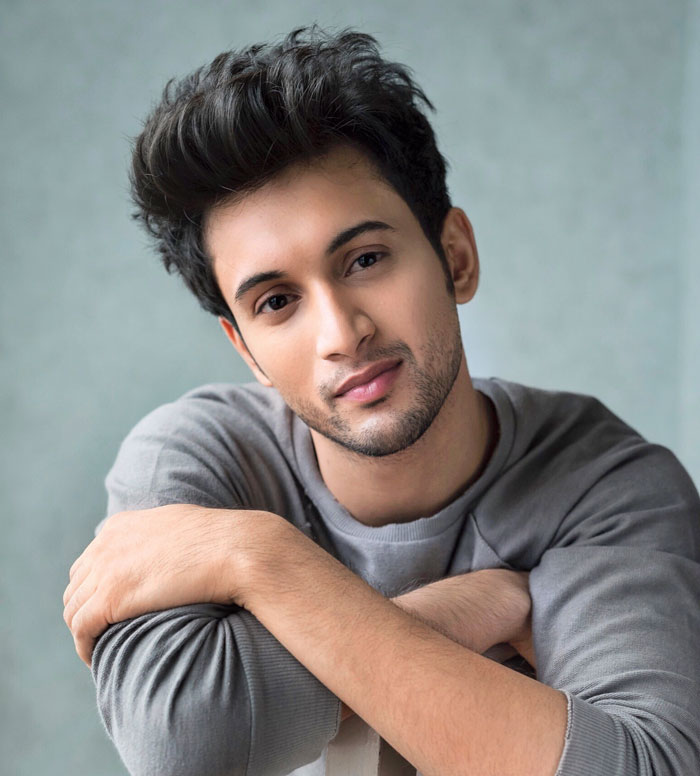 "For me, pink or lilac is the colour of innocence, it's the colour of love, it's the colour of everything happy," says Rohit Saraf
Telegraph picture
---
Published 10.10.19, 06:39 PM
|
---
Alia Bhatt's brother Kiddo from Dear Zindagi, actor Rohit Saraf plays Priyanka Chopra and Farhan Akhtar's son in The Sky Is Pink that releases on Friday. The Shonali Bose-directed film is based on the life of motivational speaker Aisha Chaudhary, who died from pulmonary fibrosis. We caught up for an exclusive chat with Rohit, who plays Aisha's older brother Ishan Chaudhary.

What's your perspective on why the film is called The Sky Is Pink?
For me, pink or lilac is the colour of innocence, it's the colour of love, it's the colour of everything happy. Right now, our sky is pink because we have a different perspective on something that most people didn't. That's what we are trying to bring into the picture. I personally feel there is room for every colour in our skies. We just need to be able to discover it. I think we've just discovered pink and that's why it is pink right now.
After debuting with Dear Zindagi, do you think it's The Sky Is Pink that's your big break in Bollywood?
Yeah, the debut happened three years ago but I think that the stakes are pretty high for me because it's a very good part. I just hope that people think I've done justice to it because if I haven't, it's a shame.
Was it intimidating to act with Priyanka Chopra and Farhan Akhtar?
Oh my God, you have no idea! It was so daunting when we began because you have only just heard these names, you know! You've never seen them around, you've never met or interacted with them. Acting with them was pretty much just a dream. To be very honest, I hadn't even thought of it in my dreams also. My biggest goal was that I have to land a film. Landing a film with Priyanka Chopra and Farhan Akhtar... it doesn't happen. It was of course very intimidating. I went up to Shonali and I told her that, 'Listen, I'm very scared and very intimidated. I want to be able to make sure that I get the scenes correct. I don't want the intimidation to come into the scene.' She said, 'Just have a chat with them.' When I started chatting with them, I realised that they're extremely warm. It was actually so heart-warming to see them so accepting, so welcoming. They take care of you when you're on set. It was great.
What kind of advice did Priyanka or Farhan give you on set?
I can tell you this one advice that PC gave me. I was shooting one of my most difficult scenes in the film, which is at the Tube station, which you must have seen in the trailer. A night before that we were all out. The entire crew had gone out for dinner. I was very quiet and wasn't talking too much because the scene was running in my mind, that tomorrow's a big day. PC asked me, 'Why do you look so troubled?' I said, 'I'm a little stressed about the scene.' She said, 'Rohit, you have to understand one thing. You're here because you're good for the part. You're here because you can do it.' That was the scene that I had actually auditioned with. She said, 'You've auditioned with that scene. You've done it before. Nothing is changed. What's changed now is this you will be in costume, hair and location. You don't have to be nervous or scared. You're good for the part. You're a good actor. Just go and do it with confidence.' The belief that she had in me... it's not like I have not heard this before… But it is the belief that she had in me which really boosted my confidence. So after that, I didn't think twice about it.
So what happened the next day?
The whole day we were shooting for small montages all around London. Then I had a two-hour break while they were setting up. We were supposed to do this scene in the evening. It was just me, Shonali and the entire crew. We started pretty light because we had a few running shots here and there. I was great in it, they were all one shot here and there. After that, we went up to the Tube station and met Ishan, whom I'm portraying. I met him literally 20 minutes before we were going to shoot that scene. I knew how much that scene meant to him. I was completely thrown off guard and suddenly all the confidence that I had throughout the day, went down the gutter. I was nervous again. I told Shonali that this was not the right time for me to meet him. But he's extremely sweet. He's very kind. He was so generous with his compliments, it felt so nice to meet him. When we started shooting... it was tough in the first two, three takes. I was still trying to get into the zone, getting into the mood. But once we started getting the shots, we wrapped up within an hour. It was a fairly long scene.
What kind of research did you do on Ishan before starting to shoot the film?
I got to know about the Chaudharys while I was auditioning for it. Before I even got the film, I read everything that was there on the Internet about them. I watched all of Aisha's videos and read her book (My Little Epiphanies) completely during the audition process. I wanted to make sure that even during the audition rounds, I wanted to be better in each round. That's how you land the role. So I kept doing my research on the basis of that but once I got the film, there was no research. All the other cast members had watched the footage that they had documented from the Chaudharys but Shonali asked me not to watch it because I'm a very emotional person and she realised that. She said, 'You may not be able to take it well. So you shouldn't watch it.' I said, 'Then what about the character? How do I do this?' She said, 'We will collaborate on it and walk through it. Don't worry about it.' When I got on set, everything was so organic. PC, Farhan and Zaira (Wasim, playing Aisha) are such brilliant actors. When you're sharing your space with them, when you're performing with them… it's always an action-reaction, right? They give you such a good cue, that they enhance your performance apart from their own. The process was extremely collaborative.
How did you land up the role?
I had four rounds of auditions. The audition process went on for about three months.
You lost your father when you were only 11 years old. Was the process of shooting this film cathartic to you?
I want you to define cathartic for me.
Closure? Healing?
(Pauses) You know, I've said it at the Toronto International Film Festival (TIFF) that while I was shooting for it, I was dreading getting to those scenes, where we have to deal with death. For the longest time I wasn't ready for it. I wasn't ready till the point I was on set to shoot it. After shooting it is when I realised that while I was performing, it gave me so much closure and I didn't even know that I needed it, you know? People asked me, 'What did you do to unwind after shooting a heavy film like this?' I actually think that shooting those sequences was a form of unwinding for me. That is what my life needed the most at the moment. For all these years the baggage that I didn't even know I was carrying, is all off now. I feel very light about it. The fact that I can give interviews back-to-back and they're all mentioning my father's death and I'm just fine. The fact that I can talk about it so openly and not get very affected by it, I feel now... obviously a long way to go where I can be more comfortable with death… but at the same time, I do have a different perspective on it. That is what this film gave me.
Shonali apparently told you that you were like the third son she never had...
It actually happened at the Tube station when we were shooting that scene. We were sitting and I just told her, 'Do you not miss Ishan (Shonali's son who died)?' She said, 'No, he's around all the time.' And she told me her younger son Vivan is just a year younger to me. So my age is actually in the middle. Ishan was older to me, Vivan is younger to me and I am in the middle. We got so close during the whole shoot, there were no hang-ups, nothing, It was just the two of us really putting our hearts out there for each other to understand as much as we can and draw from each other as much as we can. I think the process brought us so close together that she just ended up saying that, 'You're like my third son.' It felt so nice to be able to develop a relationship like that with your director.
Zaira recently announced her retirement from acting. Did you talk to her to understand why?
There's nothing to understand, her post made it really clear. It's a very long post where she elaborates what she thinks. I don't want to bring that up again. I understood what she meant. So no, I didn't talk to her about that. I think whatever choice she's made is her own. No one should question it. If you like chocolate ice cream, you like chocolate ice cream. You don't want to have butterscotch and nobody can force you. And that's exactly what it is, I think.
What's your personal takeaway or learning from shooting this film?
It's really funny to know PC and Farhan, the way they are. It's not so much in conversation, it's almost what you observe. What PC and Farhan are like is what I learned from the film. My takeaway is that we always make such a big deal out of the moment, that this is everything. That everything is now! But there is so much ahead of us. For the Chaudharys, everything that was around, was about Aisha. It felt earth-shattering at the moment. Look at them now. They've grown so much. They've grown stronger, if nothing else. They have the most inspiring lives. Ishan is making great music. He's in fact given a song to our film which I can't wait for everyone to hear because it is such a beautiful track. That is one thing that is my takeaway. I learnt from the film that it's very contradictory, it's like two extremes. I'm so torn. Imagine living those lives and having everything around you. There's so much to think of than having such a multi-faceted career. All they're worried about is this film. All they're concerned about is this film at the moment, not anything else. They leave everything behind and they come back with just a thought process of this film. That is what I learned that you have to be in the moment.
What can you tell us about your next film that's being directed by Anurag Basu?
We've already shot two schedules. I'm playing one of the principal characters, there are four stories. I can't tell you much about it now.