'Desi Girl' sits down for a chat on new film, anniversary plans and stardom
Filmmaking is a director's medium, not an actor's medium: Priyanka Chopra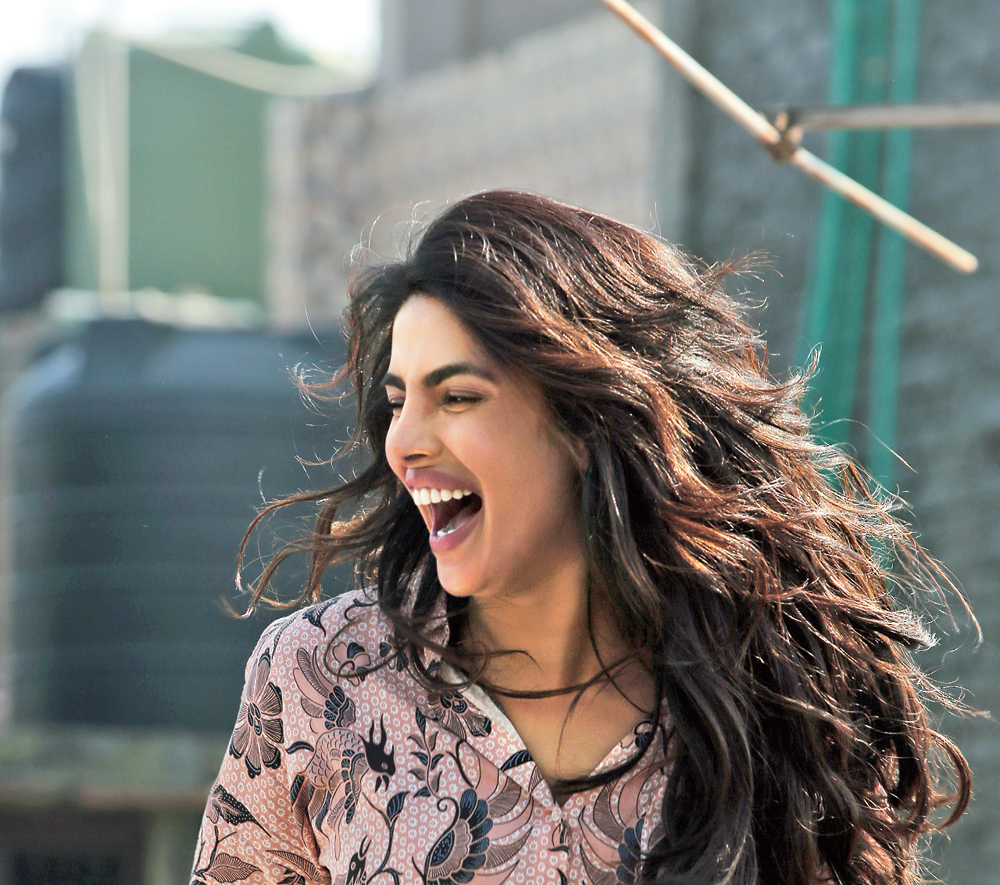 Priyanka Chopra Jonas
(Picture sourced by the correspondent)
---
Published 29.09.19, 01:02 PM
|
---
We are sitting in Priyanka Chopra Jonas' vanity van in Bandra's Mehboob Studios. Dressed in a light floral dress, she flashes the warmest smile. The 'Desi Girl' is home for the promotions of her next film, The Sky Is Pink. The Shonali Bose film is based on the real-life story of author and motivational speaker Aisha Choudhary, who died at the age of 18 from pulmonary fibrosis.
The film, starring Farhan Akhtar, Zaira Wasim, and Rohit Saraf in key roles, is slated to release on October 11. We caught up with Priyanka for an exclusive chat…
What's the first thing that you do when you touch-down India?
I go home, my lunch is ready as soon as I leave the airport. Woh garam hone lagta hai! I come home and I have ghar ka khaana. I can't cook, so all my Indian food comes in dabbas... actually whenever my aunts are around I always get fresh Indian food. But after coming back, I get the kind of ghar ka food that I like... my kind of bhindi, my kind of dal, my kind of chicken. I like that!
So right now are you gorging on Indian food throwing caution to the wind?
No, no. I am having makhanas (laughs)! In my 20s, I could do it. But the moment you hit your 30s, girl, the body changes. You can't have parathas like that.
How was the vibe on The Sky Is Pink sets like?
It was a lot of fun. We are putting out a BTS video soon, you'll see. It was fun because all of us get along really well and we were on the same page about the film that we were making. But also, it was a lot of emotions... so it got deep. We spent a lot of time understanding each other and supporting each other through the difficult subject matter that it was. But we are friends for life now — Zaira, me, Rohit, Shonali, Farhan, Ronnie (Screwvala), Sid (Siddharth Roy Kapur), Nilesh (Maniyar, writer) — everyone who has worked on the film. This film bonded us in a way that is very special.
How has the working equation with Farhan changed since Don (2006), Dil Dhadakne Do (2015) and now The Sky Is Pink?
Well, the beauty of it is that it's such a full circle. Farhan produced me with Don when I was such a young, nascent actor and now I'm producing him, you know? He tells me he's really proud of me because he's seen me like grow, literally, from when I was some 22, to now. It makes me feel like that's quite an achievement, it feels good.
Prakash Jha's Jai Gangaajal released in 2016. How does it feel to have a Hindi film release after three years?
I'm really happy. The problem is, it's not that I didn't do a Hindi film out of choice. I was shooting Quantico that took up 11 months of my time, it was a 24-episode TV show with me in every scene, you know? I didn't have the time to do a film. I just had one month in a year. That's why I did films like Isn't It Romantic? (2019) and A Kid Like Jake (2018) which had smaller parts... 20 days and I could get it out. As soon as Quantico was done I was looking for features to do, especially one in Hindi because I hadn't done one for a while and this one was just perfect for me.
The Sky is Pink deals with love and loss... it's a heavy subject. Did you break down while shooting certain scenes?
It feels like a heavy subject but it's treated in a very light-hearted way because that's how Aditi (Priyanka), Niren (Farhan) and Aisha (Zaira) are. Their family is like that, they believe that — if you don't have a long life, you should have a big life. That's what their belief is, that it should be full of adventures, full of laughter. So whatever little time you have on Earth, you're spending it feeling really happy. That's such a lesson for all of us. We forget about enjoying every single day because we are so caught up with everyday life. This film really inspired me to be present. It made me call up my mom after watching the film. I said, 'Listen I don't appreciate you enough. I love you so much. Thank you.' It's that kind of a movie and it's so special.
After Shonali gave you the brief, did you meet Aditi Chaudhary to prepare for the character?
Shonali didn't want me to meet Aditi but I elbowed my way and flew there. You know I don't like listening to people (laughs). I elbowed my way and insisted on meeting Aditi. I'm not a mother, I needed to understand from both Aditi and Shonali who have both lost their children... where does that take you? What do you feel in your heart? Those were difficult questions and difficult conversations. I really wanted to get into the head of both of them and understand. Aditi treated the situation very differently than Niren did. Aditi was ferociously protective, she wanted to give her daughter the biggest life — whatever my daughter wants, she will get it. My mother was like that, my mother was fully about, 'Whatever life you want to make for yourself, we will be there.' And I really related to Aisha, to when I was a teenager.

Is there any particular anecdote from the set that you want to share?
It was a scene where Aisha, my daughter, decided to not get a lung transplant that'll prolong her life. She decides that she wants to be confined to her bed and that she'd rather take a chance with the treatment than get a transplant. Even I was for Aditi's character, because the quality of life is something Aditi and Niren always focused on for their children. But yet, knowing that she won't live 10 years, she might just go in the next couple of months... that scene when Aisha tells me that she can't do surgery. When I was doing it and even after I finished it, I kept crying. I hugged Shonali and kept saying, 'I'm so sorry you had to go through this. I'm so sorry this happened to you'. I empathised so much with what must have happened and what she must have gone through. That really got me.
How much of that stress on set do you carry back home?
I don't take stress with my work. My movies don't stress me, they give me joy. I am an artiste and I believe in blowing life into the characters that were written by amazing writers, in this case, Shonali and Nilesh. But it never stresses me out, I did take back the feeling of (pauses)... the lesson that I learnt from this film was very cathartic to me. It taught me that it's better and so much healthier to celebrate the life lived rather than mourning the loss of the person. We spend so much time being sad and the person that we lost, who loved us, they wouldn't have wanted that right? They'd want us to be jovial. My dad wouldn't even let me come to the hospital, he'd want me to go to the set because he wouldn't want to see me looking at him. It's like celebrating his life and who he was and talking about him, keeping his memories alive. That is why Aditi and Niren wanted to make this movie, they wanted to keep Aisha's memory alive, in the most joyous way. And I think that's the lesson we should learn, being in the present, celebrating the life of the person who we have lost and telling the people you love while they're alive, how much you love them.
They say that women subconsciously end up looking for traits of their dads in their life partners. Do you think you see certain traits of your dad in Nick (Jonas)?
I feel like Nick is my father, in so many ways. My dad was a musician, his first love was music and so is Nick's. My dad was a very stable, solid, emotional man and so is Nick. He was calm, he never got agitated and he was emotionally very sound. So is Nick. I do feel that subconsciously I did end up marrying someone who's a full chhavi of my dad.
Has marrying Nick changed your life and who you are as a person?
Oh, yeah. It has made me nicer (laughs)! Or calmer, let's say. It has made me realise that stress is not the most important thing, there's no point of stressing about something. Nick is a solution finder. I always was but I always used to get crazy when I found solutions. He is like a calming factor, the stability of him makes me not be as crazy as I usually am.
Your first marriage anniversary is coming up in December. Any plans yet?
(Smiles) It's apparently a surprise! I asked my husband and he said, 'Why do you have to know everything?' So, I said, 'Okay!'. Hopefully it'll be special and we will be surrounded by our loved ones. Let's see!
Can you give us a glimpse of what's a typical day in the Jonas household like?
We behave like a joint family but we really are not (laughs). We all have our separate homes. But when Nick and I are at home and we both are not working, which probably happens six times a year maybe... it doesn't happen very often because we both have crazy professional lives. During that time, we like to sleep in without an alarm, we like to go grab lunch, take my dog for a walk, watch a movie in a theatre... simple things that we don't get to do otherwise.
You are producing as well as acting in a wedding comedy with Mindy Kaling. How is that project shaping up?
Universal just came on a couple of months ago. So now the process of writing is starting with Dan Goor and Mindy. Dan wrote Brooklyn Nine-Nine, Mindy wrote The Office... so that sensibility is amazing. They are both writing the script at the moment, so that's going to take time till the script gets approved. I don't think it'll happen before next year.
What is it like to wake up as Priyanka Chopra? Do you sometimes feel the pressure knowing how huge your stardom is?
(Laughs out loud) I don't see it! You realise that I have been a public person for more than half of my life, since I was 17? I was a teenager when I started doing this. So this is my normal. I'd be worried if I woke up and it wasn't there.
You're also doing The White Tiger with Rajkummar Rao for Netflix...
I'm actually doing two films with Netflix this year. One is with Robert Rodriguez who made Sin City, Spy Kids... so he directed this kids' superhero movie for Netflix which is super cute. It's called We Can Be Heroes and has Pedro Pascal, Christian Slater, me... a bunch of actors that have come together. I just finished shooting that, now I'll do promos for The Sky Is Pink and then I'll get into White Tiger which is for Netflix. It was one of my favourite books and Ramin Bahrani is an Iranian filmmaker who has made 99 Homes and some really beautiful films. So I'm really excited about working with him as well.
You're very expressive on your social media and seem to wear your heart on your sleeves. Is that your own space for expression without caring about what people say?
I don't care. I mean, if you've known me at all, then you know that I'm not someone who cares about people's opinions. I care about people's opinions when it comes to my work because that's the only thing that matters to me. But as a person, I'm a human being and I keep that bifurcation very clear. As much as I put myself out there as a public person for people to have an opinion on, the opinion doesn't matter. Unless, it's for my work.
Do you ever read those Instagram or Twitter comments?
Tweets, yes sometimes. If I'm free or vella sometimes, I do read those Instagram comments.
You are already a successful producer. Do we see you directing a film someday?
I think any actor would want. That's the ultimate creative expression. I guess filmmaking is a director's medium, not an actor's medium... unlike what we think in India. We give actors way too much credit but the stars of the movies are the filmmakers. We just act in whatever is written by someone else. I think that it is something that I'd want to do at some point. I just don't have the courage to do it yet.
Lastly, are you playing Maa Anand Sheela in Barry Levinson's film?
I'd want to, yes I am. Right now we are just developing it, we are just starting the writing process because we got a deal in place just recently. Again, that's going to be a next year thing. Pehle likh toh le yaar, likhi nahi hai abtak... (laughs).