'The Sky is Pink' is a great story: Farhan Akhtar
"I can assure you that everyone will have their own kind of cathartic moment when they watch 'The Sky is Pink'"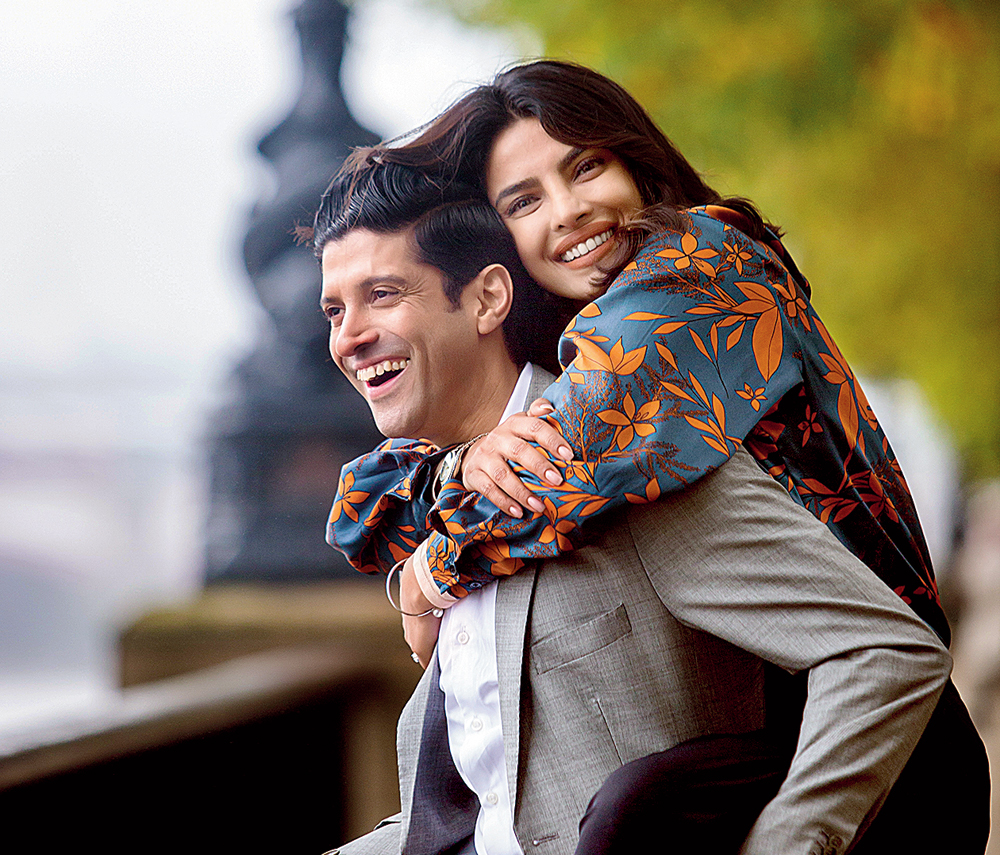 Farhan Akhtar with Priyanka Chopra in 'The Sky is Pink'
(A still from the movie)
---
Published 10.10.19, 12:47 PM
|
---
Two years after his last acting job in Lucknow Central, Farhan Akhtar returns in front of the camera in The Sky is Pink, releasing today. The Shonali Bose directorial, that also stars Priyanka Chopra, has Farhan and Priyanka playing parents to a terminally ill teenager (played by Zaira Wasim), in a retelling of a real-life story that looks at life and death through unconventional paradigms. The Telegraph caught up with Farhan on what made him say 'yes' to the film and reuniting with Priyanka on screen.
There is quite a lot of positive buzz around The Sky is Pink, which doesn't look like a conventional Bollywood film from any quarter. Going by the kind of enthusiastic chatter around the film, it seems you have a winner already…
So far, so good. People have liked the trailer, they have like the song Dil hi toh hai. I also feel that the reaction that we had at TIFF (Toronto International Film Festival) is something that has made people a little more aware of the quality of the film. I feel good about it, but we are, unfortunately, very insecure creatures in the film industry (laughs). As the date for release is approaching, I am feeling the nerves. But then we can only hope and pray that things turn out well.
So many films as an actor and director down and yet you still get nervous?
Oh yes! (Laughs) It's always nerve-wracking, no matter how many times you do it and how many releases you have. There is absolutely no way to get around it, honestly. You know that you have worked on something with a lot of love and effort and when it goes out into the world, you wish it the best. For me, it's like giving an exam, each time, every time!
There must be various reasons why you wanted to do this film, but is there one particular thing that hooked you instantly?
It's difficult for me to pick just one thing, to be honest. I would say that the experience of hearing the story of the film was a major factor… it was incredibly moving and incredibly inspiring. I absolutely fell in love with this family that you will get to see in The Sky is Pink. It's such a great story and the fact that it's true makes it even more amazing. Shonali Bose being attached to the film as director was the second factor… I absolutely loved Margarita with a Straw (that Shonali directed). So when I heard that Shonali was on board to direct this film, I knew that what I was reading on page was sure to be portrayed very sensitively and with a lot of empathy when we got down to shoot.
And then, having Priyanka (Chopra) as co-actor was a major pull. I feel she's the perfect person to play the character of Aditi. And then, of course, Sid Roy (Siddharth Roy Kapur) and Ronnie (Screwvala) as producers… the kind of films they have made over the years and the effort they have put in, individually and collectively, speak for themselves. Everything just felt right and that's the reason I said, 'I have to do this'.
Is there anything of your character Niren in you?
We are both parents, and that, of course, is a strong connection. The love that you have for your children binds all parents. Also, he's very seriously into the same kind of music I like… which is the rock genre. He has a band, he plays the guitar… so those things are similar. He is as much a travel junkie as I am. There are many things that we do have in common. When I finally got to meet the real Niren, while we were filming, he told me that when he had met Shonali for the film, he had told her, 'Please get Farhan to play me!' (Laughs) I imagine that he must have felt I would be able to play this character, maybe based on the choices that I have made so far, with my films and my music. He could probably identify with that.
Did being a parent help or hinder you to play a father who is caught in a poignant and heart-rending situation in this film?
To be honest, I didn't have to struggle in order to feel what love for a child actually feels like. I didn't have to search for those emotions… being a father myself meant I knew exactly what it felt like to hope and pray all the time that nothing wrong happens to my kids. That's a part of who you are… it's something that's constantly on your mind when you are a parent. Obviously, no parent wants their child to be sick, hurt or unhealthy. So when you are in a situation where you have been told by medical experts that your child has limited time left with you, then I can't even begin to imagine what emotions a parent would go through. It truly is an unimaginable scenario for anyone, unless you have been through it.
For me, the challenge was not in feeling the kind of parental love I needed to evoke, but imagining what losing a child could potentially feel like. That's where Shonali and Nilesh (Maniyar, the film's co-writer) made things smooth. The interactions that I had with them and the rest of the team helped me to be honest as I could possibly be in the portrayal of Niren. That was most important for me… to not have any kind of pretence or false notes. I was also careful not to over-dramatise because the real parents never over-dramatised their situation. They dealt with the whole thing in such an amazingly normal way, which will seem very abnormal to other people. People will wonder, 'How are they happy and smiling all the time?' But that's how they dealt with it. They wanted to give their daughter a joyous life… they didn't want her to be mournful and keep thinking about the end, they just wanted her to be happy as long as she was here…. It's so, so inspiring.
You mentioned that one of the hooks for you to do the film was Shonali Bose. Did the fact that she's lost a child herself mean she brought more empathy to the material?
I'll discuss my working relationship with Shonali regardless of her personal experiences. I think that's best spoken by her and I don't feel right commenting on that. She's been through it and so there was definitely a connection that the Chaudhary family had with her. They approached her to do the film saying, 'If there is anyone who can do it sensitively, we feel it is you'. When Shonali started exploring it, she shifted the focus of the story from that of a girl who is about to die to that of the caretakers… her parents. The film tells the story of this incredible love story that the parents had with each other to be able to give Aisha the kind of life that they did. That was a big decision that Shonali took in the narrative.
Working with her has been really special. I don't consider Shonali as just my director in this film… she's been a lot more than that. I feel very comfortable speaking to her on anything and everything. I feel the connection is one of friendship, of respect and a kind of mentorship towards me that she's forged. I feel very fortunate to have worked with her on this.
You've directed Priyanka in Don and co-starred with her in Dil Dhadakne Do. In The Sky is Pink, did you guys take off from where you left off?
On some level, it does feel like where we left off on Dil Dhadakne Do, for sure. The love that our characters Sunny and Ayesha had in Dil Dhadakne Do resonates somewhere in the relationship that Niren and Aditi have. Both of us felt that this was a continuation of the emotions we had in Dil Dhadakne Do. It's always fun working with Priyanka, be it when I directed her or acted with her. It's always interesting because she has so much enthusiasm for what she does, which also explains why she's so successful in life. She brings something special every time we work together, which is both fun and challenging for me. We are very comfortable working with each other and we have a good friendship outside films too, which I believe shows in the work that we do together.
Do you think The Sky is Pink will make people view life and death differently or is that too much pressure to put on a film?
I think it's too much responsibility to say that this will happen. People are going to take different things from the film because there are definitely many different things to take away. I don't want to put out a thought saying, 'This is what I am hoping you feel'. It needs to be organic. I will definitely say that go in there to see the incredible story of some very extraordinary people. That's all I can request your readers to do. I can assure you that everyone will have their own kind of cathartic moment when they watch The Sky is Pink.