Lootcase: Story of a man with big dreams, but limited means
The film may overstay its welcome but is a largely entertaining watch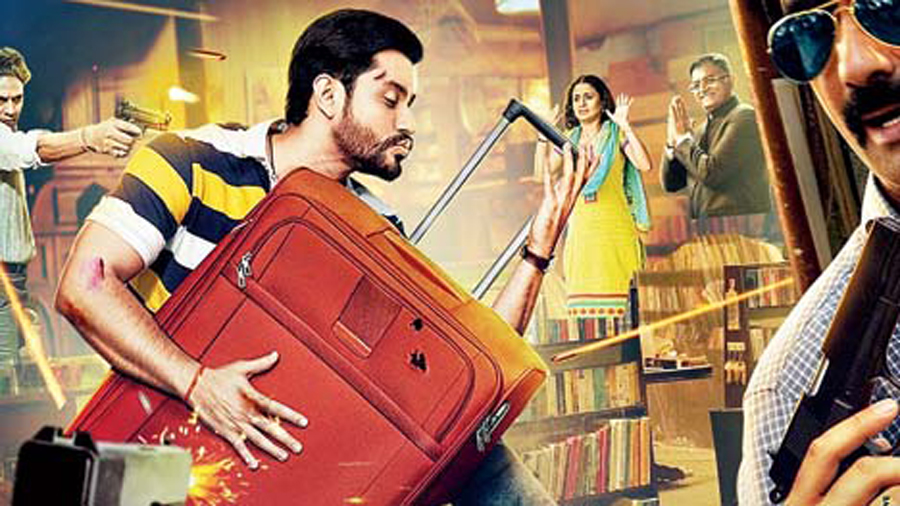 Lootcase teaser.
Sourced by The Telegraph
---
Published 04.08.20, 09:17 PM
|
---
Afew weeks ago, in Choked, we watched a young woman, burdened by the responsibility of fending for her family and a truant husband, finding her life turning around when her kitchen sink started coughing up wads of cash in the middle of the night. In Lootcase, streaming on Disney+Hotstar, a man with big dreams but limited means, chances upon a suitcase spilling over with crores, once again in the middle of the night. Both these films ride on the feel-good premise of wish-fulfilment, lace it with humour and satire, and then focus on the repercussions of laying one's hand on wealth that doesn't really belong to them.
Frontlined by Kunal Kemmu, Lootcase has his Nandan Kumar working at a printing press, living cheek by jowl in a Mumbai chawl and always finding himself short in providing for his wife and son. Nandan's wife Lata (Rasika Dugal) keeps chiding him for never making good his promise of taking them on a vacation to Shimla... "Itne saalon se Shimla ke naam pe sirf mirchi dekhi hain", she tells him. Though the two make a charming couple whose sex life is played out through hakka chow and chilli chicken innuendos, it's evident that patience is running out as quickly as the limited rations in this lower middle-class household.
Till Nandan, on his way back home one night, chances upon a red suitcase stashed with cash and with no claimants in sight. The initial euphoria of coming into so much unexpected wealth — he even names the suitcase 'Anand Petikar' — is quickly replaced by multiple problems. One of which is to justify his sudden spendthriftness to Lata. The bigger issue is to dodge a coterie of a corrupt politician (Gajraj Rao), a gangster (Vijay Raaz) and an unscrupulous cop (Ranvir Shorey), all of whom not only want to lay their hands on the money, but also on some incriminating documents inside the 'lootcase'.
Even as he operates within the tenets of a familiar template, director Rajesh Krishnan uses Lootcase to both bring on some laughs as well as fashion a social commentary. Nandan's inability to spend the money — he walks in to buy a plush apartment armed with rolls of cash, with the realtor mistaking Bhandup west for Budapest — and Vijay Raaz's National Geographic-loving goon barking orders to his clueless henchmen using wildlife terminology, keep the ball rolling in the first hour. However, Lootcase overstays its welcome, with the film spending too much time on the hide-and-seek game between Nandan and those hot on his heels before hurtling towards a predictable, chaotic climax.
But buoyed by some winning acts, Lootcase is a largely entertaining watch that won't demand too much out of you and will mostly leave you with a smile. What more can we ask for in these trying times, anyway?