Rakul Preet Singh-led Chhatriwali is a boring class on sex education
The Tejas Deoskar-directed film streaming on ZEE5 also stars Sumeet Vyas, Satish Kaushik and Dolly Ahluwalia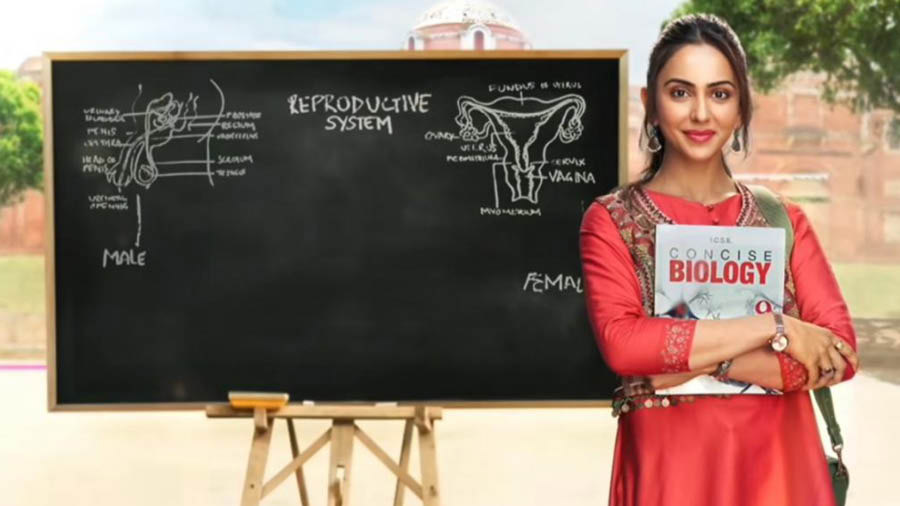 A Still of Rakul Preet Singh from Chhatriwali
IMDb
---
Calcutta
|
Published 21.01.23, 03:25 PM
|
---
The makers of Chhatriwali were reiterating at the film's trailer launch that the film had been made to entertain the audience rather than just educate. After watching the trailer, it was clear why they had to bombard 'entertainment' in their speeches. Because frankly, there was nothing entertaining in the trailer. And there's little entertainment in the film too.
The Ayushmann Khurrana sub-genre of high-concept films set in small towns has given birth to many such 'high on concept and sloppy in execution' films. Chhatriwali is set in Karnal in Haryana where the Indian-born American astronaut and aerospace engineer Kalpana Chawla was born. I may be wrong but Karnal seems to be chosen as the setting just so that they could plug the Kalpana Chawla angle for women's empowerment. Speaking of plug-ins, Chhatriwali is produced by Ronnie Screwvala, hence his start-up upGrad gets a free plug-in in the film.
Chhatriwali comes across as a designed film and a cousin of Ayushmann Khurrana's Doctor G that gave gyaan in every scene to an accidental male gynaecologist. That film also starred Rakul Preet Singh, who plays the lead in Chhatriwali.
The affable Rakul with a solid screen presence has shown sparks in roles she has played so far, however short they may have been. This is her first solo lead in Hindi but she is saddled with a poorly-written character and a lacklustre script. Rakul plays Sanya Dhingra, who excelled in chemistry but is struggling to find a job. She gives home tuitions and lands a job as a quality control head at a condom manufacturing company. Satish Kaushik plays Ratan Lamba, the owner of the company Cando Condoms.
Sanya lies about the real nature of her job to her boyfriend Rishi Kalra (Sumeet Vyas), to her mother (Dolly Ahluwalia) and to everyone else for that matter even after her marriage. The reason is acceptable because of the setting of a small town. Films such as this one often tend to take refuge in the mentality of small-town characters to hide glaring errors in the narrative. In one scene the characters are woke and in the next, they are orthodox.
Sometimes it's the dialogue that makes you overlook such errors in films such as this one. But only a few lines in Chhatriwali bring on a chuckle or make you go 'good one'. Much like the film's contrived structure, the dialogue is designed to fit in scenes to make a point. 
Rakul does her best to infuse likeability in Sanya. Sumeet Vyas once again plays a bumbling, confused, but supportive boyfriend/husband with the same stock of expressions and mannerisms that made his sleeper hit TVF series Permanent Roommates enjoyable.
Satish Kaushik has fun with whatever comes his way. This is a part that he could play even without preparation. Rajesh Tailang plays Sumeet's brother, a school teacher who is apprehensive about teaching sex education and is not willing to use condoms. He's the patriarch of the family. Prachee Shah plays his domesticated wife who hides her abortions and miscarriages even from her husband. 
The title song of Chhatriwali plays over the opening credits, of course, but the lyrics make no sense with respect to the timing of the song in the film. Sanya is not thinking of condoms or a job in a condom company even in her wildest dreams when Chhatriwali plays in the background. None of the songs – and there is the mandatory montage of romance and a sad song – makes a mark. There's no chemistry between the romantic leads or the other characters, which makes it tougher to stay invested in what they do.
Chhatriwali is directed by Tejas Deoskar (who also plays a cameo as a cop) whose claim to fame was the Madhuri Dixit-starrer Marathi film Bucket List. The script written by Sanchit Gupta and Priyadarshee Srivastava must have appeared interesting on paper but it ends up becoming a boring class on sex education.