'Work It' on Netflix falls gravely short
...in a scramble to touch every cornerstone of a dance romcom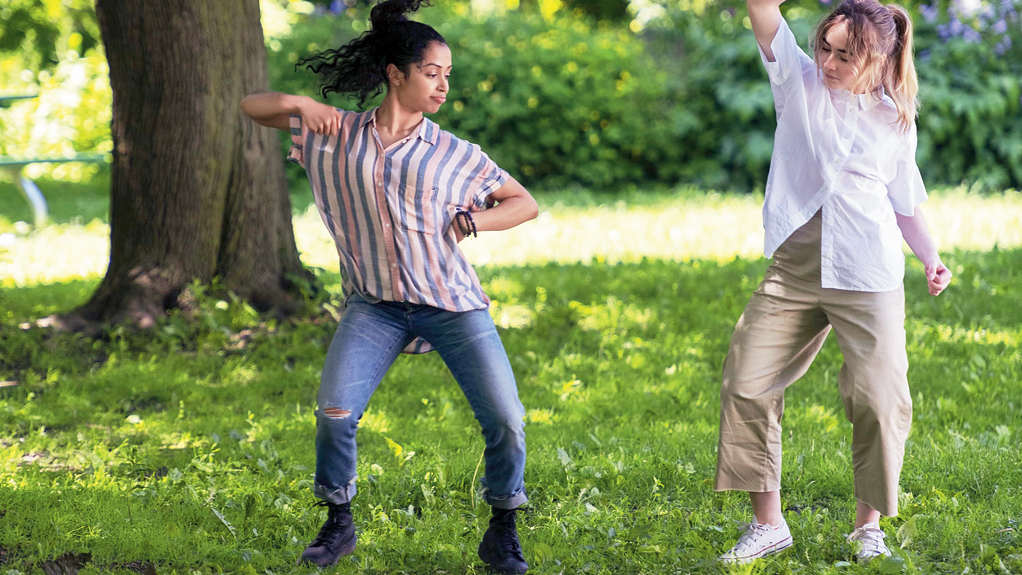 A still from 'Work It'.
Sourced by The Telegraph
---
Published 11.08.20, 10:03 PM
|
---
Dance movies can be addictive and all loyalists shall agree that the thrill of that final dance with its last-minute glitch and the coming together of two protagonists in the flair of a swishing skirt, is often incomparable. Save the Last Dance, Step Up, Shall We Dance — you name it and immediately find yourself ticking these checkboxes. In Netflix's August 7 release Work It, there is an attempt to pay due respect to all possible points on the said list, albeit half-hearted —  not the effort, but the outcome definitely is.
Quinn (Sabrina Carpenter) maintains an impeccable, robot-like record to be able to go to Duke University and she begins her mornings with Ted Talks to keep herself motivated. However, in a strange twist of slip-of-the-tongue conversations, she ends up convinced to gather and train a team of outcasts into a stellar dance team, worthy of state-level competitions, as the only way to said admissions. Roping in her best friend Jas (Liza Koshy) and a former dance star Jake (Jordan Fisher), thus begins a story that just fails to pack a punch in any quarter.
Do we fall in love with the complexities in the detailing of the characters, as we witnessed in Glee? No. Do we get shivers down our spines watching the moves in the film like we get when Julia Stiles executes the perfect split in Save The Last Dance? Again no. Do we melt into a puddle of mush upon seeing the blossoming romance between characters? Unfortunately, no.
Carpenter does a stellar job in the scope that is offered to her in this film. She makes for an adorable dork who slowly masters the finesse of dance, and "listening to the beat and feeling it in the body", while falling in love and 'finding herself'. In most dance movies, the protagonists almost always know how to dance and are struggling to be seen. However, in Work It the protagonist goes from having two left feet to winning state-level competitions, making one wonder if dance too can be taught from scratch and mastered in a stipulated time period.
Koshy is the perfect best friend and perhaps the only character whose moves are worth noticing. Her oomph and her thirst for a salesman at a mattress store is the perfect humorous angle the film desperately needed. Fisher, whom we remember from To All The Boys: P.S. I Still Love You, is a sight for sore eyes and gets to show off some of his moves from his stellar Dancing With the Stars days, a trophy he won in 2017. However, the choreography just isn't something to write home about. The one scene we perhaps still remember after the movie has ended would be in a graffiti-covered parking spot where Quinn and Jake share their first intense dance and kiss. Not overdone, it's cute and the scene achieves what it sets out to.
In an effort to pay tribute to the milestones of any unforgettable dance movie, Netflix ends up making a film that is unfortunately quite forgettable. However, if you have been increasingly feeling the need for a fresh new dance movie to watch, Work It helps in temporarily masking the pain of its absence. Laura Terruso, who directed one of the most heart-warming movies of the decade — Hello, My Name is Doris starring Sally Field — somehow managed to turn down the "aww"-o-meter this time around. While we don't regret streaming the movie on a Saturday afternoon while having lunch, we won't actively ask you to stream it either. It all depends on the extent to which you miss dance movies like they used to make them before (and exactly how we got there!).