Masaba Masaba is a watchable hybrid of fact and fiction
It's a show that's easy-breezy enough to allow us to binge through six episodes without burdening our minds and yet is extremely self aware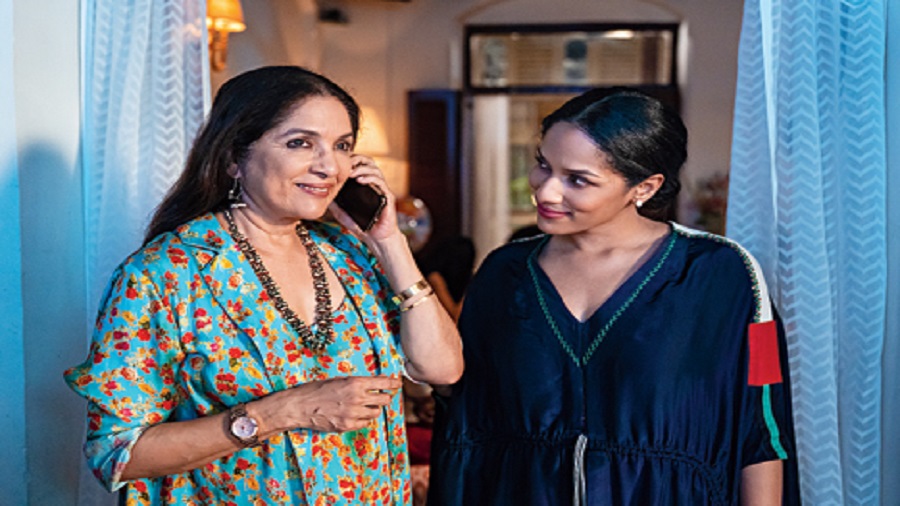 Neena and Masaba Gupta in Masaba Masaba, now streaming on Netflix
Still from the series
---
Published 31.08.20, 09:13 PM
|
---
An immensely watchable hybrid of fact and fiction, Masaba Masaba is perhaps the kind of entertainment we need for these trying times. It's a show that's easy-breezy enough to allow us to binge through six episodes without burdening our minds and yet is extremely self aware, being a succinct commentary on the world it operates in.
Now who would want to watch an entire series on a fashion designer that many people may not even be aware of? Masaba Masaba is smart enough to take that question head-on instead of skirting it. So what we have is a woman navigating through the trials and tribulations of life in a way that resonates with every woman (and man) out there. The issues that Masaba faces may be specific to her, but her responses to them are universal. And that's what works for Masaba Masaba.
Drawing from Masaba's life and interpersonal relationships and fictionalising them up to a point, director Sonam Nair gives us the story of a woman who works through divorce, the ups and downs of her work life, souring friendships and troubled filial ties, but does everything chin up. This is a woman who may be a #HotMess most of the time, but she owns it. It helps that Masaba Gupta is a natural in front of the camera, blessed with incredible screen presence, and she successfully carries the show on her debutante shoulders, aided by her young 'alter ago', played delightfully by Amairah Awatanye. A world of characters make and mar Masaba's life, whether it's her former husband Vinay (Satyadeep Misra), her pushy investor Dhairya (Neil Bhoopalam) or her well-meaning pal Gia (Rytasha Rathore), and all of them work in making the show watchable.
But the real trump card of Masaba Masaba is Neena Gupta. The veteran actor, playing herself, has a blast and that's just not limited to the spunky item number called Aunty kisko bola re? Drawing a lot from her life — most obviously from actresses above 60 struggling to land acting parts of any significance — Neena is the one who draws you in, with her scenes with Masaba — from the mother-daughter run-ins to some emotional moments between the two — bringing on a
we-too smile. Courtesy Neena, we get a delightful cameo from her Badhaai Ho co-star Gajraj Rao. Actors Kiara Advani and Malavika Mohanan pitch in playing themselves, making us chuckle at the fact that they aren't worried about taking a dig at themselves and the often weird ways of celebrity culture.
At just six episodes, Masaba Masaba left us wanting for more. Here's looking at Season 2!

I liked/ didn't like Masaba Masaba because...Tell t2@abp.in