Manobjomin to Operation Fortune: Films releasing in cinemas on the first Friday of 2023
Guy Ritchie, Scott Jeffrey, Srijato Bandyopadhyay, Girideva Raaj and Soumyaa Supriyaa have directed these films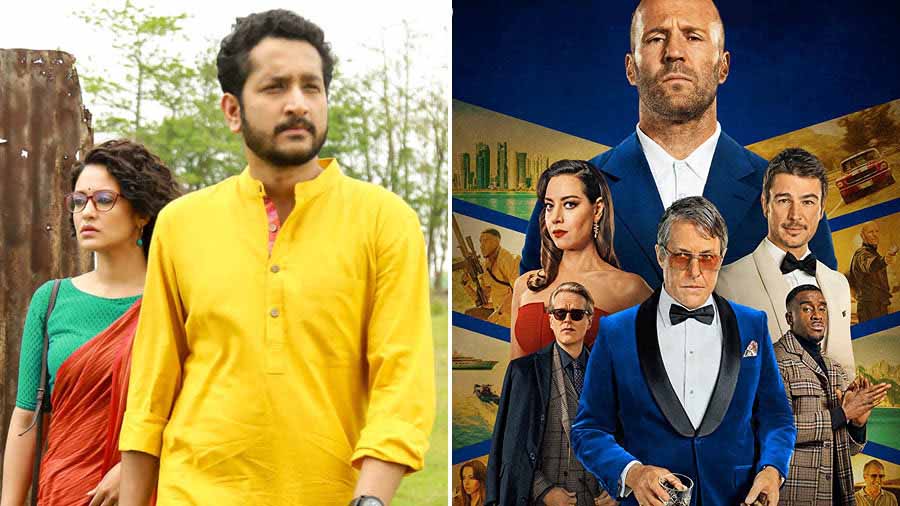 Manobjomin; Operation Fortune
IMDB, Facebook
---
Calcutta
|
Published 05.01.23, 03:50 PM
|
---
The first Friday of 2023 is going to bring cheer to cine-goers with five brand-new Bengali, Hindi and English releases — a murder mystery, a spy thriller, a psychological horror thriller, a social drama and a survival thriller.
Manobjomin
Directed by: Srijato Bandyopadhyay
Cast: Parambrata Chattopadhyay, Priyanka Sarkar, Paran Bandyopadhyay
Poet-turned-director Srijato Bandyopadhyay's debut movie is a   social drama that sheds light on the intricacies of human relationship. Shanket (Parambrata) is a bank employee who is in love with Kuhu (Priyanka), who runs an NGO called Manobjomin that works for the upliftment of village girls. Kuhu is trying to build a school for the girls but sadly the project stops midway due to a paucity of funds. Shanket's uncle, Boren Babu (Paran), does not think twice before spending his money on religious enterprises but is reluctant to invest in Kuhu's dream project. This leads to an emotional turmoil between the three characters.
Rahasyamoy
Directed by: Soumyaa Supriyaa
Cast: Saswata Chatterjee, Saayoni Ghosh, Anindya Chatterjee, Amrita Chattopadhyay, Debraj Mukherjee and Aryaa
This murder mystery revolves around four friends — Aditya (Debraj), Esha (Amrita), Abhimanyu (Anindya) and Tithi (Saayoni). They work as IT professionals and live in the same apartment in two opposite flats. One morning, Abhimanyu is found dead in his bedroom with Tithi lying unconscious on the floor. The room was locked from inside. Even the windows were locked from inside. DCP Anish Roy (Saswata) is called in to investigate the murder. 
Operation Fortune: Ruse de guerre
Directed by: Guy Ritchie
Cast: Jason Statham, Hugh Grant, Josh Hartnett, Aubrey Plaza, Lourdes Faberes and Max Beesley
Super spy Orson Fortune (Jason Statham) is tasked with tracking down billionaire Greg Simmonds (Hugh Grant) and stopping him from cracking a deadly arms deal. Fortune and his team of operatives recruit Hollywood's biggest movie star, Danny Francesco (Josh Hartnett), to help in this undercover mission to save the world.
Kingdom of the Dinosaurs
Directed by: Scott Jeffrey
Cast: Mark Haldor, Darcie Rose, Chelsea Greenwood, Chrissie Wunna
It's 2030 and human civilisation faces the threat of extinction as World War III rages on. A small group of survivors take refuge in a bunker. Two years later, they exit their hideout in search of food and supplies. But little do they know what awaits them outside. As they come out of their shelters, the survivors are greeted by the vision of predator dinosaurs roaming the earth. 
The Y
Directed by: Girideva Raaj
Cast: Leonilla DSouza, Yuvan Hariharan, Kamal Kumar Ghimiray, Abhinava Kiran and Prithal Uday Pawar
The Y is a psychological horror-thriller that revolves around Deeksha (Leonilla), who has turned mute after a horrific incident.  After she moves to a new house with her husband (Yuvan), Deeksha starts to experience paranormal incidents after receiving a gift from an unknown sender. The couple have no choice but to unravel the mystery after their life turns into a nightmare.