Madonna: The social influencer from the 1980s with 18 million followers on Instagram
The Material Girl who celebrates her 64th birthday today will unveil her new album 'Finally Enough Love: 50 Number Ones' on August 19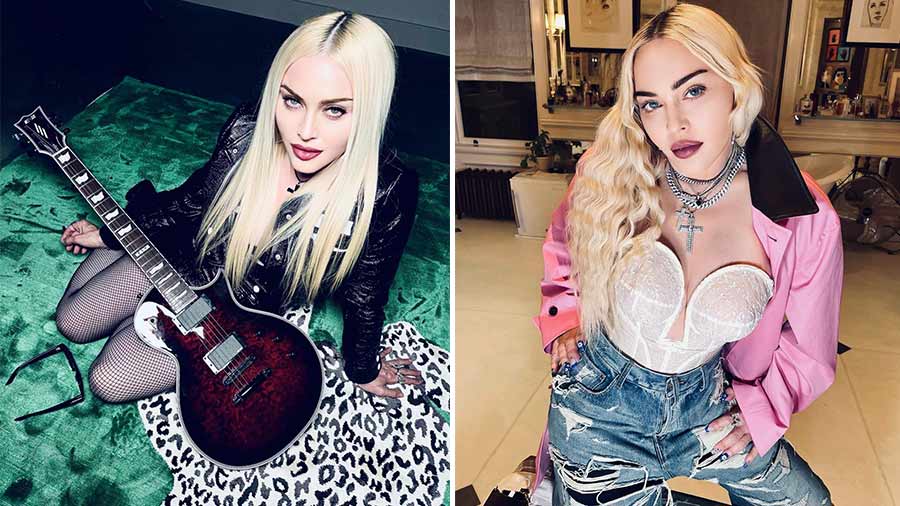 Madonna's music career spans over 40 years.
@madonna/Instagram
---
Calcutta
|
Published 16.08.22, 05:57 PM
|
---
With a music career spanning nearly 40 years since the debut of her single Everybody in 1982, Madonna has been a social influencer long before social media was a thing. But even on social media, the Material Girl can give many stars a run for their money. 
Commanding a massive social media following — she has over 18 million followers on Instagram – Madonna continues to stun us with her glamorous looks and entertaining reels. As she cuts her 64th birthday cake, here's looking at what makes Madonna the 'Queen of Pop' and how she's reinvented her image as a pop culture icon. 
Billboard hitmaker: Madonna's first two singles, Everybody and Burning Up, made it to the top three of the Billboards in 1982. Her second studio album, Like a Virgin, became the first album by a female musician to sell over five million copies in the US. This was the beginning of Madonna's record-setting album sales, which, in 2015, paved her path to the Guinness World Records as the best-selling female music artiste of all time. 
Courting risque: Madonna's first risque video that raised eyebrows and pointed a finger at gender relations at the time was for her song Open Your Heart from her third album True Blue (1986). The song Express Yourself from her 1989 album Like a Prayer encouraged her fans to embrace their individuality. 'Voguing' is a queer art form that gained mass media attention when Madonna released her memorable single Vogue in 1990.
Collab with other artistes: Madonna's collaborations with new pop and rap sensations have put her in the news time and again. Her famous collabs include Me Against the Music (2003) with Britney Spears, 4 Minutes (2008) with Justin Timberlake and Timbaland, and Bitch I'm Madonna (2015) with Nicki Minaj. 
Album in the pipeline: Madonna released her fourteenth studio album, Madame X, in 2019 which had several chart-topping singles like Medellín, I Rise and Crave. Coming up is Finally Enough Love: 50 Number Ones, a remix album of 50 Madonna songs that ranked number one on the US Billboard Dance Club Songs chart over the years. The album is set to drop on August 19, and yes, expect Material Girl, American Pie, Die Another Day and Hung Up.
Signature style statement: Dressing to shock has always been her favourite. Her inner-wear-for-outerwear look that debuted in the 1990 Blonde Ambition tour stunned the world. Her cone bra attire, made in collaboration with Jean-Paul Gaultier, has become a part of fashion lore.
The shock appeal generated by the designer-singer duo continued as Madonna went bare-breasted at Gaultier's 1992 fashion show. The singer looks equally comfortable wearing pant-suits for red carpet appearances as well as on-stage performances, not allowing her gender to determine her fashion. Aside from popularising yoga, Madonna took styling ideas from India as she wore a beautiful blue sari to the VH1 Fashion Awards in 1998. 
While earlier the stage was the setting for her to make a style statement, of late it's been the Met Gala red carpet. Metal cross-body chains, cut-out outfits with strategically exposed body parts, or gothic gowns have been a highlight of Madonna's high-fashion appearances in recent times.
The singer embraces her sexuality through her attire. Her social media feed is proof that even to this day, she loves pairing fishnet stockings with corsets and chunky metal necklaces. That's classic Madonna for us.