Looking ahead in Hollywood
Anticipating the hits from abroad in the new year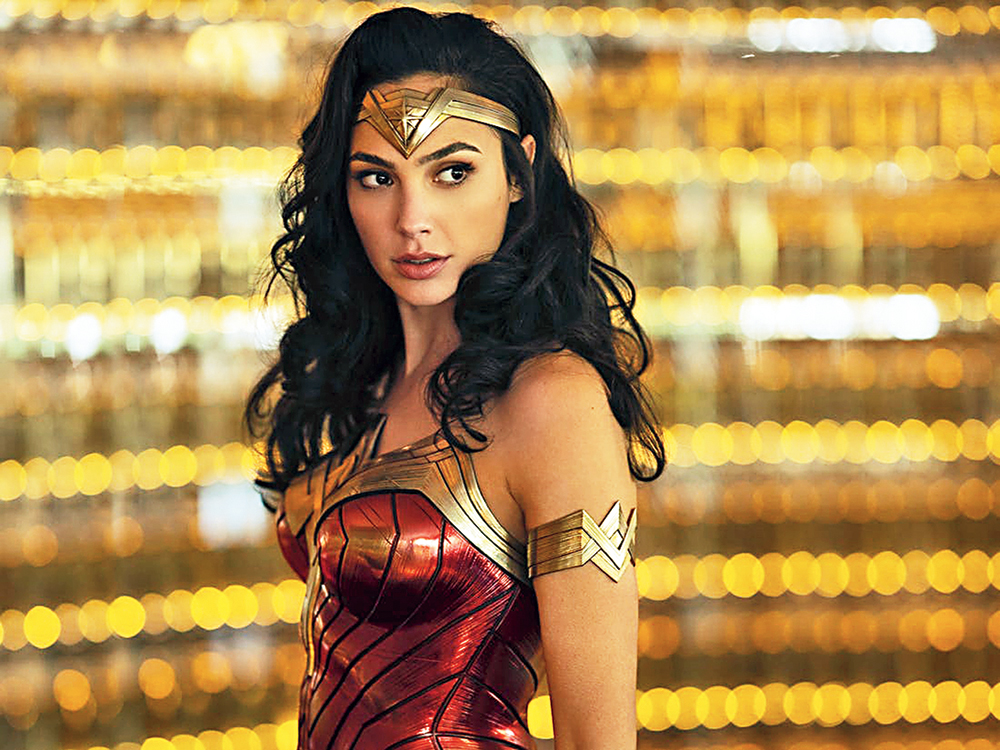 Gal Gadot slips into the Wonder Woman suit once again
Publicity photo
---
Published 04.01.20, 03:10 PM
|
---
Wonder Woman 1984
Directed by: Patty Jenkins
Stars: Gal Gadot, Chris Pine, Kristen Wiig, Pedro Pascal, Robin Wright
Release date: June 5
Following 2017's blockbuster Wonder Woman, Patty Jenkins returns to the director's chair with the statuesque Gal Gadot slipping into the Wonder Woman suit once again. Wonder Woman 1984 mines '80s nostalgia, with the first trailer — a winning mix of good ol' action set pieces, iridescent colours and, of course, the stunning Gadot — whetting our appetite for more. Kristen Wiig makes an entry into the sequel as Wonder Woman's friend-turned-foe Cheetah.
Top Gun: Maverick
Directed by: Joseph Kosinski
Stars: Tom Cruise, Miles Teller, Jennifer Connelly, Jon Hamm, Ed Harris, Val Kilmer
Release date: June 26
It's taken 34 years after the iconic first film for Tom Cruise — who attained heartthrob status in the 1986 Tony Scott film — to return as dashing pilot Pete "Maverick" Mitchell. The sequel has a now-retired Maverick coaching young guns, among whom is Bradley Bradshaw (Miles Teller), the son of Maverick's former comrade "Goose". But it's Tom Cruise we are talking about and at 57, the man still has what it takes, with Maverick embarking on a life-changing and life-threatening mission once more. The man, of course, has done his own stunts.
Tenet
Directed by: Christopher Nolan
Stars: John David Washington, Robert Pattinson, Dimple Kapadia, Michael Caine

Release date: July 17
Robert Pattinson has described the script as "unreal". Well, Tenet promises a vintage Christopher Nolan, if the first teaser — action-packed, suspenseful and dramatic — is anything to go by. Everything about Tenet has been kept under wraps, with screen legend Denzel Washington's son John David Washington leading an eclectic cast, including Dimple Kapadia who makes her Holly debut with this biggie. Partly shot on the busy streets of Mumbai in September last year, Tenet is perhaps the most-anticipated Holly film of 2020, topping many an online and print poll.

The Woman in the Window
Directed by: Joe Wright
Stars: Amy Adams, Gary Oldman, Anthony Mackie, Jennifer Jason Leigh, Julianne Moore
Release date: May 15
This psychological thriller is based on the 2018 novel of the same name and has agoraphobic Dr. Anna Fox (played by Amy Adams) witnessing a crime while keeping tabs on her seemingly perfect neighbours, the Russells. Initially scheduled to release in October 2019, a new release date was settled upon after negative responses to the film's third act from test audiences. The film has an as-good-as-it-gets cast and in Joe Wright — the man behind films as diverse as Atonement, Hanna and Darkest Hour — we trust.

No Time To Die
Directed by: Cary Joji Fukunaga
Stars: Daniel Craig, Rami Malek, Ralph Fiennes, Lea Seydoux, Naomie Harris, Ben Whishaw, Christoph Waltz
Release date: April 2
The 25th James Bond film sees Daniel Craig returning for his fifth outing as Agent 007. The first trailer of the intriguingly titled No Time to Die (that's already being mined for many a meme) is explosive, with Rami Malek — who took home an Oscar last year for his turn as Freddie Mercury in Bohemian Rhapsody — doing duties as the new Bond villain. No Time To Die has Bond being forced out of semi-retirement to take on new enemy Safin (Malek) as well as old adversary Blofeld (Christoph Waltz). Why you should definitely make a date with it? It's, in all likelihood, Craig's last turn as Bond.

Fast & Furious 9
Directed by: Justin Lin
Stars: Vin Diesel, Michelle Rodriguez, Tyrese Gibson, Chris "Ludacris" Bridges, Jordana Brewster, Helen Mirren, Charlize Theron, John Cena, Cardi B
Release date: May 22
The ninth film in the smash-hit Fast & Furious franchise promises the same adrenaline-pumping action and thrills and spills, with Vin Diesel returning as the indomitable Dom Toretto. Dwayne Johnson and Jason Statham — who starred in the franchise spin-off Hobbs & Shaw last year — sit out this one, with Helen Mirren and Charlize Theron reprising their roles. Former WWE star John Cena and singer Cardi B have been cast in undisclosed roles.
Black Widow
Directed by: Cate Shortland
Stars: Scarlett Johansson, David Harbour, Florence Pugh, Rachel Weisz
Release date: May 1
Black Widow died in Avengers: Endgame. So where does this film come from? The long-awaited Black Widow, with Scarlett Johansson playing the eponymous character, unfolds in the years following the events of 2016's Captain America: Civil War and has Natasha Romanoff aka Black Widow being forced to confront her past. Johansson, who pays Black Widow for the ninth time, describes the film as "its own genre".
The Eternals
Directed by: Chloe Zhao
Stars: Angelina Jolie, Richard Madden, Kumail Nanjiani, Salma Hayek, Kit Harington
Release date: November 6
Described as an "ancient aliens story" by Marvel boss Kevin Feige, The Eternals has Angelina Jolie set to kick ass as Thena. Like Wonder Woman 1984 and Black Widow, The Eternals is helmed by a woman director, with the story spanning over 7,000 years and chronicling the face-off between the Eternals, an immortal alien race committed to protecting humanity from the evil Deviants.
The Conjuring: The Devil Made Me Do It
Directed by: Michael Chaves
Stars: Patrick Wilson, Vera Farmiga, Sterling Jerins, Julian Hilliard
Release date: September 11
The third film in the money-spinning The Conjuring universe has Patrick Wilson and Vera Farmiga returning as paranormal investigator couple Ed and Lorraine Warren. Like the first two films, The Devil Made Me Do It is gleaned from the real case files of the Warrens and focuses on a story where in the first time in US history, a murder suspect claimed demonic possession as defence. True to The Conjuring franchise, expect an emotional human story along with chilling jump scares.
Dune
Directed by: Denis Villeneuve
Stars: Timothee Chalamet, Rebecca Ferguson, Oscar Isaac, Josh Brolin, Stellan Skarsgard, Dave Bautista, Zendaya, Jason Momoa, Javier Bardem
Release date: December 18
Denis Villeneuve — the man behind winners like Arrival, Sicario and Blade Runner 2049 — directs an A-list cast in this science fiction film that's based on Frank Herbert's 1965 book of the same name. The film will follow the story of the son of a noble family who is entrusted with the protection of the most valuable asset in the galaxy, with Villeneuve claiming that he wants Dune to be "the Star Wars film I never saw". Dune will most probably be released in two parts.