KLIKK's first mini-series Kalo Shada Abcha
It revolves around book named Kalo Shada Abcha that gets delivered to Raktim, Shohini and Ankita's houses simultaneously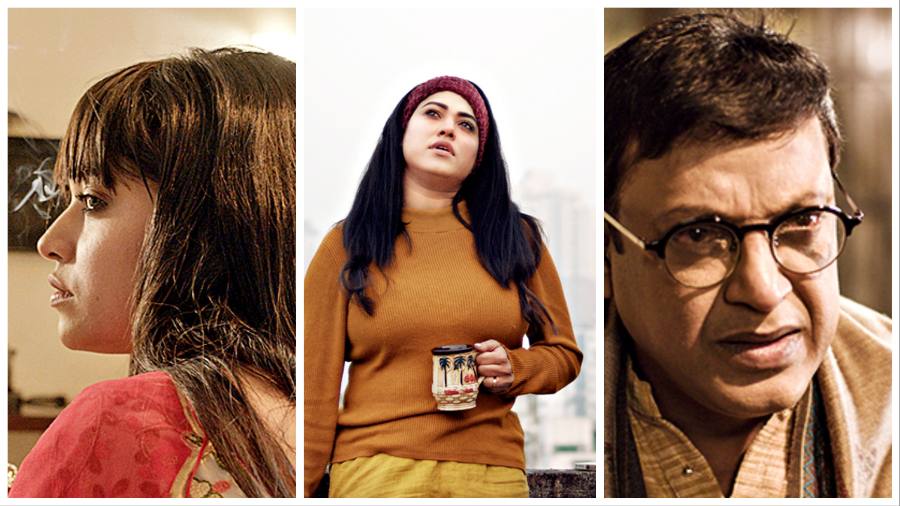 (L-R) Medha, A moment from the show, Amlan
---
Published 18.03.23, 01:15 PM
|
---
The story of KLIKK's first mini-series Kalo Shada Abcha revolves around a book named Kalo Shada Abcha that gets delivered to Raktim, Shohini and Ankita's houses simultaneously. The author of the book is a character named Debmalya Sengupta. The author requests them to read the book and also provides an address to contact if they like the content of the book. Out of sheer curiosity, they read the book and get shocked. The stories of that book resemble the hidden secrets of their own lives. To solve the mystery these three characters start their journey. Coincidentally, all three of them reach that specific address at the same time. There enters a new character named Shamaresh Lahiri. 
"Firstly, it's an honour and I'm grateful to KLIKK for helming a Bengali mini-series, under their banner. Thanks to Amlan Majumder for penning such a gripping narrative. A mini-series of this stature is a great new introduction by KLIKK to support a shorter format of fresh new storytelling. Also, the entire cast and crew who are relatively young, along with older actors, put in their best. This is arguably one of my most challenging directorial forays. It isn't easy adapting a narrative of this scale and genre to a mini-series," says director Surajit (Saheb) Mukherjee. 
"Every actor wishes to play his dream character. I've always been comfortable playing versatile characters and Devmalya Sengupta is one of them, from Kalo Sada Abchha. My character is extremely mysterious and spontaneous. He has the ability to convince people, spinning his web of words. Kalo Sada Abchha is KLiKK's first mini web series and is a very strong forum for exploring fresh new talent. This opens up a much wider new window of opportunities for beginners and veterans alike," says Amlan Majumdar, writeractor. The series is streaming on KLIKK.