At a Queens Studio lot a few months ago, the actor Jonny Beauchamp, in wig, fake lashes, gloves and platform heels, took a deep breath — as deep as his flame-coloured corset allowed — and readied himself for the next take.
On Katy Keene, a Riverdale spin-off that premieres February 6 on the CW (US television network), Beauchamp plays Jorge, an aspiring Broadway chorus boy who also performs as his drag alter ego, Ginger. This episode, the sixth, would see Ginger competing in a drag pageant at Molly's Crisis, an outrageous, loving homage to the Greenwich Village piano bar Marie's Crisis. For the talent portion, Ginger would sing Beyonce's Pretty Hurts.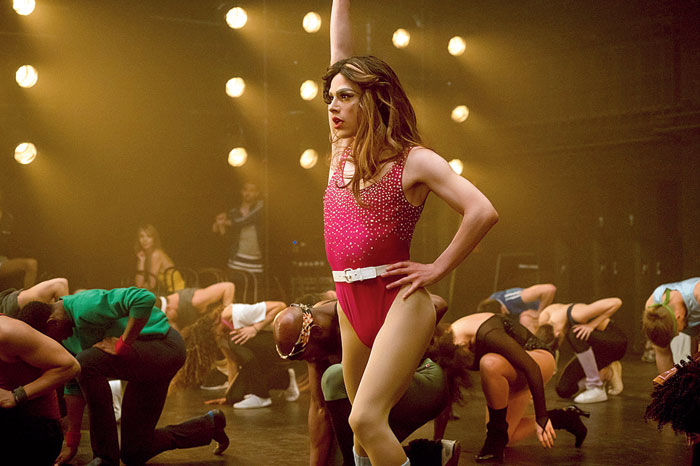 Jonny Beauchamp in Katy Keene, which is premiering next month on the US TV network, CW Still from the show
"And let me tell you, honey," he said gesturing to his corset, "this hurts."

Although he had recorded a backing track the night before, he insisted on singing live instead of lip-syncing, "to give it that extra verve," he said. Through a dozen takes he reached for the high G and ground out the lower notes as the clubgoer extras stamped and hollered, pink mocktails sloshing.
"They like it when you sing," Beauchamp said.
He isn't singing alone. On networks and streaming services, other characters are joining in — in church, on the sidewalk, in restaurants, bedrooms, rehearsal rooms, open-plan offices and pour-over coffee bars. They are singing new songs and old ones, show tunes and pop hits, rock and rap and the occasional hallelujah chorus.
New shows like Katy Keene and Zoey's Extraordinary Playlist, a musical procedural on NBC, join other new arrivals such as Perfect Harmony, a single-camera comedy on NBC; High School Musical: The Musical: The Series, a mockumentary-style series on Disney Plus; and Soundtrack, an hour-long drama on Netflix. Each includes at least one musical number per episode, often many more.
A clear desire to replicate hits
More musical series are in the works, like a collaboration among Alicia Keys and the Greatest Showman composers Benj Pasek and Justin Paul for Showtime and Damien Chazelle's The Eddy, set in a Paris nightclub and bound for Netflix. MGM is developing a Billy Joel jukebox anthology. The Chainsmokers are producing a Freeform series. Remember the musical episode of Buffy the Vampire Slayer when a demon came to town and made everyone sing ballads and patter songs? Television is like that now.
"These things proceed in cycles, and we're in one," said Robynn Stilwell, a professor of musicology at Georgetown who studies musical numbers in film and television.
Why? I have asked that question a lot lately. The answers I heard were mostly anodyne — some version of "Everyone loves a musical." And yes, Broadway attendance is booming, La La Land and The Greatest Showman beat box-office expectations, and live broadcast musicals like The Little Mermaid Live! in November last year — cringe-watches for many — drew big ratings.
"Musicals are no longer nerdy," Tim Federle, the showrunner for High School Musical: The Musical: The Series, said. Or maybe more nerds have made it to pitch meetings.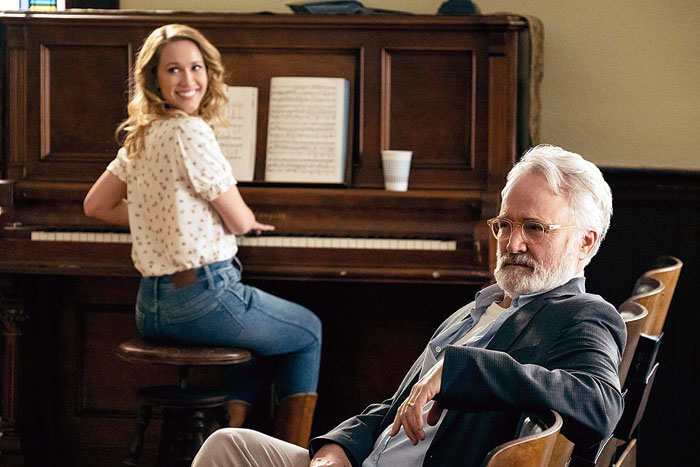 Bradley Whitford star in the NBC comedy NBC Perfect Harmony Still from the show
Either way, programming executives — a lot of them — have pegged musical series as a way to break out amid TV's ever-growing glut. New series "are looking to stand out but also to really connect to audiences," said Lisa Katz, a co-president of scripted programming at NBC, home of Perfect Harmony and Zoey's Extraordinary Playlist. "It's undeniable that music is something that people connect to."
Broadly, and with exceptions, the musical surfeit speaks to impulses that are both utopian and mercenary. On the one hand, musicals are a pleasure and an escape, an antidote to the antihero. In an era of atomised programming, their soundtracks — which range from the Beatles and Dolly Parton to Nicki Minaj and Imagine Dragons — aim for big-tent appeal.
"People who are from very different backgrounds and different worlds can all have a shared experience of liking a song," Lesley Wake Webster, the creator of Perfect Harmony, said.
On the other, there's a clear desire to replicate a hit like Glee, which spawned tours, companion shows, album sales. And executives know that a musical number is immediately uploadable, excerptable — a fast-track to fan engagement and a stealthy way to stretch an advertising budget. A song can be GIFed, tweeted, Tik-Toked. Federle told me, proudly, about the hundreds of cover videos one of his show's new songs, I Think I Kinda, You Know, had already generated.
The music just appears, anywhere, anytime
Still, strumming a ukulele doesn't guarantee going viral, and musical series have an iffy history. When I was growing up, after The Partridge Family, before Glee, a musical series was mostly a punch line. Cop Rock, anyone?
There are fresher flameouts, too. Smash, a hate-watch about the making of a fictional Broadway musical, and Galavant, a sword-and-sorcery comedy fantasia, were each cancelled after two seasons. Viva Laughlin lasted just two episodes and Flight of the Conchords self-cancelled when the stress of shooting became too much.
But the success of Glee, as well as that of other recent shows like Nashville and Crazy Ex-Girlfriend, proved that musical series can thrive.
Which might have suggested that most of these new shows were dreamed up by marketing VPs. But the reality is more complicated and in some cases more personal.
Perfect Harmony, a romance between a snooty Princeton professor (Bradley Whitford) and a rube choir, seems like a match made in focus group. But Webster based it on her grandfather, Arthur Wake, a hot-shot choir director who spent his final years mentoring singers in rural Kentucky.
Even a show like High School Musical: The Musical: The Series, developed with the express aim of capitalising on an existing franchise, has its artisanal side. It follows a group of high school students staging High School Musical as their high school musical. Federle, its showrunner, grew up as a theatre kid.
"I know that nothing is more magical than the first time you're in rehearsal with a group of people and the piano starts," he said. So he turned down the Auto-Tune and backing tracks and complicated orchestrations and arrangements. "We let their voices crack, we let their voices reach for the notes a bit," he said.
Each series has to decide how to assimilate song and story. In Perfect Harmony, Katy Keene and the High School Musical series, the music is mostly diegetic, meaning that it occurs within the story — characters sing because they are in rehearsal or at a karaoke bar. Soundtrack, a lip-synced series about a varied group of Los Angelenos, and Zoey's Extraordinary Playlist, about a young coder who can hear the innermost thoughts of her fellow San Franciscans via popular song, approach things like Broadway musicals. The music just appears, anywhere, anytime.
But those dance breaks and melismatic runs still need to be earned, so strict rules have been drafted for why and how a show's characters should sing.
'We're trying to do a new musical every eight days'
Austin Winsberg, the showrunner for Zoey's Extraordinary Playlist, wrote a 27-page manifesto stipulating that each song had to reveal character, drive story or at least make a joke. (Also, jazz hands and kick lines were out.) Soundtrack, created by Joshua Safran, the showrunner for the second season of Smash, constructed the show's story around the songs. He built playlists for each character and let the songs, typically four to six per episode, guide the plot.
And yet, as Webster admitted, "Sometimes it's just like, 'Gosh, wouldn't it just be really fun to have them sing right now?'"
That said, "fun" wasn't a word many of the musical showrunners threw around. The breathless pace of episodic television and the added demands of music and dance make for an unforgiving combination.
"It's incredibly challenging," Winsberg, a Broadway veteran, said. "We're trying to do a new musical every eight days; it takes musicals eight years to get to Broadway."
As soon as the writers know which songs an episode needs, a music supervisor has to clear the rights for those songs, if they already exist, or commission them, if they don't. Sometimes actors have a week to work through a song, sometimes just a few hours to learn their parts before they lay down a backing track, in a process known as a pre-record.
Even lip-syncing takes practice. "You really try to line up the breath with the breath the artiste takes," said Paul James, who stars in Soundtrack.
Choreographers are on an equally frenetic schedule. Kelly Devine had to call Katy Keene choreography rehearsals at 5am James Alsop, the Soundtrack choreographer, recalled teaching steps to the cast as fast as she could invent them. "That's how I know it's a gift," she said.
A song typically requires more takes and more set-ups than a dialogue scene, and every gesture has to match the backing track. "As somebody who's done both action and musicals, it is as big as your biggest action sequence," Safran told me. Which means that it can occasionally feel like a car crash. Kate Reinders, a Broadway performer who stars on High School Musical, said, "Sometimes you feel like you never maybe get there."
Or maybe you get somewhere else. Jane Levy, who stars in Zoey's Extraordinary Playlist, said that during a song-and-dance number, "It feels like the molecules in the air around us suddenly change." "It's just a little bit more joyful, a little bit more connected," she added.
Several showrunners and creatives told me the same story: It would be the 10th take or the 20th or the 30th, with everyone exhausted. But as the actors sang, again, the crew would begin to wiggle, almost helplessly, in time.
"That's the thing only a musical can do," Federle said, "get the hair and make-up crew dancing." It's why he recently decided to increase the song order for the second season of High School Musical to three numbers per episode from two, a move he described as "actually insane."
When I spoke to the choreographer Mandy Moore, of Zoey's Extraordinary Playlist, she described the hurry, the stress, the feeling that she would never have enough prep or rehearsal time — and why she loves it anyway.
"When great story can meet a perfect song," she said. "It's better."