Indira Varma latest on bug list
'I'm in bed with it and it's not nice'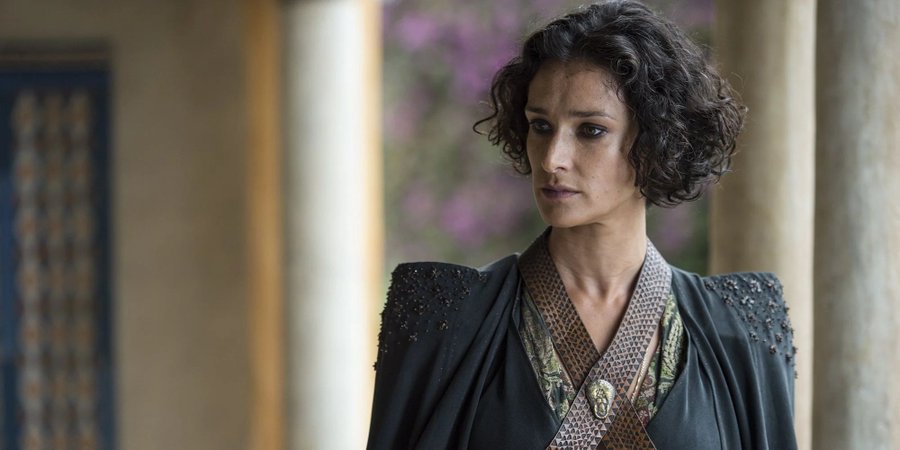 Indira Varma
Still from Game of Thrones
---
Published 20.03.20, 11:23 AM
|
---
Actress Indira Varma, of Kama Sutra and Game of Thrones fame, has tested positive for the coronavirus.
In a post on Instagram, the 46-year-old British actress wrote she is in bed "with it".
"So sad our and so many other shows around the world have gone dark affected by the Covid-19 pandemic. We hope to be back soon and urge you all (and the govt) to support us when we do. Phoenix/ Seagull rising from the ashes. I'm in bed with it and it's not nice. Stay safe and healthy and be kind to your fellow people," Indira, who also starred in Aishwarya Rai Bachchan's 2004 film Bride and Prejudice, wrote.
She also told her fans that rehearsals of The Seagull — which she stars in with fellow GoT alum Emilia Clarke — were postponed.
Indira's diagnosis follows that of another GoT star Kristofer Hivju — Tormund Giantsbane, Idris Elba, Olga Kurylenko, Tom Hanks and Rita Wilson. Bond actress Olga has said her fever has "gone" and she is feeling better.
Friends later
The planned Friends reunion has been delayed due to disruptions caused by the coronavirus, an industry source said on Wednesday.
The one-off special was due to have been filmed next week on the original sound stage in Burbank, California, and broadcast in May on the upcoming HBO Max streaming service.
But movie and TV production in Hollywood has come to a halt in the past week due to the restrictions to contain the spread of the coronavirus in the US.
No new date has been set for filming the special, as HBO Max declined to comment.
Radhika in London
Actress Radhika Apte has revealed to fans on Instagram that she has reached London amid the coronavirus outbreak and that there was no issue at immigration.
Radhika, whose husband Benedict Taylor is a London-based musician, wrote: "For all the many msgs I received from friends and colleagues with concern and curiosity. I'm back in London safely. There was no issue at immigration. It was rather empty and had a wonderful chat with them! The Heathrow express was literally empty and barely anyone at Paddington either. That's all for now! Thank you for all msgs. Ps. BA flight was full! (though two days ago when I went to India from London it was empty.) More ps. The immigration officers had no information to share regarding UK closing borders yet."
Hugh closes NYC café
Hollywood star Hugh Jackman has temporarily closed his café Laughing Man in New York City to avoid the risk of spreading the coronavirus pandemic.
The 51-year-old actor felt it was the "right thing" to do in order to ensure the safety of the staff and guests.
"We have made the decision to temporarily close the laughingmancafe. We feel this is the best course of action to ensure the safety of our staff and community," he wrote on Instagram. "We also feel it is the right thing for the larger community of NYC. We want to be a place of healthy interaction and not a potential danger to you."