'I chose songs that I connected with and those that appealed to me' — KK
Twenty years in the music industry after a stunning debut with Pal and KK is still brimming with verve and energy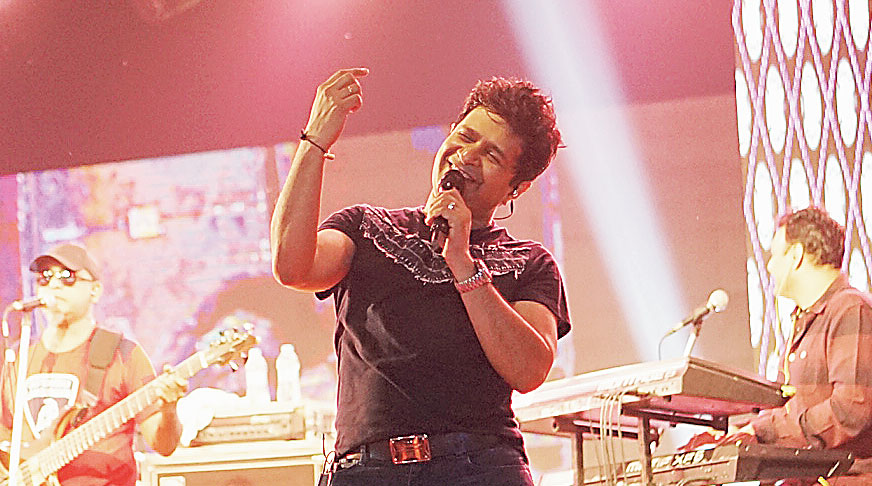 ---
|
Calcutta
|
Published 19.11.19, 03:19 PM
---
Singer KK is all excited after a whirlwind tour of USA and Australia. Twenty years in the music industry after a stunning debut with Pal and KK is still brimming with verve and energy. Clearly a class apart, he was in Calcutta recently for a concert at Eco Park. In a quick chat, he bares his thoughts and talks of the future to t2.
There is buzz that you are coming out with a single...
True but still wondering about the actual composition. It could be a mid-tempo, a ballad or even an off-tempo composition, I am yet to decide. You see, I have had only two basic albums in the 20 years — Pal and Humsafar. So I feel that now that things have changed in the music scenario and I am in the composer mode, let me try something from the heart. But as I am my hardest critic, I will think many times before recording the song. So it's still a while away.
What is the impact of 'singles'?
Earlier, there were albums and we would be reassured that if one song worked, then it would pull the others along. That luxury has now gone. So singles give us direction, freedom and liberation. You spend more time thinking about its impact because there is a certain element of risk. It's not just me as a singer but I also have to think of who my audience is.
The role of a playback singer has changed manifold, hasn't it?
Yes. Nowadays music is driven by social media and some by people's own desire. So when I have friends complaining about remixes, I tell them "but you are still listening to it". I was on a flight with Shaan and we were talking about how lucky we were to be in a phase where the first round of remixes were over and we got fresh and funky songs, original and a whole lot of new music directors to work with. Today's playback singers have to face a tougher hurdle and perhaps that's why they play many roles. I don't mind new singers coming in provided they sing equally well on stage and in recording booths, you know what I mean (chuckles). Today we need people to support independent music. Still I have had good songs in two recent films — Chhichhore and Sadak 2 (slated to release in 2020).
But isn't the list of singers in films changing like cricket teams? You can hardly see them for a longer span...
If you ask me, all singers don't have to be playback. They can do other things like compose or collaborate. Despite making a brilliant beginning with Tadap tadap ke (from Hum Dil De Chuke Sanam), I dumped many a song on this journey. I chose songs that I connected with and those that appealed to me. I do remember having asked music directors to change lyrics if I found them offensive. In reverse, some of my best songs like Musafir from a film called Shab (starring Raveena Tandon) has gone unnoticed.
Since you were once recognised as an indie pop singer, do you think it will ever make a comeback?
Why not? But perhaps with more relevance and quality. I have no issues about remixes except that it should be appropriately reproduced. There is a lot of hearing space and discerning listeners. For example, I will be disheartened if my song Ankhon mein teri (from Om Shanti Om) is remixed because I don't think it has that flexibility.
Of all the singers and music directors after you, who has caught your attention?
Benny Dayal, Irfan and Arijit Singh certainly. Benny is really talented but even he is singing less for films. He is looking at international collaborations. Amaal Malik and Mithoon are good music directors to watch out for. From our times, I do miss music directors like M.M. Kreem who would add a zing to the compositions.
I believe your children are into music too.
My daughter Tamara has just brought out a single called Forest Rain on Apple Music. She is hugely gifted and wrote, composed, sang and produced the song herself. My son is aspiring to be a music composer. I let them be because they deserve that space and they are much better equipped to handle their careers.